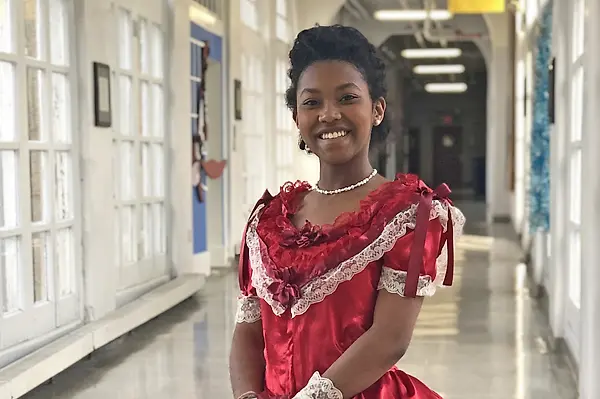 news
NCSSM junior explores history of race and class through ball gown project
The NCSSM communications team produced this story in the week before students left campus due to the worldwide spread of COVID-19. We hope you'll enjoy this window into normal life at NCSSM.
Bettie Closs '21 paused for a twirl by the windows in Reynolds breezeway in her crimson satin and lace ball gown, then smiled at a stream of compliments from fellow students passing by: "You look so nice!" "Great work!" and "Oh my gosh!"   She wore the elaborate dress proudly, and with good reason: it was completely hers. She had researched ball gowns of the late nineteenth century for her NCSSM American Studies course, sketched the design of the dress, gathered the materials — and then spent six days over Winter Break and an extended weekend sewing it herself, using a discarded department store mannequin as a dress form.   "The mannequin, she's a little bit taller than me, which is why the skirt is a little long," she said. And that wasn't the only 21st century amenity she called upon. "I had to use a lot of resources, like Jo-Ann Fabrics and Walmart and Amazon for supplies. My main resource for the actual dressmaking was YouTube! In terms of tools, I received a new sewing machine for Christmas for this project."   Making the dress was Closs' final project in American Studies, an interdisciplinary course — required for juniors — in which NCSSM combines learning about U.S. history and American literature. The final assignment for students in Patrick Burrows' section of the course was to do a creative project in any medium related to the historical period the class had covered that trimester.   "Of course, I overinterpreted the scale of this project a little bit and decided to make an entire Victorian-inspired 1871 ballgown ensemble," Closs said. "I had no idea of the stress and work that goes into making a dress like this, and in this dress I even took a lot of shortcuts. For example, women wore 1-3 petticoats under their overdress: I was only able to get through one, and that was the most difficult part, because I had to pin and sew all the ruffles by hand. I also had to make the lacing holes by hand too. This project gave me a new appreciation of handmade clothes."
  As Closs had learned in American Studies, the women privileged enough to wear such exquisite dresses were generally not the people who had to spend the hours and days sewing them.   "Dresses like this were worn by the wealthy white women — women who would likely have owned slaves or had 'colored servants,'" Closs wrote in her final project presentation. "The seamstresses who made these dresses were poor white women, usually just girls or orphans. Dresses like these were wholly built from the sweat and misery of both black people and poor white women: The money and materials came from black labor, and the painstaking assembly came from these poor white seamstresses. Together, they created the beauty that was the wealthy Victorian woman's dress."   Closs' appreciation of that history held personal resonance for her as she walked the halls of her school wearing the gown one Monday in 2020. She had put on the dress that day to be photographed in it and had styled her hair in an up-do to match the period. After the photo shoot, though, rather than changing back into modern attire, she decided to wear the dress to dinner in the NCSSM cafeteria — and all the way to curfew check on her hall at 10 p.m.   "A wealthy Victorian woman would likely have been appalled by the thought of me, a young woman of color, wearing 'her' dress," she mused. "Yet I have pride both in making this dress and wearing it because I represent both sides of the coin: the wearer and the maker." 
Share this post.