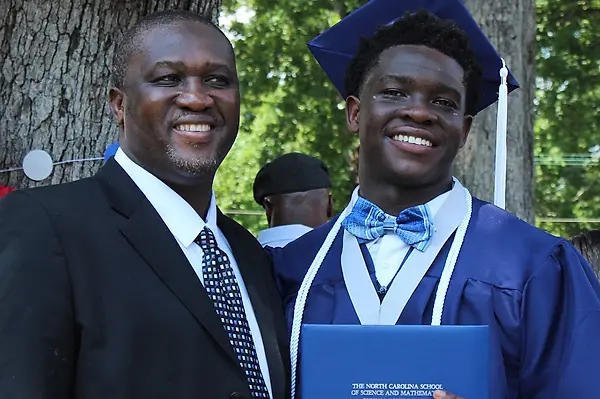 news
NCSSM graduates 343 students from across NC
NCSSM graduated its 36th class of residential students, representing 70 counties and all of NC's congressional districts.
North Carolina School of Science and Mathematics (NCSSM) graduated its 36th class of residential students on Saturday, May 27, on the school's historic Durham campus. The 343 accomplished members of the Class of 2017 hail from 70 counties across the state, 173 home high schools, and represent all of North Carolina's congressional districts.
"NCSSM provides a rigorous learning environment where students are challenged not only academically, but where they are challenged to develop as thinkers, problem solvers, and leaders in their communities," says Chancellor Todd Roberts. "Attending NCSSM was a bold decision," he said during his opening remarks. "For many, they know success and that's enough. Those people are not you. Each of you knew great success yet chose to accept the challenge of the unknown, to accept the greater challenge."
This year's keynote address was delivered by Damon Tweedy, M.D., J.D., associate professor of psychiatry at Duke University School of Medicine and author of the New York Times Bestseller Black Man in a White Coat: A Doctor's Reflections on Race and Medicine. The book, which explores the intersection of race and medicine through the lens of his experience as a medical student, medical intern, and psychiatry resident, was also selected by TIME magazine as one of the top ten nonfiction books of 2015.
Tweedy shared three points of advice with the graduates:
1. Use your past mistakes and failures as motivation to succeed with your future goals.
2. Dreaming will only get you so far. At some point, you must start doing.
3. Be flexible and open to what life brings your way.
Tweedy was introduced by Student Government Association President Joshua Dong '17, of Chapel Hill, NC. The student address was delivered by Lizzy Yang '17, of Chapel Hill, NC.
"Before NCSSM, I felt like my head was bumping up against a ceiling, but I felt finally unconstrained when I arrived here," said Yang. "There was no roof, no limit to what I could explore and accomplish. I'm so grateful for these two years at NCSSM, for enabling me to thoroughly challenge myself, expand my world perspective, and develop my identity and independence."
Members of the Class of 2017 have received awards and recognition in the most challenging and prestigious academic competitions both nationally and internationally, including the Regeneron Science Talent Search, the Siemens Competition, Conrad Spirit of Innovation Challenge, Moody's Mega Math Challenge, Singapore International Mathematics Challenge, and FIRST Robotics. While pushing themselves academically, these students also participated on 21 varsity sports teams, in the performing and visual arts, in clubs and volunteer work, and in leadership positions ranging from student teaching assistantships to student government and support for admissions and institutional advancement. The Class of 2017 has completed more than 27,000 hours of community service and earned more than 15 million dollars in scholarship offers.
The Class of 2017 now joins the 9,000+ NCSSM alumni who live, learn, and lead across the state and globe.
During the ceremony, Science Instructor Bob Gotwals was also honored with the presentation of the UNC Board of Governor's Teaching Award, presented by Madeline Finnegan '14, who just completed her term as president of the North Carolina Association of Student Governments and who serves as the student representative on the UNC Board of Governors. "Robert Gotwals represents the best of this institution's interdisciplinary approach to education," says Finnegan. "Robert Gotwals, we celebrate your energy, your intellect, and your all-around devotion to this school and its students. In honoring you, we also give thanks for dedicated faculty who teach at NCSSM and throughout the University of North Carolina."
See more photos from Commencement
Share this post.