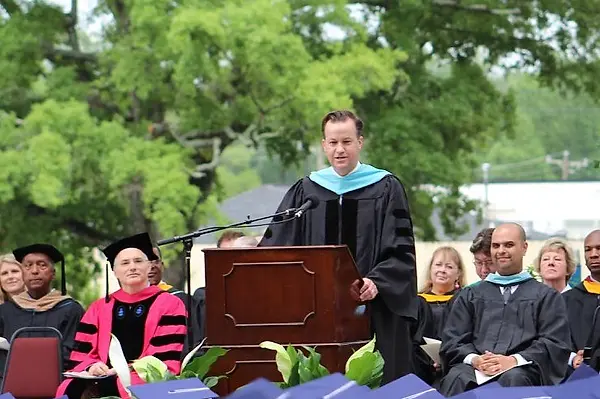 news
NCSSM graduates 315 students from throughout North Carolina
North Carolina School of Science and Mathematics (NCSSM) graduated its 37th class of residential students Saturday, May 26, on the school's historic Durham campus. The 315 accomplished members of the Class of 2018 hail from 74 counties throughout the state, representing all of North Carolina's congressional districts.
"Students of your generation have been identified as being justice minded, environmentally conscious, independent, and entrepreneurial. I see all of those characteristics in you," Chancellor Todd Roberts told the graduating seniors. "And as I reflect back on this class, what I will remember most is how these characteristics have played out in what you've done and who you are. You have had a great willingness to challenge yourselves to be your best, while also challenging the NCSSM community and the larger community to be better — and working to help make it so."
Roberts particularly praised the students' efforts to make NCSSM more environmentally responsible, including an initiative to divert more than 40,000 of waste from the school dining hall to composting rather than a landfill. He also noted that students worked for improvements in the school's mental health and wellness programs: "I hope all of of our graduates will continue your leadership for making any community you're in more sustainable."
This year's keynote address was delivered by Dr. Billy Pizer '86. Pizer is the Susan B. King Professor and Associate Dean for Academic Programs at the Sanford School of Public Policy and Faculty Fellow at the Nicholas Institute for Environmental Policy Solutions, both at Duke University. From 2008 to 2011, he was Deputy Assistant Secretary for Environment and Energy at the U.S. Department of the Treasury, overseeing the Treasury's role in the domestic and international environment and energy agenda of the United States. Prior to that, he was a researcher at the think tank Resources for the Future for more than a decade.
"One of the luckiest things that happened to me–and, I would predict, to you–was coming to Science and Math," said Pizer. He shared these points of advice with the graduates:
1. "Figuring out how things work is really a skill. You are used to the idea of thinking about things in the world in terms of models, and that is an incredibly powerful perspective."
2. "Look for and seize opportunity, even if there are risks. Don't be afraid of messing up."
3. "Don't be complacent. Don't sit on the sidelines of important social challenges."
Pizer was introduced by Student Government Association President Stephanie Yao '18, of Chapel Hill. The student address was delivered by Erin Bass '18 of Concord. "Sure, we're bright," she said of her classmates. "That's what got us here. But… we are far more than that. We are the creators, the innovators, the fighters, and the dreamers… We haven't gotten here by standing on the sidelines, but rather by refusing to give up or give in when faced with a challenge." She closed by remarking to her fellow graduates, "The world needs us. Let's go show them why."
Members of the Class of 2018 have received awards and recognition in the most challenging and prestigious academic competitions both nationally and internationally, including the Regeneron Science Talent Search, Conrad Spirit of Innovation Challenge, Singapore International Mathematics Challenge, and FIRST Robotics. While pushing themselves academically, these students also participated on 21 varsity sports teams, in the performing and visual arts, in clubs and volunteer work, and in leadership positions ranging from student teaching assistantships to student government and support for admissions and institutional advancement. The Class of 2018 has completed more than 27,000 hours of community service and earned millions of dollars in scholarship offers. The Class of 2018 now joins the roughly 10,000 NCSSM alumni who live, learn, and lead across the state and globe.
During the ceremony, Science Instructor Amy Sheck was also honored with the presentation of the UNC Board of Governor's Teaching Award, presented by Pearl Burris-Floyd, representing the UNC Board of Governors.
See photos from the Commencement ceremony and reception.
Watch the event on YouTube.  
Share this post.