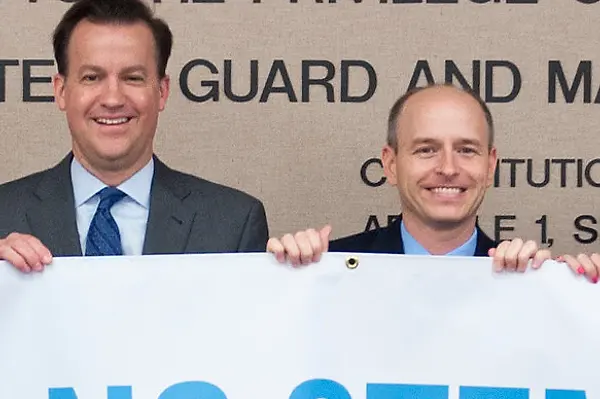 news
NCSSM earns state's highest STEM school honor
From left: State Board of Education member Kevin Howell; North Carolina State Treasurer Janet Cowell; Tom Williams, chair, NCSSM Board of Trustees; State Superintendent June Atkinson; NCSSM Chancellor Todd Roberts; Geoff Coltrane, NCSSM Director of Institutional Research; Katie O'Connor, Vice Chancellor for Academic Programs; Melissa Thibault, Vice Chancellor for Distance Education and Extended Programs; and A.L. "Buddy" Collins, Vice Chair of the State Board of Education.
North Carolina's State Board of Education recently recognized North Carolina School of Science and Mathematics as the state's first-ever Model Future Ready STEM School of Distinction, the state's top level of recognition for STEM schools.
The North Carolina Department of Public Instruction (DPI) created the STEM recognition program three years ago, working with the North Carolina Science, Mathematics, and Technology Education Center. "It's an intensive process," says Geoff Coltrane, NCSSM's director of institutional research who coordinated the rigorous application over the last few months. NCSSM faculty and administrators had to rate the school on 11 quality indicators and 40 attributes, providing evidence for each point. After reviewing the applications, a DPI committee of educators selected schools for site visits. A team of educators came to NCSSM at the end of April to visit classrooms and talk with parents, students, teachers, and administrators.
NCSSM was recognized for systemically interweaving science, technology, engineering, and mathematics into complementary coursework across the curriculum and for bringing a project-based approach to learning. "Reflection was a big part of the process, thinking about how we do what we do," Coltrane says. "We could lean a bit on our experience a few years ago going through the accreditation process, which felt very similar." Grant writer Brian Faircloth assisted Coltrane, as did the academic deans.
"Some questions were very curriculum based, so I learned how things like project-based learning show up in our classrooms, and how our state is defining quality STEM education," Coltrane says. "We had to identify a best practice, so we highlighted our focus on research, both students' independent work with mentors and how we embed research experiences into the curriculum." The April site visit concluded with a mini research symposium in the library with students presenting posters about their work.
This year, 17 schools submitted applications, and NCSSM was one of seven schools to earn recognition. "Other schools have been named model schools, but we're the first to be named 'future ready,' which is a measure of our quality program and student performance," says Coltrane. To achieve the future ready designation, a school must have a graduation rate of 90 percent or higher, and 90 percent of the students must have a composite score of 17 or more for the College Readiness/ACT test. NCSSM has a 99 percent graduation rate and an average ACT composite score of 31.6.
"There's no doubt people believe NCSSM is a great school because you have the most talented students from around the state," says Sam Houston, president and executive director of North Carolina Science, Mathematics, and Technology Education Center. "What they don't understand is how different schools are across the state, and that being the top student in one high school isn't the same as being the top student in another school district. It's a credit to NCSSM that the school takes students of all levels of preparedness and provides such quality education."
Houston says DPI's recognition program has reached a point, after three rounds of recognition and 24 schools honored, that "it's time for us to look at how we get school leaders together with their lead teachers for discussions, and learn how to create an environment where we can offer supportive coaches for other schools going through the process."
"We are honored to be recognized and appreciate the opportunity to participate in the evaluation process," says Chancellor Todd Roberts. "The entire process was informative and helped us to reflect on what we do and how we do it."
Melissa Thibault, vice chancellor for distance education and extended programs, sees great promise in being able to work with the other STEM designation schools. "To be part of a STEM learning network and to share with each other across the state is an important opportunity," she says.
Share this post.