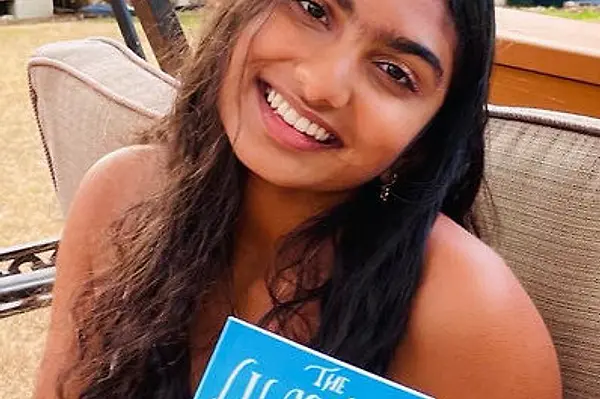 news
NCSSM-Durham junior self-publishes novella in support of nonprofits
When NCSSM-Durham junior Saachi Arun was in fifth grade at Morrisville Elementary School, her teacher asked the students each to write a three-page story. Saachi wrote one called "The Lilac Ring." It was 21 pages. When it was her turn to read it for her classmates, she had to stop halfway through for recess. She finished reading it the next day.
Saachi wasn't trying to impress or outdo. It's just that, once her mind opened up, the story kept unfolding.
An avid reader and huge fan of all things Disney and Harry Potter, Saachi's early story was – unsurprisingly – a fantasy. Saachi's mom tucked away the original draft as a keepsake.
But when the pandemic hit, Saachi says, she found herself with a lot of spare time. Her parents encouraged her to fill some of it with turning that early story into a book. So, she did.
"For the next year and a half, I spent a lot of time just writing and writing and making the plot better," Saachi says. "But as I was writing, I noticed so many plot holes, so I added more obstacles for the characters here and there. The main characters were still the same from the original story, though."
When she was finished, "The Lilac Ring" had become a "classic hero's journey" of 100 pages in which twin sisters Kiara and Kassandra Rose travel through an alternate dimension in a search for the stolen – and magical – Lilac Ring. The novella, Saachi says, is filled with princesses and magic. "There's also a unicorn in there, too. I think, looking back on it, that it's just all of my childhood and the things I loved and loved about other people's work coming together on the page."
Saachi's book was strictly a labor of love; she plans to donate any proceeds from sales to a number of nonprofit organizations whose missions she supports such as UNICEF and the Make-A-Wish Foundation. And though there may be plans for future work (Saachi is holding this information close for now), writing will remain a hobby, not a career ambition.
"My passion is medicine," she says. "I love reading and arts and literature, and I do want to publish something else in the future, but I've always wanted to be a pediatrician."