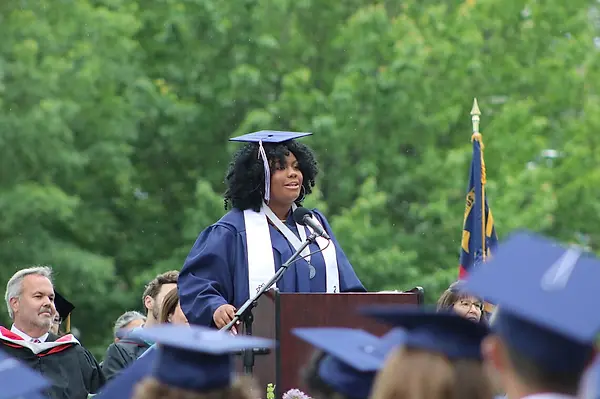 news
NCSSM-Durham Class of 2023 graduates on Watts Lawn under the oaks
Graduation came a bit sooner than expected for the North Carolina School of Science and Mathematics Class of 2023. While the threat of mid-morning rain fast-forwarded the school's 42nd Commencement ceremony from the traditional 10 a.m. start beneath the Watts Lawn oaks to an 8:30 a.m. start, the 340 graduates who came together for the final time to receive their diplomas finished the ceremony with only a few occasional cold specks of rain.  
The early morning start wasn't the only point of note for the class of graduating seniors; with NCSSM-Morganton set to graduate students next year, this year's class marked the last to graduate from a single NCSSM campus. Nearly 180 high schools across 70 North Carolina counties are represented by the graduates.
Way earlier than most students typically awoke, senior Jayden Webb from Belmont, NC, assembled with his classmates inside the lobby of the school's gymnasium to find his alphabetical spot in the procession onto the lawn and make final adjustments to regalia. While he waited, he reflected on the path to his final moments as an NCSSM student. "I had to work really hard to get the opportunities that I had and get to the place that I am," he said, "so it's really, really rewarding to see all this work that I've done pay off and I get to walk across that stage and shake the hand of the chancellor."  
Yeram Hahn from Raleigh had been so focused on finals during the last week of school that the reality of graduation had yet to fully dawn on her. Though graduation was less than an hour away, she was still anticipating the emotions that come with completing your high school experience. "I honestly can't feel it right now," she said, "but I think it will come into reality when it's over and I'm off campus, but seeing everyone right now with their gowns and caps, it's like, 'Oh, wow, we've actually made it!' So it's kind of a weird feeling, but I think [the full range of emotions] will come soon."  
For Christopher Mitchell from Durham, the impending moment had been "sinking in for a couple of weeks." Now that it had finally arrived, he said, he was "super excited to be here with all my friends and getting ready to go. It's been a long, hard two years, and so it's time."  
A few stray, thin drops of rain had begun to fall by the time the seniors began marching toward the lawn, their gowns and tassels moving about in a cool, frequent breeze more reminiscent of fall. The steady rain promised by local meteorologists held off, however, as speakers took their turn at the microphone to deliver remarks.   
Siani-Simone Ammons '23, from Elm City, NC, delivered the student speech, mentioning nearby, off-campus locations favored by students as she expressed her appreciation for her NCSSM experience, comparing it to a romantic comedy.   
Every night while a student, Siani said, she "found the time to reminisce on what NCSSM truly is made of.  
"NCSSM's most plentiful resource is the community. … I would love to thank the parents for being here, the champions who saw their babies dream of becoming scientists, mathematicians, astronauts, writers, historians, teachers, and nurturers of a more beautiful, immensely bright world. … I would like to thank the teachers, who witnessed that change and became mentors who spent hours grading and re-grading physics, biology, chemistry, history, and English assignments. I would like to thank the staff, especially folks in the [cafeteria] who were never afraid to smile, and the security guards who constantly re-gifted me keys after keys. Thank you, to the CCs [community coordinators] who planned hall events and listened to every heartbreak; thank you."   
Finally, Siani acknowledged the most supportive group of all – her classmates.  "I will miss waking up at the crack of dawn to get chicken pickle biscuits from Monuts with you, journeying to Joe Van Gogh in torrential rain with you, and sitting down for watch parties in the lounges with you. … Knowing you was the biggest and most beautiful romance of all. As we leave this place, I hope we continue to carry that desire to love, create, care, and learn. Let's carry the desire to inspire change in the world."   
Jabbar R. Bennett '92, Chair of NCSSM's Board of Trustees and the Vice President & Chief Diversity Officer for Michigan State University, returned to campus to deliver the commencement speech.   
He acknowledged the graduates' hard work and reminded them of their good fortune to be in the seats where they awaited their diplomas.  
"Class of 2023, each of you have been given a gift: the opportunity to attend, and graduate from, the North Carolina School of Science and Mathematics. You have taken full advantage of everything it has to offer, from rigorous courses to exciting mentoring and research opportunities, and real-world experiences outside of the classroom. The faculty and staff here are truly concerned about your academic, personal, professional, and social development, [and] my hope, is that you will pay this forward, as you pursue your next academic challenge, professional goals and personal achievements."  
Bennett further implored students never to be ashamed of who they are or what they believe in, and to use their voices to stand up for their rights and the rights of others. "Remember those less fortunate, and more vulnerable than you," he said, "and advocate for equity, or fairness, in ways that you can among every sphere of your influence."  
Bennett closed with a quote from a beloved book by "the most prolific philosopher of the 20th century," Dr. Seuss, "Oh the Places You'll Go":  
"You have brains in your head. You have feet in your shoes. You can steer yourself any direction you choose. You're on your own. And you know what you know. And YOU are the one who'll decide where to go."