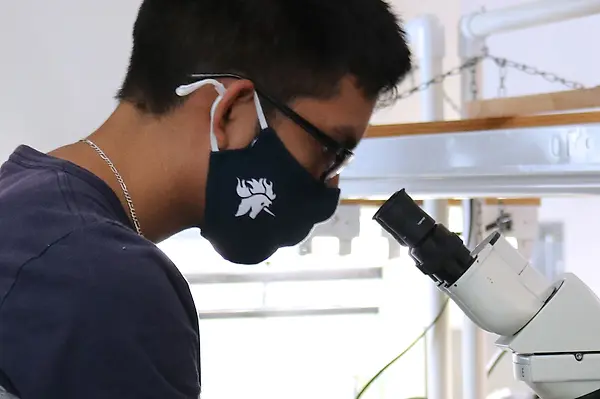 news
NCSSM continues learning amid COVID
To see your raw HTML code in action you must save your work and refresh the page. If the page becomes unreadable, add ?safe_mode to the end of the URL and load the page again.
<iframe src="https://drive.google.com/file/d/1SE2jvP-E2wo_tlDtkkNFFmhtpLIu2LV0/preview" width="100%" height="480″></iframe> Katie O'Connor spends part of each week walking around the North Carolina School of Science and Mathematics Durham campus, checking in with faculty, staff and students to see how classes are going. But these days, the campus looks unlike anything the Vice Chancellor for Academic Programs has seen in her career. Plexiglass windows surround spaces like the front desk in Bryan Lobby and divide tables in the cafeteria and library. Arrows, signs, and stickers on walls and floors indicate one-way traffic patterns throughout campus. The hallways are lightly travelled.   It's in the classrooms, though, where things look most unusual. Some days they are empty. Other days, only half full.   NCSSM opened the 2020-2021 school year with fewer than half the usual number of students living on campus, using a lower-density, hybrid instruction model to help mitigate the potential spread of COVID-19 while still providing an on-campus experience for residential students. Some 120 students have chosen to learn fully remotely through the fall, while about half of the rest of students are living and learning on campus for half the semester while the other half is at home, logging in every day to their classes. In early October, the two cohorts will switch places; those on campus will return home to finish the semester, and those at home will make their way to campus.   Classes are taught in a variety of ways. Some are taught entirely remotely, with faculty teaching from their homes to students logged in either from campus or their own homes. Other courses are taught in an on-and-off campus model where faculty divide their time between teaching from home and teaching on campus in front of masked, physically-distanced students while at-home students participate synchronously through resources such as Zoom and ClearTouch interactive panels.   The activity in the classrooms, though not what O'Connor is accustomed to seeing, leaves her impressed and inspired. "The highlight of my day," she says, "is witnessing the really incredible learning that is happening. We truly have the best faculty in the state of North Carolina."  
Science up close and at a distance
Dr. Michele Alexandre is one of the NCSSM teachers teaching via the hybrid model. It's her first semester at NCSSM, and it has been quite an introduction to the school for the veteran of the biology classroom. She is responsible for around 60 juniors and seniors spread out over three sections of anatomy and physiology. She has taught in models before where instruction was split between remote and in-person learning. But on those occasions, students were not split into on-campus and remote groups as they are now.   "A bit of a challenge at first was to make sure that everyone was on the same page together," Alexandre says of the start to the new and unusual academic year. "During the first lab, I told them that we all have to be patient with each other because we are figuring this out. They were very gracious, and they went along with everything. Now we are up and running, and it's second nature to us."   On Mondays and Tuesdays, Alexandre lectures from her home using Zoom. There's not much distinction between who is on campus and who is at home. Wednesday mornings, she's in her office preparing for labs and lectures again through Zoom. Thursdays and Fridays, she enters the classroom for in-person labs with on-campus students while those at home continue to participate through Zoom.   Another challenge Alexandre encountered early on was establishing an efficient way to run each class, particularly on Thursdays and Fridays when she was managing in-person and remote students. Switching between activities, retrieving and returning equipment, and even sanitizing work spaces created opportunities for inactivity, especially for those working remotely who had no way to participate. Alexandre found a way to navigate those transitions so that the amount of downtime was reduced or eliminated.    "Now it flows very nicely," she says.   The lower-density model has forced her, and her students, to look for new ways to communicate. With students masked-up or working miles away, she and her students have lost the ability to easily read and respond to subtle social cues, to gauge the collective mood of the class, abilities that are often so important in successfully running a class. They've learned to adapt and consider new ways to communicate. Now everyone considers more deeply the implication of what is being said. There are a lot more raised hands, and thumbs up and down. Comments and questions are reiterated and recapped to reduce opportunities for misunderstanding.   Still, Alexandre misses the traditional classroom. Teaching in a pandemic has forced her to oftentimes curb her teacher's instinct, especially when a student needs help. "Your first tendency is to rush over and jump in there," she says. "Having the mask on my face reminds me to stay away. But I want to give all of my students the same experience whether they are on campus or not."  
And the music played on
Scott Laird, the chair of fine arts and longtime music instructor at the school, knows that in a hybrid, lower-density environment you can't truly replicate the in-person dynamics of a more traditional music classroom.   "We have to change the expectations," Laird says of the one section of Classical Piano and Guitar and two sections of Orchestra he is teaching this semester using the hybrid model. "I tell my orchestra students that we will not be able to recreate the feeling of being in a room playing with 40 string players. Our goal is to get close to that feeling. If they leave class or rehearsal, and they have about 60 to 70 percent of the satisfaction they would have had if we were all playing together, then I feel like I've done my job."   Laird had mixed emotions about how the term was going to play out as the fall semester approached. He felt confident about his Classical Piano and Guitar class. For years that class has revolved around a series of YouTube tutorials Laird created. Students proceed through the videos at their own pace; Laird moves through the classroom offering individualized assistance based on where each student stands in their progress.   "For that course, I knew that it would be a pretty seamless transition," to a remote or hybrid environment, Laird says. "The big trick with that class was making sure everybody had an instrument to play." Loaner guitars were checked out to students who needed one, and kids playing piano were able to purchase or borrow electronic keyboards to use.   Orchestra was different.   "I lay awake at night the day before school started thinking 'How am I going to do this?'" Laird says. "I haven't done that in a long, long, long time."   But he had a plan.    Due to the slight delays inherent to Zoom, Laird could not conduct a class live. Students could not react to other musicians. So the first thing he did was create content that was "rhythmically regular," and easier to follow along to. Gone for now were pieces that required musicians to "stretch" rhythm and pace and intonation and other facets of performance. "I had to convince students that we might not do stuff that's quite as hard as we'd normally do because we're in a completely different arena," Laird says.   The game-changer, though, has been the prerecorded audio tracks Laird created for each instrument in the ensemble. Instead of playing live, students record themselves playing along to the track. Laird uses the track to drive live, synchronous instruction on Tuesdays and Wednesdays where he positions himself in the classroom between the in-person students and the remote students appearing on a clear screen facing the classroom. On Fridays, Laird is available to students via Zoom for one-on-one mentoring.   Despite the challenges, Laird and his students have still been able to create music that sounds incredibly like a live performance. What seemed to be an orchestra recorded live for the school's virtual convocation in mid-August was, in reality, 40 different recordings of individual student musicians playing along to the audio track combined into one.    "It's a lot of work," Laird says.  And it does work, thanks in large part to the students. "Every student is coming to this with an open mind, a willingness to operate in what is necessarily a different environment than they're used to," Laird says. "They want to contribute, and they're willing to give
me
a little grace as their instructor who's trying to figure out how to give them the very best. I feel that grace in every single class. I'm not kidding, I feel it in every class."   
Two makes a team
Humanities instructor and department chair Meredith Murphy shares Laird's sentiment about collective courtesy. "I'm reminding my students to show grace and understanding to us and each other," she says, "and I'm trying to do the same."   Murphy and humanities colleague Liz Peeples co-teach NCSSM's American Studies class. It's the only class at NCSSM that all students take. The pair have taught the class together for 12 years.   But never like this.   "It's hard, right?" says Peeples of the two sections she and Murphy teach to some 45 juniors.    Like Murphy and many of their colleagues at NCSSM, Peeples has never taught in a truly hybrid model before. "It takes a lot of bandwidth in your brain," she says, to manage the content, delivery, technology, and also monitor student engagement. She and Murphy take turns leading instruction and operating the technology.   "Our fears before we started were primarily around whether this technology would adequately address the challenges," Murphy says. But so far, it has worked well with very few technical hiccups. A donor to the NCSSM Foundation designated a significant gift to outfit classrooms over the summer with ClearTouch displays, cameras, and microphones to enable hybrid teaching.   A challenge for the team has been reading students' reactions to course content. Muted student mics in the remote format eliminate background noise, but they also filter exclamations of understanding. Masks in the hybrid model muffle voices and disguise facial gestures that could reveal students' levels of engagement.   Murphy and Peeples split instruction between the fully hybrid model, where both instructors and half the class are on-campus with the other half joining in from their homes, and fully remote, where all students log in virtually while Murphy and Peeples lead instruction from their respective homes.    It takes a lot of coordination, especially during fully remote days. "We're doing a lot of collaboration [between] ourselves via Zoom," Murphy says. "Before every class meeting, at the end of every class meeting, we're taking time to talk about what we're going to do in that class and following up on any loose threads we need to tie up to be prepared for the next day."   "I think that's a great benefit to the students and it's also a benefit to us," Peeples adds.   While the start of the academic year is nothing like what the class's incoming juniors, or Murphy and Peeples, could have imagined, there is still a sense of growing relief that elements of life as it was once known at NCSSM are slowly returning, even if masks and physical distancing are mandatory. On-campus and remote students will soon switch places. Those on campus will transition back to home, while the last of NCSSM's newest students to arrive on campus will finally, after months of anticipation, get to sleep in a dorm and learn in NCSSM's classrooms.   "They're getting back into something that, though not normal, is closer to normal, and they're grateful for that," Murphy says.   That goes for the teachers, too. "It's been a joy," Peeples adds, "to be back in the classroom."  
The NCSSM experience, version three
Unprecedented. Challenging. Inspiring. There's no shortage of bold descriptors for the circumstances created by the pandemic. Vice Chancellor O'Connor notes a fact that would seem unbelievable were it not true.    "We ended the last academic year [which began in person] in the fully remote format, which we've never done before," she says. "Then we began the new year in a hybrid format. In the last 12 months we've been in three different formats. But like a true community, we've worked together to create a classroom."   No one can be certain how the succeeding months will play out. The administration is closely monitoring the pandemic, however, and anticipating the creation of a plan for the spring by the end of the first semester. However it plays out, NCSSM is positioned to continue delivering the instruction that marks it as one of the best public high schools in the country.   "It's a lot of work," O'Connor says of maintaining that level of excellence in a pandemic, "but every day we're getting better."
Share this post.