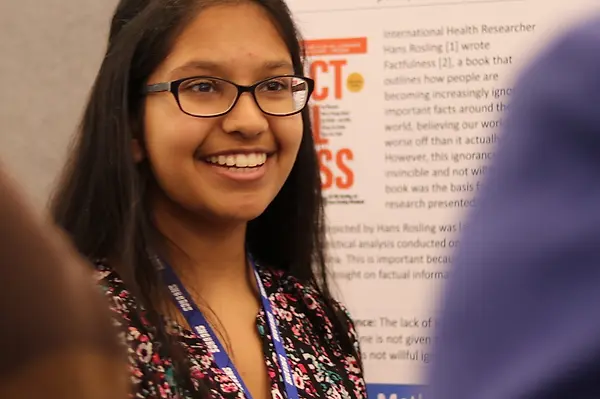 news
NCSSM co-hosts research symposium at Duke
NCSSM residential student Chloe Emehel '20
Dozens of NCSSM students delayed the beginning of their fall break by a day to participate in the 15th annual State of North Carolina Undergraduate Research and Creativity Symposium (SNCURCS), which NCSSM co-hosted with Duke University on Saturday, Nov. 23. Though students from NCSSM are not yet college undergraduates, the quality of their work has long allowed them to present their original research in the symposium. This year's event, held on Duke's campus, was especially meaningful for Science and Math as it marked the very first time that a high school has served as a co-host of the event typically hosted by universities. SNCURCS (fondly pronounced "snickers" by participants) provides undergraduate scholars in all disciplines from across North Carolina the opportunity to present their research to peers through poster displays, presentations, exhibits, and creative performances. This year, more than 850 attendees had the opportunity to engage with approximately 500 presenters. Nearly 60 of those presentations, from explorations of machine learning to the decision-making process in baseball, were the work of students from NCSSM's residential, online, and
Summer Ventures in Science and Mathematics
programs. Sarah Shoemaker, NCSSM's Director of Mentorship and Research, led NCSSM's effort to co-host. "We are hoping that this is actually established as a model," she says of the collaboration. "It's easier to share the workload between two institutions, and it lets a smaller institution play a role in hosting when normally they couldn't." The partnership began in the spring of 2018 when Shoemaker gathered with other members of the SNCURCS planning committee to consider future programming. Shoemaker wanted, she says, "to show that our students are just as passionate about research and innovation as undergrads at all the institutions around the state." When the call was put out for a host for 2019, Shoemaker volunteered NCSSM to co-host. Across the way sat another Sarah: Sarah Russell. Before becoming the Academic Dean at Duke's Trinity College and Director of the university's Undergraduate Research Support Office, Russell taught History and Latin American Studies at NCSSM for 10 years. "Science and Math lives in my heart as a community I just care very deeply about," Russell says, "and so one of the last things I sort of said to [NCSSM Chancellor] Todd [Roberts], and also to myself [before joining the faculty at Duke], was, 'I hope that I can find a way — I hope we can find a way — to have some ongoing Duke-Science and Math partnerships that I could be part of.'" Six years later, with Shoemaker's offer to co-host SNCURCS, Russell found the opportunity she had long hoped for and offered for Duke to co-host. Shoemaker and colleagues at NCSSM, namely Mary Slawter, who coordinates NCSSM's Mentorship and Research program, and Chris Thomas, Instructor of Mentorship and Research and Research Coordinator for Distance Education, assumed responsibility for assembling and managing the research abstracts and the program. Russell and her colleagues at Duke arranged on-site logistics and registration. The process took both teams several months of steady planning. More than 20 members of NCSSM's faculty, staff, and administration pitched in to lend additional day-of volunteer support.
(L to R) NCSSM Summer Ventures students Hamza Ishaque, Emma Noonan, and Foluwa Agbebi (also an NCSSM Online student).
And for the NCSSM students who presented at SNCURCS, the conference was a chance to try something new: giving a formal oral presentation, dressed up, in front of unfamiliar faces.
"It was very different from anything I had ever done before," said residential student Katherine Reeves '20, who presented her research on passionflower and cell death from Kim Monahan's Research in Biology class.
"Scary but in a good way," according to Lennon Lupton '20, also a residential student.
After seeing other students present in smaller, more intimate classrooms, Lennon, who presented later in the day, was surprised to find that she had been assigned to a "huge" lecture hall.
Not knowing what to expect was the scary part of SNCURCS, she said. But now, "I'm more confident in presenting. I know what to expect."
And she says, "I liked that there were opportunities for humanities." Lennon presented her research on abortion bans and anti-feminist rhetoric in the U.S., a topic she decided on during NCSSM's Summer Research in Humanities program.
For NCSSM Online student Michelle Lamas-Niño '21, being a high school student among mostly college students didn't really make a difference.
"Everyone was equally passionate about their projects," said Michelle, who goes to John T. Hoggard High School in Wilmington and completed her project, a soil analysis at the site of the former Pitt County Poor House, during Summer Ventures at East Carolina University.
For her, the satisfaction came in being able to share her research with others. "I felt heard because I was really excited to talk about the story of the impoverished at Greenville… I felt like I was doing something by sharing what I'd learned."
A short, rainy walk across campus, online student Foluwa Agbebi '21 participated in the poster section of the conference.
"I was nervous that I wouldn't be as prepared as the rest of the presenters there, but I felt like I fit in," said Foluwa. "I had a little bit of time to walk around and look at other [students' posters]. You felt a sense of community with the presenters stationed around you… that helped ease my fears."
Foluwa, a student at South Iredell High School who participated in Summer Ventures (at UNC-Wilmington) learned about SNCURCS from NCSSM Online instructor Chris Thomas.
Foluwa says the conference inspired him to continue improving the skills he's learned in Thomas' "Engage to Impact" course — skills like structuring research into a story someone can follow, and how to organize a poster to make it more attractive to a general audience.
"I highly recommend to anyone who has any doubts to try SNCURCS or presenting at a similar conference."
Despite a steady rain throughout the second half of the symposium that made travelling between presentation locations a challenge, the event went off without any significant glitches.
"It was really great getting a chance to work closely with Sarah and to get to know her," says Russell. "She's a pretty great person and I'm kind of hoping . . . this opens the door for some other collaborations in the future. Science and Math and Duke really do have this lovely, kind of connective, relationship."
Students' participation in the Symposium was made possible in part thanks to the Ives Academic and Club Competition and Conferences Endowment.
With additional reporting by Beatrice Moss, NCSSM Assistant Director of Communications.