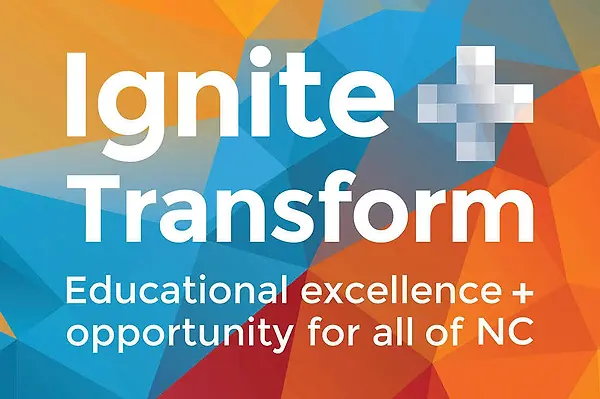 news
NCSSM announces $50M comprehensive campaign
More than $34 million in private support has already been committed toward a comprehensive fundraising campaign seeking $50 million for the North Carolina School of Science and Mathematics to create innovative academic opportunities, upgrade and add learning environments, and extend the reach of its STEM educational programs, the school announced on Tuesday, February 22.
The statewide public high school is a member of the University of North Carolina system and serves the entire state of North Carolina through two residential campuses for juniors and seniors: both the original site in Durham and a new one nearing completion in Morganton. The school also offers a virtual NCSSM-Online program and individual NCSSM Connect courses as well as summer programs across the state to supplement North Carolina students' courses of study at their local schools. 
"We've been working hard to strengthen the impact of NCSSM's innovative education on the state and nation," said Dr. Todd Roberts, chancellor of NCSSM. "Since our founding more than 40 years ago, the state of North Carolina has provided visionary leadership and sizable financial support that helped us grow this institution to what we are today. But from the outset, the school was designed as a public-private partnership, and we achieve a much greater impact when we leverage state funding with philanthropic support." 
So, he said, the private fundraising campaign, called "Ignite + Transform – Educational excellence + opportunity for all of NC," being led by the NCSSM Foundation, has quietly been raising leadership gifts for the past three years, including a series of record-setting gifts for the school: A $2 million gift to launch a program in artificial intelligence, a $5 million gift to build a student wellness and activity center on the new Morganton campus, and most recently a commitment of $7.5 million to renovate residence halls and the dining hall on the Durham campus, formerly a hospital. They are among the largest private philanthropic gifts ever raised by a public high school.
Those and thousands of additional gifts now add up to $34.62 million so far, according to Roberts, and will fund "STEM+ teaching and learning," "student success and wellness," and "transformational leadership" priorities, in addition to the school's annual fund, which provides stipends and computers to students with financial need and helps fund participation in mentorship and research, academic competitions and a variety of other enrichment activities.
The public announcement of the campaign on Tuesday invited other supporters of NCSSM to take part, and the school is asking all alumni, families, students, and friends to make a personally significant gift to the campaign to make possible for future students the transformative education they have received.
For maximum safety during the pandemic and to reach a nationwide and worldwide audience of alumni and friends, the announcement came via a webinar held at noon Tuesday. The school has posted a recording on its YouTube channel, as well as a shorter video summarizing the campaign, and the foundation launched a campaign website at http://ignite.ncssm.edu. 
### About NCSSM: The North Carolina School of Science and Mathematics is a world-class public high school with statewide reach offering students the skills and knowledge to design their own future. Specializing in science, technology, engineering, and math, we challenge talented high school juniors and seniors from across North Carolina through a residential program on our historic campus in Durham — and beginning in 2022, on our second campus being built in Morganton. Our extensive online program and summer offerings extend our impact to every corner of the state and to younger students. We give back to our communities through the time, talents, and resources of our world-class educators, dedicated staff, and students. Founded in 1980 as the first of its kind, NCSSM has become the model for 18 such specialized schools around the globe. Our 11,000-plus alumni include local and global leaders in medicine, technology, commerce, education, and the arts, a community of problem solvers who build a brighter future.
Share this post.