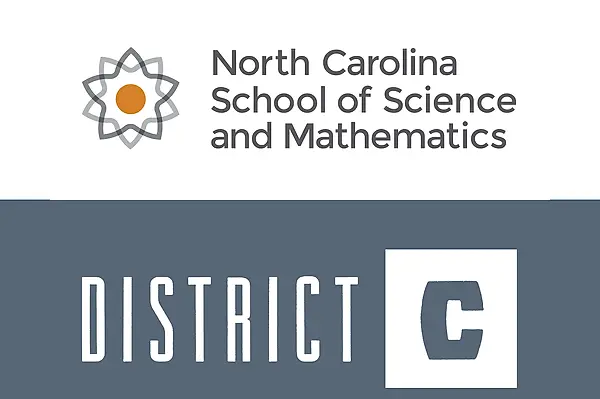 news
NCSSM and District C Launch Innovative, Equitable Internship Model for NC High School Students
CONTACTS:
Bryan Gilmer, Director of Communications, NCSSM, 919-416-2872,
bryan.gilmer@ncssm.edu
Dan Gonzalez, Co-Founder, District C, 
dan@districtc.co
  North Carolina School of Science and Mathematics (NCSSM) Distance Education and NC-based nonprofit District C have partnered to bring Teamship to high school students across the state, even those without social capital or family connections. District C's Teamship is an innovative internship experience where teams of high school students solve real problems for local businesses with rigorous coaching from a certified educator.    While traditional internship opportunities too often favor students with family connections and social capital, Teamship provides more access for more students by bringing opportunities and industry partnerships through their schools and during the school day. And while traditional internship experiences too often default to rote, procedural work, Teamship emphasizes team-based problem solving, the competency most sought by today's employers.   "Since its founding in 1980, NCSSM has prided itself on being an education innovator," says Chris Thomas, Experiential Learning Lead at NCSSM. "As we think about the role that educators should be playing in 2021, two things are clear. First, today's employers are asking for more than technical skills. STEM education needs a greater emphasis on team-based problem solving. Second, not all students in North Carolina have the same access to meaningful work-based learning opportunities. Through this partnership, we are committed to being part of the solution on both fronts."    Working with District C, NCSSM will recruit and train
NCSSM Teamship Fellows,
high school educators from diverse regions across the state, certifying them to launch and coach Teamship experiences for their students. A statewide network of business partners will provide real, meaningful, and urgent problems for student teams to solve, such as a large tech company looking to increase the gender diversity of its software engineering team, or a small nonprofit looking to optimize its volunteer management process. NCSSM Distance Education and the NCSSM Foundation will provide funding.   NCSSM Teamship Fellows will also have the opportunity to join forces with NCSSM's expert coaches to facilitate and coach teams of nominated students in cross-state experiences called
NC Teamship Showcases.
Through these showcases, students will come together virtually in teams of four to solve real problems for businesses across the state. NC Teamship Showcases will spotlight North Carolina's next generation of promising and diverse talent.   "The Distance Education team at NCSSM brings years of experience working with stakeholders, educators, and students across the state," says Dan Gonzalez, co-founder of District C. "We couldn't be more excited about this partnership and the impact it will have on students who wouldn't otherwise have a Teamship opportunity."    NCSSM and District C are already working together to offer Teamship experiences for small groups of students and will look to recruit the first cohort of NCSSM Teamship Fellows in the fall of 2021. Educators can express interest at
districtc.co/contact
.    * * *  
About
NCSSM
:
North Carolina School of Science and Mathematics is a world-class public high school with statewide reach empowering students with the skills and knowledge to design their own future. Specializing in science, technology, engineering, and math, and embracing the fine arts and humanities, it challenges talented high school juniors and seniors from across North Carolina through a residential program on its historic campus in Durham — and beginning in 2022, on a second campus being built in Morganton. NCSSM's extensive online, distance education, and summer offerings extend its impact to every corner of the state and to younger students. Founded in 1980 as the first of its kind, NCSSM has become the model for 18 such specialized schools around the globe and is a member of the 17-institution UNC System. Its 11,000-plus alumni include local and global leaders in medicine, technology, commerce, education, and the arts — a community of problem solvers who build a brighter future.    
About
District C
:
District C is a North Carolina nonprofit preparing the next generation of diverse talent for modern work. Teamship, District C's flagship program, coaches teams of students through the process of solving real problems for real businesses. Through the experience, students develop the competency most sought by today's employers — the ability to work effectively with others to tackle novel challenges. The District C Coaching Institute trains educators to adopt and coach Teamship back at their schools and higher ed institutions. Since its founding in early 2017, District C has reached close to 2,000 students across seven states.