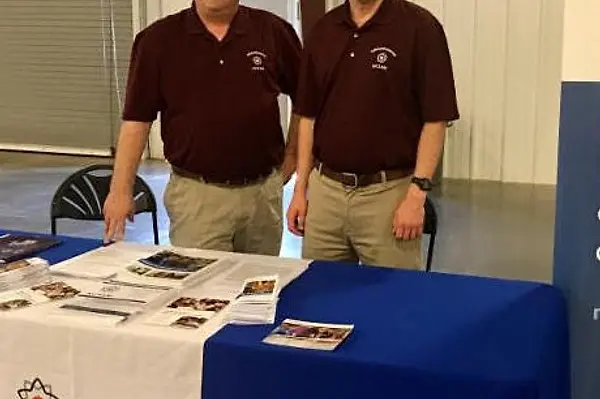 news
NCSSM Admissions team reaches NC's 100 counties to help connect students with educational opportunities
Mattie Gaddy-Parks, Associate Director of Admissions, shares information about NCSSM's programs with prospective students during a school presentation prior to the pandemic.
For many students at the North Carolina School of Science and Mathematics, their introduction to the school begins with a visit from one of NCSSM's admissions counselors: Rob Andrews, Mattie Gaddy-Parks, and Nick Lehman. Together, the three have nearly 40 years of experience of listening and speaking with thousands of students from every corner of N.C. about achieving their dreams for the future. Though the Admissions Office is officially responsible for drawing a quality pool of applicants for NCSSM programming, the scores of visits they make each year to local communities are all about connecting students with educational opportunities supportive of a student's individual goals — whether found at NCSSM or right at home.   "The overall thing we're promoting is education," says Rob Andrews, one of the school's two Associate Directors of Admissions. Though COVID-19 has necessitated a shift to virtual engagements, Andrews and his colleagues typically log thousands of miles annually visiting all 100 of the state's counties for presentations in classrooms, auditoriums, community centers, and church social halls. "We think about what's best for each student. A lot of times you'll hear people say that NCSSM has the smartest and brightest students in North Carolina. Well, yes and no. We have many of the smartest students who apply. But there are amazing students in North Carolina who don't apply. We're not the perfect school for everyone. But I want to make sure that every student knows that we are an option."   The result of such a student focus is that NCSSM's Admissions Office functions more like a year-round marketing and student services department, spreading the word about all of the school's programs, including its
Open Enrollment distance education courses
and
Accelerator summer programs
,
Summer Ventures program
, and a handful of other enrichment programs open to students throughout the state. Admissions officers also commit a significant portion of their time to retaining and supporting enrolled students and managing the school's privately-funded assistance program for students encountering financial challenges while enrolled.   "It's really about talking to the students, asking and answering questions, and really trying to determine what the best option is for that student," Andrews says.   Sometimes a student's desires and needs align with NCSSM's residential or NCSSM Online programming. On other occasions, a student's future plans might be better served by remaining where they are, or taking advantage of other opportunities available to them in their local communities. The goal is to find a match between a student's desire and an opportunity, regardless of where that opportunity may be found.    "That's one of the reasons that I'm so happy that NCSSM Online and the Open Enrollment courses are there," says Mattie Gaddy-Parks, NCSSM's other Associate Director of Admissions, referring to two ways students can take NCSSM coursework remotely from their home community. "Students have the opportunity to stay in their home community and still be part of NCSSM."   While Gaddy-Parks' presentations to potential applicants cover details about NCSSM programming and the application process, what she's really offering students is a window into the greater NCSSM experience, which transforms students into thinkers, makers, and doers ready to lead North Carolina and the world.   "There's more opportunity than ever out there for students outside of NCSSM," she says, "but how many kids can actually say they're doing research with renowned scientists? How many kids are living independently two years prior to entering college while also exploring STEM fields they might not have been able to explore at home?"   The relationships admissions counselors establish with students during the recruitment and application process often carry over into their academic lives at NCSSM, when many students seeking emotional support first turn to the person they know best, their admissions officer. Others continue to seek academic advising as they burnish their NCSSM resumes for college. In fact, it's not uncommon for admissions officers to continue advising students they met who ultimately didn't enroll in NCSSM.   "The students are the most important thing," Andrews says. "I really believe in the students and their impact on our state and our nation's future."   
For more information about the application process or to host an Admissions presentation, please email admissions@ncssm.edu, visit our webpage, or follow us on social media (Facebook, Twitter, Instagram), @NCSSMAdmissons.
Share this post.