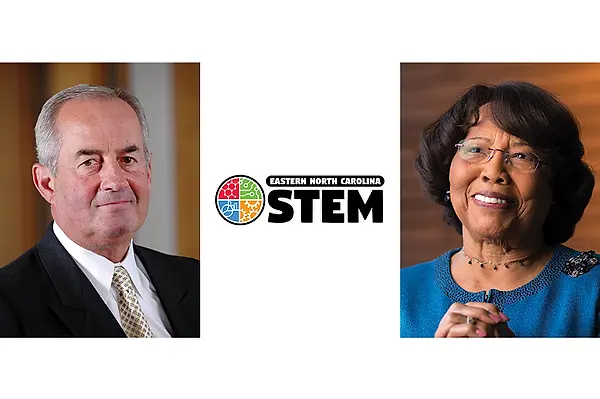 news
NCSSM 2019 gala featured NC STEM Hall of Fame awards
This year's honorees are Samuel H. Houston, Jr., Eastern North Carolina STEM, and Shirley Frye.
The North Carolina School of Science and Mathematics inducted three new honorees into the NC STEM Hall of Fame at the NCSSM Gala on March 30. Shirley Frye, Samuel H. Houston, Jr., and Eastern North Carolina STEM were recognized for their work to make STEM education accessible to thousands of North Carolina students, from preschoolers to post-docs.   Hundreds of alumni, families, and community leaders — many of them STEM professionals, entrepreneurs, and executives — attended the 2019 Gala, held March 30 at The Carolina Club in Chapel Hill.   The Gala is a milestone fundraising event for NCSSM, generating private charitable investment in a statewide public high school designed especially for North Carolina's highly talented youth.   In 2017, NCSSM established the NC STEM Hall of Fame to recognize individuals and organizations for remarkable contributions to our statewide community in science, math, engineering, and technology, as well as ethics of service reflective of NCSSM's
mission
.   The
first four inductees were honored
at the inaugural NCSSM Gala on September 22, 2017 at Washington Duke Inn & Golf Club in Durham.
Those charter members are The Burroughs Wellcome Fund, Maya Ajmera '85, Joseph DeSimone, Ph.D., and the Honorable James B. Hunt, Jr.   In his closing remarks at the 2017 Gala, Chancellor Todd Roberts observed, "Altogether, the Burroughs Wellcome Fund, Maya Ajmera, Joe DeSimone, and Governor Hunt have positively impacted the content and quality of public education for millions of students in our state and beyond, and have created conditions for economic growth that can benefit citizens throughout our state, nation and world. Truly, the world is a better place thanks to their good work and leadership."   This year's honorees are:  
Shirley Frye
North Carolina native and former NCSSM Board of Trustees chair Shirley Taylor Frye has spent her life working to advance opportunity for others. Her service to the state began in Greensboro, where she taught second grade and exceptional children. She continued her career at Bennett College, spending time in the classroom and later in fundraising for the school. At North Carolina A&T State University, Frye distinguished herself in three different roles, serving as assistant vice chancellor for development and university relations and, most recently, on special assignment as executive assistant to the chancellor. Her former role as vice president of community relations for WFMY-TV, Greensboro's CBS affiliate, stands as one of  Frye's most exciting and rewarding jobs.   Frye is the recipient of more than 25 honors and awards, including the 1985 Governor's Order of the Long Leaf Pine Award, one of the most prestigious awards presented by the governor of North Carolina, and has been involved in some 100 former and present associations and affiliations. She has served or continues to serve on boards for organizations such as the North Carolina GlaxoSmithKline Foundation, North Carolina A&T University Foundation, North Carolina School of Science and Mathematics, and the Governor's School of North Carolina. She holds a bachelor's degree from North Carolina A&T State University with high honors in education and English and a master's degree with honors in psychology and special education from Syracuse University.  
Samuel H. Houston, Jr.
Beginning as an elementary school teacher, life-long North Carolinian Sam Houston has dedicated nearly his entire life to education. His grand vision for the classroom quickly found him transitioning from elementary school teacher into administrative positions as both assistant principal and principal at the junior high and high school levels and, ultimately, as superintendent of Mooresville City Schools, a position he held for a decade. He has also engaged at the university level, having held adjunct professorships at Appalachian State University and UNC-Chapel Hill.   Houston has previously served as executive director of the North Carolina Education Standards
 and Accountability Commission at the invitation of Gov. James B. Hunt Jr., chaired the North Carolina State Board of Education's Blue Ribbon Commission on Testing and Accountability, served as vice president for Program and Policy of EdGate, Inc., and was the first executive director
 of the University of North Carolina Center for School Leadership Development. Today he is president and chief executive officer of the North
 Carolina Science, Mathematics, and Technology Education (SMT) Center, a non-profit organization dedicated to the advancement of science, mathematics, and technology in schools throughout the state and nation.   Houston is the recipient of numerous recognitions and awards, including the Jay Robinson Leadership Award as an Exemplary Educator, and has served on a number of boards dedicated to education and education policy.   He holds bachelor's and master's degrees from Appalachian State University, an educational specialist degree from East Carolina University, and a doctorate in education from the University of North Carolina at Greensboro.  
Eastern North Carolina STEM
Founded in 2012, Eastern North Carolina STEM (ENC STEM) provides high quality STEM learning opportunities and leadership training to students from economically disadvantaged high schools in eastern North Carolina. ENC STEM's free, three-week summer program in problem solving, leadership, and STEM content serves students from eight high schools across six eastern North Carolina school districts. Students attend the first two weeks of the program in Northampton County, and a select number of students are invited to attend the program's third week, held in residence at NCSSM. Courses at NCSSM are co-planned and co-facilitated by NCSSM faculty and ENC STEM instructors from across eastern North Carolina. Many ENC STEM instructors will return to their classrooms the following school year, creating additional opportunities to strengthen the quality of STEM instruction for all students in eastern North Carolina.   Through the program, which will enroll 120 students this summer, students make considerable gains in their STEM knowledge, leadership, and growth mindset, as well as in the program's core character traits of collaboration, perseverance, curiosity, urgency, and professionalism. These experiences convert into long-term impact, with ENC STEM's first classes of graduating alumni realizing college persistence rates of 82%, well above the UNC System average, while also pursuing STEM majors and careers at rates 50% higher than the UNC System average.   ENC STEM was honored with regional and national awards from Teach For America, as well as a visit from North Carolina Governor Pat McCrory and Representative Leo Daughtry in 2014. More recently, STEM in the Park named ENC STEM the Community-Serving STEM Organization of the Year, and the National Consortium of Secondary STEM Schools (NCSSS) recognized ENC STEM and its partnership with NCSSM as the Innovative STEM Student Program of the Year.  
ENC STEM's work is coordinated by a leadership team composed of current and former teachers from eastern North Carolina schools, including co-directors Elaina Sabatine and Grayson Cooper '08, NCSSM Instructor of Mathematics Tamar Avineri, and former ENC STEM students, including Jessica Towns.
  Learn more:
encstem.org
Share this post.