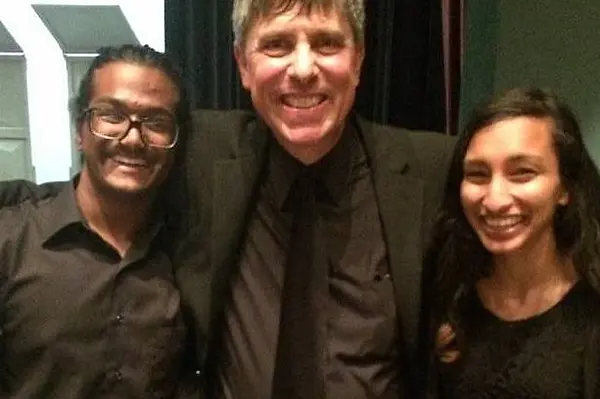 news
NC Symphony honors Laird with Outstanding Educator award
The North Carolina Symphony has honored Music Instructor Scott Laird with its prestigious 2016 Maxine Swalin Award for Outstanding Music Educator. Laird also serves as Fine Arts Coordinator at North Carolina School of Science and Mathematics, where he has worked since 2001. He conducts NCSSM's orchestra and teaches courses in classical piano and guitar, music history, and recording technology.  
A string educator, clinician, and conductor for over 30 years, Laird's orchestras are recognized for their superior and musically mature performances. As a guest conductor and presenter, he has conducted all-state orchestras in Vermont, Georgia, Florida, Maryland, South Carolina, Colorado, Florida, and Indiana and taught at Interlochen Summer Arts Camp.
The North Carolina Symphony presents its Swalin Award annually to a North Carolina music teacher who serves the community as a role model in music education, instills a love for music in children, and inspires students to reach appropriately high musical standards.  It is named for Maxine Swalin, who, together with her husband Dr. Benjamin Swalin, North Carolina Symphony Music Director from 1939-72, established the children's concert division of the Symphony in 1945. 
Laird received NCSSM's 2015 Excellence in Teaching Award. He earned his National Board Certification in 2004 and re-certified in 2013. He has served as President of the NC Chapter of the American String Teachers Association and Chair of the NCMEA Orchestra Section. He has chaired ASTA's National Committee on School Orchestras and Strings and was Co-Chair of ASTA's 2013 National Solo Competition. He was a founding member of the Board of Directors for KidZNotes, an El Sistema USA program in Durham, NC.
Laird performs on acoustic and electric violins and is known for his ability to lead and perform in both the classical and improvisatory arena. He is also a sponsored artist and educational specialist for D'Addario Bowed Strings, Coda Bows, and NS Design Electric Violins. A native of Indiana, PA, he earned a B.S. in music education and an M.A. in violin oerformance from Indiana University of Pennsylvania.
Share this post.