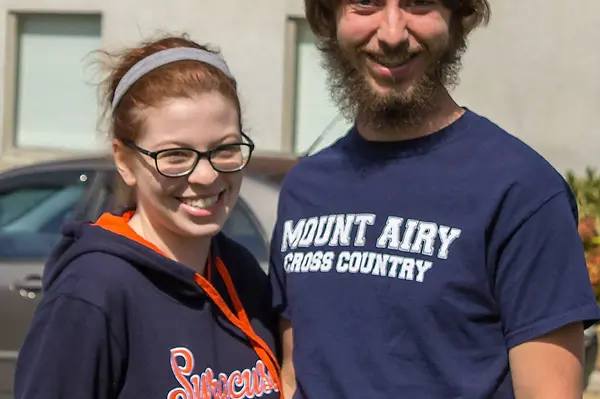 news
Mt. Airy High enhances course offerings through partnership with NCSSM
Mount Airy High School Counselor Alicia Henson (center) with seniors Rachel Evans and Matthew Eads. The two students and dozens of their Mount Airy classmates supplement their course load with interactive video conferencing courses from NCSSM.
School leaders at Mount Airy High School in Surry County, NC, are dedicated to offering as many opportunities to their 548 students as possible. A partnership between the high school and North Carolina School of Science and Mathematics is helping to expand those opportunities by enrolling Mount Airy students in NCSSM's interactive videoconferencing (IVC) courses — live, interactive sessions offered to students at high schools across the state.
Mount Airy's partnerships with NCSSM began about three years ago. Enrollment in the IVC classes increases each year as more students take advantage of course offerings such as Honors Aerospace Engineering, AP Statistics, and Honors Forensic Science. This spring, 19 Mount Airy students are enrolled in the interactive courses; 38 are already signed up for next year.
School counselor Alicia Henson began working at Mount Airy a year ago. She meets with each student individually to figure out the best combination of courses and extra opportunities for their interests and aptitude. Students choose from a range of NCSSM IVC courses; many also take courses at the local community college and/or take online courses through DPS. 
The IVC experience has worked well for Rachel Evans and Matthew Eads. Both seniors have taken IVC classes since their sophomore year at Mount Airy. What interested Eads was the list of highly specialized course offerings like forensics, aerospace engineering, and genetics. "These are all really interesting and not typical topics that you can go and study," he says. A typical day for him begins with AP U.S. History, then an IVC course for forensics, then theater and AP Earth Science with Mount Airy instructors. "What's nice about our IVC classes," says Eads, "is that some schools have to travel, or it can mess up their schedules, but these just fit into our blocks, so it's not really any different than any other class. The only difference is our teacher isn't standing there, she's on the screen."
Evans appreciates her IVC instructors, highlighting one in particular who had a strong impact on her. Mrs. Amy Jernigan "really guided me to want to pursue [forensics]. She's just been such a great resource for me," she says. "She was the one that showed me the field of forensic pathology, which is the field of medicine that I want to go into."
Henson says Evans is a "very motivated" student and active in a number of things in addition to her classes. After school, she works at Chick-fil-a, sometimes up to 30 hours a week, and participates in extracurricular events such as HOSA (Health Occupations Students of America), spending her spring break at a HOSA competition.
Eads' evenings are full as well. He works with the Presbyterian Young Council, leading and organizing a large regional group. He runs cross country, has run two marathons and a half marathon, and is considering training for another race soon. His main interest is paleontology, and his dream job is to be a museum curator and professor at the Smithsonian Institution.
"I remember Matthew telling me last year he wanted to study paleontology, and I was like yea, ok," says Henson. "But you know, he's really doing it. He's really going to do it." He's already on his way, having spent time shadowing a mentor at the Smithsonian and taken related IVC classes through NCSSM.
As a small school, "we do have a limited capacity," says Henson, but offering as many opportunities to their students as possible is one of the school's main goals. Henson hopes to see the partnership grow to offer more course options to more students. 
Next year, Eads will head to Appalachian State University, where he was admitted into the school's highly selective paleontology program and hopes to run cross country as well. Evans is still deciding between her final couple of university choices, but she plans to major in human biology and is looking for another major as well to diversify her medical school application down the line. She'll at least add a minor in forensics, as she pursues her dream of becoming a forensic pathologist.
IVC student Rachel Evans poses with NCSSM Instructor of Mathematics Floyd Bullard during his AP Statistics class.
Rachel Evans, Mount Airy '16 
Favorite class:
Forensics, but genetics is a close second.
Dream job:
Forensic pathologist
Best tip to avoid procrastination:
Prioritizing helps a lot!
Favorite food:
Any kind of Asian food. Or Chick-fil-a.
Secret talent/superpower:
Being able to write a paper in a night!
What book are you reading right now?
Genome by Matt Ridley 
IVC student Matthew Eads poses with NCSSM Instructor Amanda Martyn during her Honors Genetics and Biotechnology class.
Matthew Eads, Mount Airy '16
Favorite class:
Genetics
Dream job:
Museum curator/professor at the Smithsonian
Best tip to avoid procrastination:
Get started early.
Favorite food:
Taco Bell Crunch Wrap
Secret talent/superpower:
Counselor Mrs. Henson jumps in to say, "His beard!" His response: armpit farting.
What book are you reading right now?
Re-reading Jurassic Park.