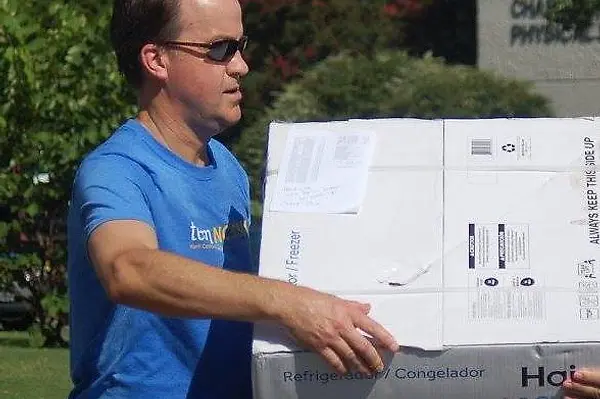 news
Move-In Day a rite of passage for residential Unicorns
Annabelle Holman graduated from NCSSM in 2016. A rising junior in the School of Media and Journalism at the University of North Carolina-Chapel Hill, she interned at NCSSM this summer in the Office of Communications.
I'm sure my fellow alums all remember quite vividly the variety of feelings we had the summer before junior Move-In Day at Science and Math: excitement and anxiousness about living on our own and being a little more independent, overwhelmed when you realized how much you had to buy/pack for your new room, and for many of us, nervous about sharing a dorm room with a complete stranger. On one hand, you might meet your new best friend — but you might be completely incompatible and miserable. It seemed like a coin toss.
These memories came back to me this week as I found out that each member of the incoming Class of 2020 has just received the name of their roommate and I looked over the newsletter and tip sheets sent by Student Life with tips about meeting your roomie and moving in.
One helpful tip is to reach out over the summer to form an initial connection. The newsletter cautions students to try not to form opinions about each other before meeting in person. We know all too well how easy it is to track down someone you have never met, pore over their social media accounts and maybe even Google them, hoping to dig up some juicy details. "It can be tempting to comb through social media to find out everything your roommate has ever done, but resist the temptation and reach out with a get-to-know-you email instead," the tip sheet advises.
Although I knew my roommate going into my junior year, I watched on my hall as roommates meeting for the first time grew to be close friends, spending time together even when school wasn't in session — and I also watched as roommate relationships fell apart when one person was a night owl and the other went to bed at 10:30 sharp!
Going into my senior year, I was assigned a random roommate, which was scary, but I was so thankful for taking the risk, because we ended up having the same goofy sense of humor and even became each other's support systems when times got tough. Both at UNC now, we still keep in touch.
Students are asked to arrive with bedding, plenty of snacks (peanut butter and jelly sandwiches were my go-to), and the familiar-to-many-of-us plain white T-shirt for the beginning of the year T-shirt signing dance (I still have both of mine). Unfortunately, the following items are prohibited and must be left behind: live Christmas trees, George Foreman grills, vending machines, and deep fat fryers. You'd like to think this would go without saying!
On the sustainability side of things, NCSSM is challenging new students to move in without creating any waste at all: no plastic, no styrofoam. Instead, students are asked to unwrap their new dorm supplies at home and to come to NCSSM with reusable bags and containers. "To make a green move-in, you will need just a bit of planning," the tip sheet says. On Move-In Day, Sustainability Project Leaders plan to be stationed around campus to collect recyclables. Students are encouraged to reuse old school supplies, use reusable water bottles, and add plants to their room decor for a breath of fresh air.
One of my biggest fears about moving to NCSSM was that I would not know how to survive without my family — but then I actually thrived on the independence, so that was the least of my worries. At school, I instead wondered how I would survive with cafeteria food and before-sunset curfew.
Although it was honestly pretty terrifying to move away from home at 16, the experience really prepared me for college and set me ahead of my peers at UNC. I have always admired the care with which the school helps new students make the transition to residential life. As an RLA during my senior year at Science and Math, an RA last year at Carolina, and a Community Manager there this coming year, I came to enjoy helping others feel welcome in their home away from home.
So on Aug. 11, think affectionately about the Durham campus filled with staff and current students helping incoming Unicorns with the move-in process. Let's hope the nerves start to subside quickly and that new students will realize they can do this with an entire support system to help them thrive.
Share this post.