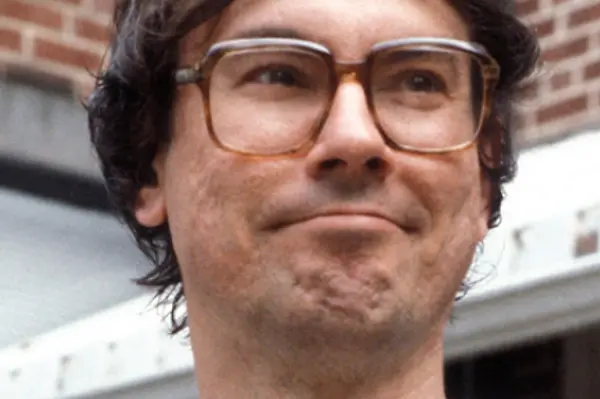 news
Mourning the passing and celebrating the memory of Dr. John Kolena
Legendary physics instructor Dr. John Kolena, right, works with then student Colin Law '86, who now has a career as a rocket scientist.
A virtual remembrance event was held on Saturday, Jan. 23, 2021. View a recording.
Read more: "Remembering the unforgettable Dr. John Kolena"
Dear NCSSM Community:
It is with great sadness we share that iconic NCSSM faculty member emeritus John Kolena, Ph.D., has died after a brief battle with lung cancer.
John served as a physics instructor at NCSSM for 30 years and was something of a legendary figure even among students he never taught. He joined our esteemed faculty during the second year of the school's operation, and during his career helped forge a standard for academic rigor and educational excellence that helped launch NCSSM's global reputation. He was honored with the UNC Board of Governors Excellence in Teaching award in 2010-11.
Kolena, as he was also known, fostered an intensely intellectual learning environment. Though he inhabited the persona of a lion in the classroom, his underlying personality was gentle and caring. He was genuinely interested in the welfare of his students and colleagues. Though he was "Dr. Kolena" to students on campus, he made a point of telling returning alumni to please call him "John."
John loved art and travel and never missed an opportunity to combine these passions, frequently touring exhibits in Philadelphia, New York, Washington, London, Paris, and elsewhere, often visiting alumni along the way. His collection of travel books was extensive, and he readily loaned them to friends who were traveling to a place he had already visited. Some books were regional histories, while others were travel manuals such as Fodor's.
"I always made sure I took any trail or visited any site that he had marked as especially worthwhile," said Dot Doyle, friend and NCSSM math instructor emeritus. "They are always the best places to visit."  
John was a voracious scholar, pursuing intellectual interests across academic disciplines, continually refining his own teaching activities and methods, and pushing his students and colleagues to be their best selves. He developed and taught a broad array of physics and astrophysics curricula at NCSSM. John was a pioneer, creating a website of resources for his NCSSM physics classes and for other teachers even before NCSSM was providing its teachers with server space and technical support for web development.
According to Jon Bennett, the current chair of physics at NCSSM, "John was one of my early mentors when I came to NCSSM, and I learned so much from him. He was a lifelong learner who never lost his curiosity. Even during his recent hospitalization, John attended, via Zoom, a workshop on the physics of climate change held during the November 2020 virtual meeting of the NC section of the American Association of Physics Teachers." 
"I've heard so many stories about John from alumni and employees," reflected Chancellor Todd Roberts. "He was a truly gifted and inspirational teacher and a quiet and caring friend and mentor to so many. We are fortunate that he chose NCSSM as the beneficiary of his life's work. He was an early pioneer who helped set the standard for what we are today. John will be greatly missed by generations of alumni and the entire NCSSM community."
Marilyn Link, former Dean of Science, said, "Even though I am so sad, I cannot help but smile when I think of John and our 30 years together as colleagues and friends. He was one of the most interesting — and interested in everything — persons I have known. He understood that liking something was not ever enough … you had to commit. He wanted the best for people and our country, so he committed to working election polls; he loved the arts, so he committed to museums and made sure he attended special exhibits no matter where they were; he was concerned about the environment, so he studied climate change and then wrote his thoughts on the subject; he loved astrophysics, so whenever he was at a science conference and a radio telescope was nearby, he committed to visit. In our friendly ongoing 'battle' about which was the most important branch of science, the fact was that John was actually a great naturalist and very much appreciated biology. He always wanted to know the names of every plant or animal he saw!" 
Most of all, "John loved NCSSM," Link said. "He loved his students, his family and friends and finally, he loved learning – Kolena lessons that are not TBI ("true but irrelevant," a playful classroom retort for which he was well known), but rather very true and very relevant."
Share this post.