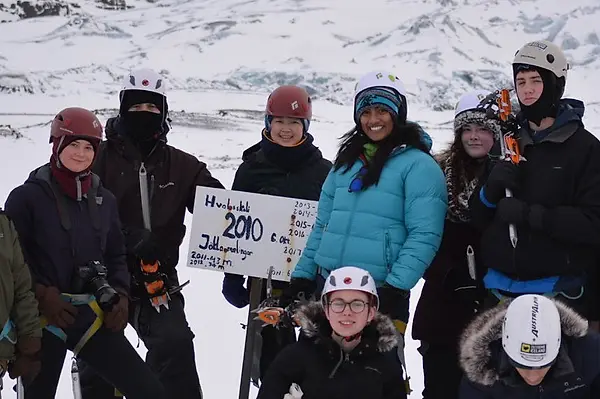 news
Mini-Term students count and counter carbon emissions
Sam Wheeler's 2018 Mini-Term students visit an Icelandic glacier impacted by global warming
It took one moment of realization and two years of planning, but a number of students from NCSSM will, for the first time ever, be calculating — and hopefully offsetting — the carbon emissions produced by their participation in Mini-Term travel. It's a significant addition to NCSSM's sustainability efforts to educate students about climate change and its effects on our warming planet. 
The idea began forming two years ago in physics instructor Sam Wheeler's mind as he stood heavily-layered and shivering with his Mini-Term students against a cold and brittle Icelandic wind. Two miles away, Wheeler estimated, the leading edge of the Sólheimajökull glacier poured from a pass between two volcanoes, its deep snow face shot through with flashes of clear blue ice where the wind had scoured away the powder. Six years prior, the glacier's edge had fallen where Wheeler and his students now stood on rocky ground next to a signpost marking the spot.
Sólheimajökull was melting, retreating into the pass as its ice trickled away in small rivers running relentlessly to the sea.
As a man of science, Wheeler had long been concerned by humanity's role in climate change. He shared that concern with previous Mini-Term students by incorporating some type of environmental impact component into their travels. But never had he seen for himself the true magnitude of change until he stood with his students, peering at the evaporating glacier. The immensity suddenly hit home. "Wow," he recalls thinking at that moment, "this is real."
A powerful realization it was. And perplexing, too. On one hand, Wheeler knew, the holistic value of an international travel experience for his students far exceeded its upfront outlay of cash. So, too, did seeing firsthand the effects of climate change. "I'm glad the students are getting that exposure," he says, "and they're seeing things that are changing." 
But there was a tremendous environmental cost to be paid on the backend. The group had flown to Iceland from the United States aboard a giant commercial jetliner whose beautiful contrails disguised their heat-trapping carbon emissions. Too, the fossil fuels that heated their hotel rooms in Iceland and powered their overland travel to the glacier added atmospheric contaminants. Even the food they ate owed its presence on their plate to carbon-emitting processes.
"It's really at that point," Wheeler says, "that I was going, 'This is what's happening, and we have to change our mindset.'"
So he began formulating the idea for what is now officially known at NCSSM as the Carbon Offset Challenge.
"I thought, 'I'll throw this out there [to his Mini-Term 2020 students traveling to Mainland Southeast Asia] as a carrot,' say 'all right, here's a challenge: come up with a way to offset what you're contributing to what is damaging the earth.'"
All of Wheeler's students came on board immediately.
Daniel Fang, a senior from Monroe, NC, will be traveling with Wheeler. He has already made small changes in his life to help lessen his carbon footprint, but never has he fully calculated the impact of his activity on the environment.
"There's always, like, the climate change strikes and everything that say, 'We need change, we need change,' right?" Daniel says. "But the less talked-about thing is how do we get that change? Where does that change come from?
Daniel's research revealed that a significant amount of atmosphere pollutants are created by the clothing manufacturing process. So, to cut back on his contributions to global warming, Daniel will be wearing his clothes longer and not buying new clothing as often.
"It's more than just planting trees, and it's more than just paying off your carbon emissions. You've got to think of unique ways to change your daily behavior. This is a really good step toward that."
Isaiah Hamilton, a senior from Camden, NC, who will also be traveling with Wheeler, shares a similar sentiment.
"A lot of what we do is subconscious," Isaiah says. "We kind of just live our lives and never stop to think about how our actions have consequences. Being able to do a project like this is flipping that script on itself and saying, 'Look, let's fix some of the problems we've created for ourselves.'"
But he acknowledges that changing his own behavior will be hard. For starters, Isaiah plans to purchase carbon credits. It's not the most creative or self-sacrificial thing to do, he says, but he also plans to reduce, or possibly even eliminate, his red meat consumption as well as cut back on the significant amount of time he spends taking showers. "For some reason I take long showers," he says with a shrug. "I don't know why."
NCSSM's administration has lent their support to the challenge by agreeing to recognize the student with the best offset plan with an award at the school's end-of-year ceremony.
"Of the many opportunities to grow made available to our students, educational travel has to be among the most beneficial," says Katie O'Connor, NCSSM's Vice Chancellor for Academic Programs. "Not only do students grow intellectually from such travel, they also grow holistically. Because of this, we encourage our students to travel when they have the opportunity.
"But we're also realizing more and more the need to take responsibility at a personal level for how our travels contribute to climate change issues," she continues. "The Carbon Offset Challenge is a great opportunity to do that. We are committed to supporting this initiative with the hope that such support will further foster the sense of responsibility that's required of all of us if we want to leave this planet better than we found it."
"Science" is part of NCSSM's name, and science says this: the earth is warming at an accelerating rate. And while the school's Carbon Offset Challenge is a small step toward addressing that looming crisis, it is another step. From this point forward this group of  NCSSM students will have a far greater understanding of their role in creating and addressing climate change. With that knowledge will come the power to create solutions. And that's what NCSSM is all about. Perhaps in no other scenario has the school's motto, Accept the Greater Challenge, been as relevant as it is now. Expect NCSSM's students to rise to that challenge.