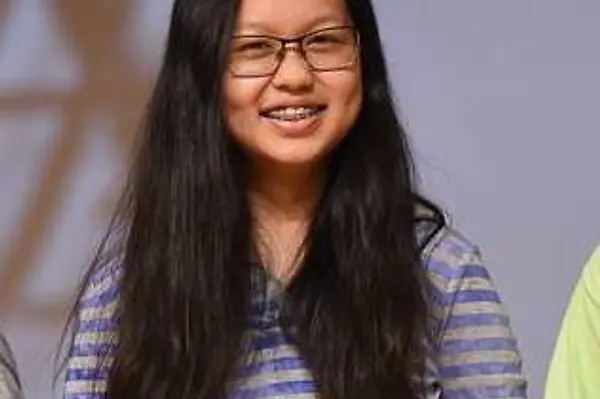 news
Mathematician Angela Deng '17 excels in competitions
Angela Deng '17 was a bronze medalist and the only student from North Carolina to place in the 2015 Math Prize for Girls Olympiad.
Angela Deng '17
The avid mathematician most recently took 5th place in algebra at the 19th Harvard-MIT Math Tournament, where she was the only student from North Carolina to rank.
Junior Angela Deng is no stranger to competition. This year alone, she has placed in three major math competitions, but she's been competing in mathematics since middle school. We talked to Angela about participating in these competitions, being a female in a male-dominated field, and what she reads in her spare time.
On being a female mathematician, and what it's like to compete both individually and with a team:
I first got involved with math competitions fairly early on, although I really became passionate about math and contests in middle school. They're a fun way to practice my problem-solving skills and meet people who share my interests. Some contests have also led to amazing opportunities, from trips to places like China for international competitions to summer camps in Canada and across the country.
Beyond the excitement of the contest itself, one of the greatest parts of math competitions is the people who attend–there's a sense of community among all the participants, who all share a love for math and creative problem solving. No matter if I'm by myself or with a team, I always feel like I'm surrounded by friends and peers. When I'm competing with a group, there's a more collaborative element to the contest, and I get to share the experience with my teammates.
Being a female mathematician has given me an interesting perspective on math competitions. Girls often seem to be a minority in contests and in the field in general. It's exciting to see and be a part of opportunities like the Math Prize for Girls that encourage female involvement in math.
I don't know for certain if I'll pursue a career in math, but I'm sure that any profession I end up with will be related to math and science in some way.
Hometown:
Cary
Favorite class at NCSSM:
Graph Theory
Best tip for avoiding procrastination:
Set deadlines and stay away from Facebook (and Youtube, and Netflix, and…)
Dream job:
Undecided
Favorite way to spend a Saturday afternoon:
Baking
Favorite food:
Strawberry cheesecake
What book are you reading right now:
Thing Explainer by Randall Munroe
Share this post.