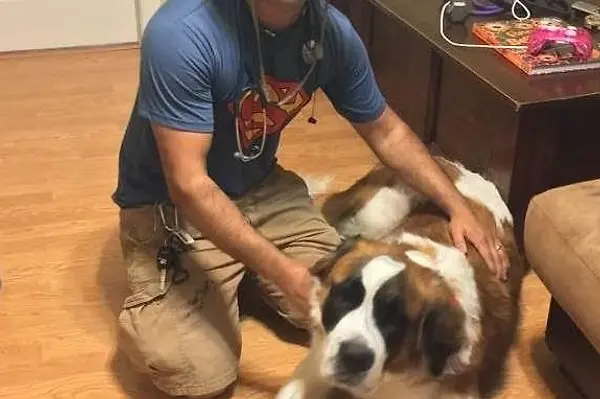 news
Marlon Sequeira '03 treats Triangle-area pets through mobile vet practice
A very patient and devoted black labrador retriever stole alumnus Marlon Sequeira's heart when he was a boy. Today he helps animals of all shapes and sizes stay healthy through his mobile veterinary practice.
A Dog Named Nellie
Marlon Sequeira '03 has loved animals all of his life. Especially dogs. Big dogs, like Labrador retrievers and golden retrievers.  
As a child in Winston-Salem he used to kneel down on the floor next to the dog food bowl as his dog Nellie, a black lab, ate. Instead of shying away from her dish, or registering her disapproval with body language, Nellie licked Sequeira's face between bites of kibble.
"That's just the kind of dog she was," says Sequeira. "She was a big factor in me loving dogs and loving pets. I had always said, since I was about five, 'I want to be a veterinarian.' I don't think I ever swayed from that."
Today, he is the owner of Veterinary Care Anywhere, a mobile veterinary service serving the Triangle region from Sequeira's base in Raleigh.
The Path to NCSSM
Sequeira and his older brother, Russel, who also graduated from NCSSM as a member of the Class of 1999, were born to East African citizens of the Indian diaspora who pursued educational and professional opportunities across several countries. Sequeira himself was born  in Doha, Qatar, learned to ride a bike in Blacksburg, Virginia, and grew up in Winston-Salem.
If a career as a veterinarian was in his heart, it might be said that science was in Sequeira's DNA. His mother, Anna, is an analytical chemist and his father, Peter, is a teacher of physics, math, and computer science. None of this, however, guaranteed that NCSSM was in his future. To their credit, his parents never pressured him to consider the school. It was a decision he came to on his own, partly because his older brother had graduated from the school, and partly because, like many kids that age, he began desiring some measure of independence and autonomy.
He got what he wanted, and it was nearly more than he bargained for.
"My first school (Mt. Tabor High School in Winston-Salem) was a really good school," says Sequeira, "but then, when I came to Science and Math, it was very humbling to say the least, as far as the competition around you and the challenge you put on yourself."
A somewhat quiet kid back home, and near the top of his class, Sequeira struggled at first with the adjustment. To complicate his new situation, he had come to NCSSM with a friend from Winston-Salem, a friend who soon thereafter returned home when the transition and homesickness became too much. Sequeira considered returning home, too.  
That's when Michael Newbauer, Sequeira's Student Life Instructor on 2nd Hill, stepped in.
"He is awesome," Sequeira says of Newbauer, who is now NCSSM's Director of Residential Education. "That man helped me so much. We had some talks in his office on hall, and he helped me find people more similar to me and told me it was going to be fine. After six months, I started to adapt and realized that if I studied hard enough, or if I did certain things in a different way, or set realistic goals, that I could be very happy there. And I was. I became very happy there. Especially in my senior year."
NCSSM challenged Sequeira like never before. Two classes in particular — Advanced Functions and Modeling with Topics taught by David Chan, and Advanced Chemistry, taught by Myra Halpin — stand out.
"I was amazed at how challenging they were [considering that they were] some of my best subjects," Sequeira says. "So, that's when it kind of hit me where I was like, 'You know what? The pattern of science and math is sometimes not just "Hey, what's the answer to this? Here's the equation, what's the answer?" It's, you know, now you have the equation, now find out three more efficient ways to do it.' "
NCSSM challenged more than Sequeira's approach to critical thinking. The school was also making it clear to him that his love of animals, science and math could merge. 
A Dream Realized
After graduating from NCSSM,  Sequeira headed to UNC-Chapel Hill. While there he majored in biochemistry, performed in a hip-hop dance group (in which he met for the first time his future wife, though it would be ten years later before they met again at a wedding and fell in love), and sang in an a cappella group.
After that, he enrolled in veterinary school at Cornell University in Ithaca, NY. It was a wonderful experience, he says,but after four cold winters in which he stored frozen foods in the trunk of his car for months at a time, he happily returned home upon graduation to friends and family and the much-warmer climate of his home state.
For the next two years, Sequeira worked at a high-volume veterinary practice in Wake Forest, where he had helpful mentors and learned quite a bit about the business side of veterinary practice. While there he started a side project as a mobile veterinarian because he wanted to see his friends' and family's pets on his own and make it convenient for them. A change in ownership of the practice seemed to Sequeira the perfect opportunity to shift gears, so, upon completion of his employment contract, he began doing veterinary relief work, working relief shifts at five different animal hospitals while continuing to build his mobile practice.
"It ended up being one of the best things I ever did," says Sequeira of his relief shift experience. "I learned many different right ways to do things. I worked with many different types of doctors, did different types of surgeries, got a lot of experience, while at the same time building up this mobile practice."
It took two years of juggling relief shifts with mobile visits before he could work full-time in his mobile practice, which he has been doing since 2014.
"I really love it," he says. "You can spend more time with your clients, it's less stress for the pets for sure, and it's an increased convenience for their owners. It gives me time to answer all my clients' questions, and really enhances my ability to help the pets and the people."
This last benefit  — of helping the pets' owners — is not something he considered part of being a veterinarian until well after he began vet school. But he fully believes in it now. For many families, pets are as much a part of their family as the human members, generating and receiving love just like their human counterparts.
"Dogs are kind of like children in a way," Sequeira says, "in that they haven't complicated things. They are very simple, they are very genuine, and they are very innocent. All they want to know is happiness. The willingness to love and live is really what they know."
A Successful Practice
Today, Sequeira is both exactly where he always thought he would be, and not at all where he thought he would be.
"I always wanted to be a veterinarian, but I'll tell you right now, I never, never imagined myself owning a practice. Even in my fourth year of vet school, I never was interested in the business side of it, or owning a practice." It was not until his second year out of school and in the workforce that Sequeira realized owning his own practice was possible.
And he is enjoying that career more than ever, still amazed, thrilled, and humbled each time the pieces of the puzzle come together. "When I started seeing my patients getting better at a very, very high percentage, and when I started to see science and all that hard work all the way back to Mt. Tabor High School, when you start to see the science and the medicine and what's happening in the text books happen to an actual patient that is getting better, that is magical, I'll tell you."
Sequeira's growing business has allowed him to start an internship program with North Carolina State University's pre-vet program in which animal science students come along with him and gain marketable skills.
"They're great," Sequeira says of the undergraduate interns. "They love learning and they bring their notebooks along and they get good hands-on training and hours and recommendations for vet school." In return, Sequeira gets highly motivated veterinarian technicians.
He has also recently dipped his toe into the teaching world, having taught at a summer veterinary camp for high schools students run by NC State.
Though Sequeira's mobile practice continues to grow, he is also seriously considering expanding to a two to three doctor brick and mortar practice, perhaps in the next few years. The mobile practice will be attached to it.
Yet another professional angle involves his wife, Ashima, whose hard work he considers a leading inspiration in his own life and career. In less than a year she will finish her residency in General Psychiatry at Virginia Commonwealth University, and will become a full-fledged practicing psychiatrist. Together, they are considering a service dog consultation service for clients who also own therapy dogs. A number of Sequeira's patients are therapy animals, and it stands to reason that his wife in her professional practice will see clients who themselves own therapy dogs. A team approach that provides integrated mental and physical care for people and their therapy dogs seems a natural fit.
Looking Back
NCSSM had a profound and positive  effect on Sequeira. It was here that he gained confidence in himself and learned about leadership and discipline and time management, all of which have served him well in his career.
What he remembers most, however, are the personal relationships he developed with his classmates, and the lasting friendships he cultivated. Adi Unnithan, one of Sequeira's classmates and a great friend, figures prominently in his memories. He recalls many nights on hall with Unnithan, "staying up late and just talking about life, girls, just letting it all go. It's not physics or math or what's going to happen in this class or that class…just laughing and doing the most simple things in terms of just talking about life."
Andrew Yun, another close friend and classmate, holds a significant place in Sequeira's memories of NCSSM as well. Three or four nights a week, Sequeira says,  the two would "eat late night Totino's pizza and do some polymer chemistry or organic chemistry." It's an unusual high school experience, for sure, but quite typical for NCSSMers.
Someday, A New Dog
Sequeira thinks often of NCSSM, and often casts his mind even further back to Nellie, that gentle black lab that stole his heart as a child, consoling him when he was sad, comforting him when he was sick, and humoring him even when he crowded her at the food dish. In significant ways, Nellie helped make Sequeira the man he is today.
There will never be another Nellie, and at the moment there is no dog at all greeting Sequeira when he comes home from work. His busy schedule, combined with his weekend trips to Richmond as his wife finishes her residency there, mean that owning another pet is impractical for the moment.
But, as soon as Sequeira and his wife combine households, you can believe a new dog will be joining them. A big one. Probably a goldendoodle. It's a great compromise, he says. The best of both worlds. Another retriever for himself, and for his wife a dog that doesn't shed. Hopefully, this time Sequeira will give the new pup some space at the dog bowl at meal time.
Share this post.