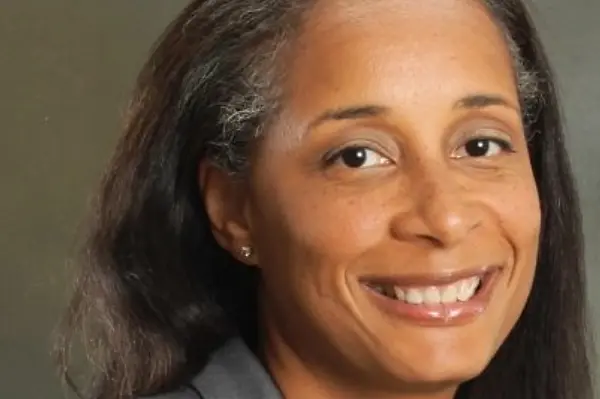 news
Maria Trent '87 to speak at Convocation Aug. 18
Dr. Maria Trent '87 returns to North Carolina School of Science and Mathematics on Tuesday, August 18, to speak at the school's 36th Convocation. The event, which officially launches the new school year, begins at 6:30 p.m. in the auditorium of the John Friedrick Educational Technology Complex.
Watch Convocation online here, live, at 6:30 pm on August 18
As a physician, professor, researcher, mentor, and advocate, Trent has focused her work on reducing health disparities and improving adolescent and young adult reproductive health outcomes. She is an associate professor of pediatrics and public health at Johns Hopkins University's School of Medicine and Bloomberg School of Public Health. Among many awards and honors, in 2014, Ebony magazine named Trent one of the nation's 100 most influential African Americans — joining such company as national security adviser Susan Rice and President Barack Obama.
Growing up in a large extended family in rural Hertford, NC, helped point Trent towards a career in medicine, she says. "In my small town, everyone knew each other and looked out for each other, the young and the elderly."
Coming to NCSSM was a big step. At home, she was "a big fish, I didn't have to take homework home, it was a pretty easy academic life," she remembers. "Science and Math was more challenging, I really had to learn how to study. Plus I had to learn how to balance my own time. I had a little bank account, I had to learn how to manage my own cash flow. And I couldn't just go home every time something happened."
NCSSM "is about having the opportunity to challenge yourself in a space where people will support you," Trent says. Meanwhile, "I had a whole community of people back home who supported me. I would run into older ladies in town and they would press $20 in my hand and tell me to keep up the good work, that they were praying for me."
She grew up doing ballet, but at NCSSM she tried out and made the track and field team as a novice runner. She went on to earn two state records her senior year, in the 800 meter and 1600 meter. "Coach (Mark) Adams taught us how to work together as a team. People think of track as an individual sport, but not for us. To earn meet points, you might have to do events you're not familiar with — like I had to do the high jump. Track helped me develop my identity and helped me learn that I could do whatever I set my mind to."
Trent studied psychology in the psychobiology track with a pre-medicine focus at Yale University. Then she returned to her home state with a Board of Governors scholarship to study medicine at University of North Carolina-Chapel Hill. Drawn to adolescents and teenagers, she completed her pediatric internship and residency at Children's National Medical Center in Washington, D.C., and a fellowship in adolescent medicine at Children's Hospital in Boston, then earned a master's of public health from Harvard.
She joined the faculty at Johns Hopkins School of Medicine in Baltimore in 2001. Over the years, one patient in particular stands out: a 15-year-old girl suffering from a severe case of pelvic inflammatory disease, a sexually transmitted disease. Two weeks before she showed up in Trent's clinic, the teenager had been sent home from an emergency room in the middle of the night with a prescription for antibiotics — but no education about why she should take the pills. Trent saw how the girl could have fallen easily through the medical system's cracks, with consequences that included potential infertility. Trent resolved to direct her research towards improving the care of such teenagers. She has won a number of national grants to design and study innovative combinations of technology and human intervention to improve compliance and prevention among adolescents being treated for reproductive health issues.
Adolescent medicine doesn't bring the immediate gratification of a practice such as surgery, she notes. But she's starting to reap the rewards of her mentoring. One of Trent's former patients who conducted research with her over the summer has been admitted to medical school.
Trent is married to Gregory Hampton, a professor of English at Howard University. They have two children, a 10-year-old daughter and 7-year-old son. She's readying herself as her daughter approaches adolescence. Thinking of her own youth, her time at NCSSM, and many of her patients, Trent thinks the key to surviving the teen years is learning to find your own way while knowing you have adults in your corner.
"It's actually a really beautiful time, there's no other period of time when you get to see such change and growth. You're at your peak in many ways," she says. "Most of us get through adolescence just fine, the challenge is how do you best support people. Every young person needs to have an activated, engaged adult to see them through this period."
Share this post.