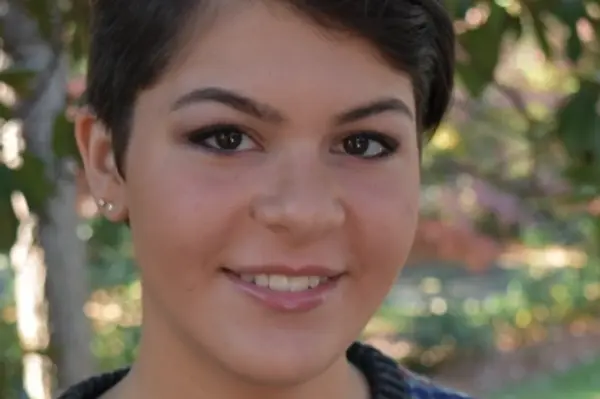 news
Margaux Winter '17 embraces reading, writing, and research at NCSSM
Winter, second from left, with students in her Research in Computational Science class and instructor Robert Gotwals.
Senior Margaux Winter has a knack for science: after conducting research through NCSSM's Research in Computational Science program as a junior, she gained permission to develop a second research project, in chemistry, as a senior. But even while juggling a number of research projects, Winter makes time to read and write. Recently, she won two national awards for her essays and poetry, and last year, she notes, "I read all of the Ernest Hemingway books I could get my hands on." Here, Winter discusses her interests in reading and writing and offers insight as to what it's like to conduct research at NCSSM.
On research at NCSSM:
"One of the most defining aspects at NCSSM, for me," says Winter, "has been my involvement in research programs. The teachers and administration have been really open to me pursuing what I want to in terms of research." 
Conducting research in computational science in collaboration with The Jackson Laboratory, a biomedical research institute located in Maine, "has been really amazing for me," she notes. Winter worked with other students to develop and carry out a research project on diabetes with assistance from researchers at the lab, and she appreciates that her work with the lab kept her "up-to-date with what has been going on the scientific community."
In addition to her computational science research, Winter says, "I approached the chemistry department and asked if I could design my own research project, and the support I have gotten from all of the teachers has been amazing. They trust me with my own ideas. A lot of the time I might feel like I don't know what I am doing, but they help walk me through the process." Winter obtained a grant to fund her research through the Bowman-Brockman Endowment for Entrepreneurship and Advanced Research at NCSSM, and she presented her results to students, faculty, and professional researchers at the NCSSM Research Symposium in April. "I am super excited but kind of nervous, as I just finished collecting my data a few days ago," she said in advance of the symposium. All in all, she notes, "my ability to work with the chemistry department has really transformed my NCSSM experience."
Hometown:
Southern Pines
Favorite class at NCSSM:
"Organic Chemistry was a very hard class for me, probably one of the hardest classes I've taken so far. But I thought it was a really great opportunity to learn about different aspects of chemistry that I could pursue further, and even though I struggled with it a lot, Dr. Spells was always willing to help me and meet with me outside of class," says Winter. "I also learned a lot about becoming a better student."
Dream job:
Environmental chemist
Favorite food:
Mangoes
Secret talent:
"I can knit. I knit myself skirts and sweaters and articles of clothing."
What book are you reading right now?
"I am currently reading the Hamilton biography by Ron Chernow, the one that Lin Manuel Miranda read before he started working on the musical."
Other fun tidbits?
"I really like writing," says Winter. "I like writing both poems and short stories and memoirs. I find it very cathartic for me to express myself creatively, especially at Science and Math, where sometimes, everything is very analytical. I think that's why I like reading so much as well. I submit a lot of my poems and stories to competitions, but I never write anything with a competition in mind… it stifles the creativity."
Next year, Winter hopes to pursue a humanities minor, perhaps in English or European Studies.
– Interview and profile by Avra Janz '17
Share this post.