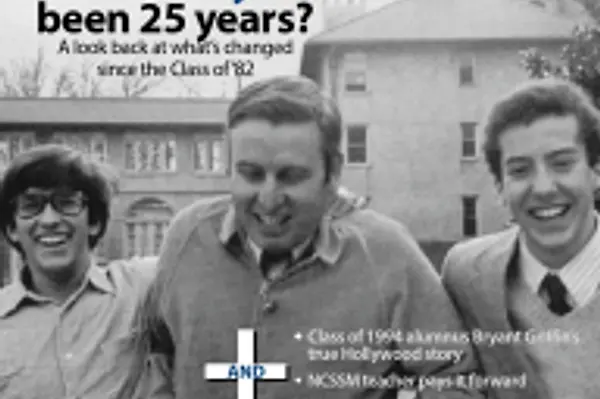 news
Make history: Contribute to NCSSM archives project
By Steven Norton '08
Chair, Alumni Board Communications Committee
Since the first class set foot on campus in 1980, more than 9,000 students have made a temporary home at 1219 Broad Street. Those two years shaped each of us in new and interesting ways, and through our actions and experiences we helped to shape the school we know today.
To preserve the school's history and spirit, NCSSM's librarians are working to create an archive of items, including back issues of the Stentorian, old club fliers, hall photos, letters from a student to her favorite teacher. Objects like these reflect the school through the lives of its most valuable asset: its students, faculty and staff.
If you're in Durham for Alumni Weekend on Saturday, October 10, stop by the library and ask for Stephanie Barnwell. She'll be on campus discussing the archiving process and showcasing the items collected so far. There will also be opportunities to donate your own materials to the archive if you choose.
NCSSM is applying for a Library Services and Technology Act grant to further develop the collection. Eventually, the school hopes to make digital copies of correspondence about the school prior to its inception and make it available to browse online.
Current and former students are also developing an oral history collection to be part of the NCSSM digital archive. More than 50 interviews with students, staff, faculty, and prominent figures in the school's history, including the school's first principal, Borden Mace, are being transcribed for contribution to the collection. If you are interested in telling your story or in helping collect stories from others, please 
contact Jennifer Deets '85.
Our school's incredible legacy shines through its people: the scientists, entrepreneurs, teachers, doctors and writers whose time in Durham continues to impact their lives today. Their stories — your stories — show us what makes this place truly unique.  
Share this post.