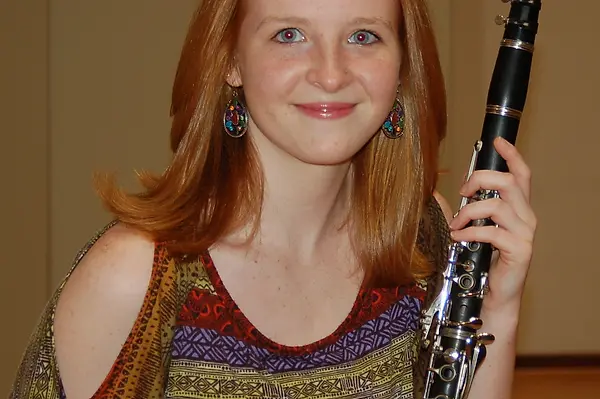 news
Loving math and music: Rebecca Nelson '17 studies at School of the Arts and NCSSM Online
Rebecca "Bex" Nelson, NCSSM Online '17, shows off some of her infectious energy on the Winston-Salem campus of UNC School of the Arts, where she also studies.
Spending a few hours with Rebecca "Bex" Nelson might make you feel bad about your own relative lack of energy — except Nelson is too positive to make anyone feel bad. The rising high school senior from Mebane, NC, has spent the past three years as a student at the University of North Carolina School of the Arts in Winston-Salem, where she juggles academic studies with advanced clarinet studies and frequent performances. This past year, seeking more challenging math and science studies, she added NCSSM Online classes to her plate.
"Yes! I'm a Uni-Pickle!," Nelson cheered when she learned in April 2015 that she'd been accepted to NCSSM Online. She is the second School of the Arts Fighting Pickle to also become a Unicorn through NCSSM Online.
The petite redhead is happy to sing the praises and value of both of her high schools and to pitch in where needed. Her extracurriculars include serving as a student government leader at School of the Arts, trying to determine the best discipline consequences for a student body that includes both commuter and resident students and ages from high school freshmen to graduate students. Nelson also served as an online ambassador at NCSSM, talking with prospective students about the program.
And then there's the schoolwork. Nelson's course load this year included AP English, statistics, U.S. history, music theory, wind ensemble, Shakespeare club (for fun), orchestra, chamber quintet, AP Calculus, research process, and multivariable calculus.
She began her NCSSM Online experience with AP Calculus with instructor Linda Henderson. Henderson remembers that Nelson was taking the course for a second time, as NCSSM students are often advised to do in order to hone their knowledge of the material. She earned an A but it was not an easy A, as Henderson remembers. "She worked hard. She has a wonderfully mature work ethic. Never did we hear, 'Well at my school, we did it this way….'  If she had an alternate solution to a problem or an alternate approach to a topic, she addressed it very respectfully as, 'Ms. Henderson, is it possible to do the problem such-and-such a way? I find it easier that way and maybe someone else would too.'  
"Rebecca has a mature graciousness about her," Henderson says. "When conflicts would arise suddenly with practices or performances at School of the Arts, she realized it was her problem and not one I had to 'fix.' For example, as the school year was winding down, she had some conflicts with our last tests and the availability of a proctor at her school…. She alerted me to the problem as soon as she realized it and let me know that she was working to find a solution."
Henderson, Nelson says, "really kicked my butt in the fall. She taught me things we hadn't learned previously, like optimization. She's very formal in in her writing and grading, so she's helped me to format and write better. I'm much more organized," she says.
Nelson's School of the Arts classmates have little idea of the extra school work she has taken on. She remembers "attending" one NCSSM class webinar from the backstage of the Stevens Center, the School of the Arts' main performance venue, with stage lights behind her. One of her online classmates commented, "I'm wondering where you are?"
Nelson's college dream is once again to enroll in two schools: the Harvard University/New England Conservatory dual enrollment program, earning a bachelor's degree in applied math from Harvard and a master's degree from the Conservatory in five years. "Five people a year get accepted to the program," she says. "It would be amazing."
She has loved math for years. "Freshman year, I took pre-calculus, it was awesome. Sophomore year, I took calculus, loved it. I love how math works, how things fit together," she says, calling two-page-long calculus problems "beautiful."
Studying clarinet at School of the Arts, meanwhile, has taught her a lot about performing, given how frequently she appears on stage solo, in small groups, and as part of the larger orchestra.
"When I started here freshman year, I worried what everyone would think when I was performing. But after watching other people perform, I started to just appreciate the music," she says. "Now when I go to perform, I find a lot more joy in it. I can give people all the work that I've done, you're really giving to people when you play your music. I've learned to have a lot of fun with performances."
She credits her parents, Beth and Kirk Nelson, for cheering on all four of their daughters — and driving them when needed to their extra activities. "They don't usually tell us no," she laughs. "They ask a few questions and let us figure it out. But they push us to be what we want to be, to stay driven and focused." 
Share this post.