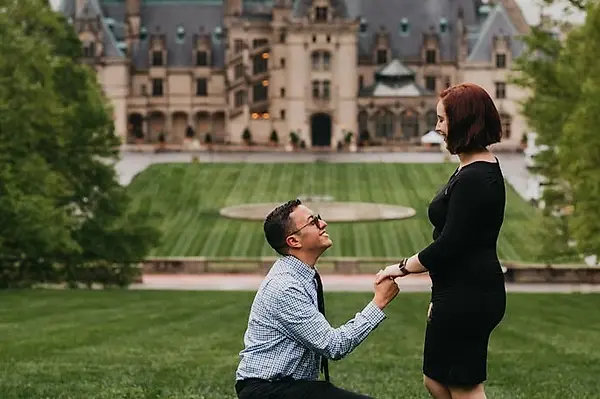 Photo by Andrew May Photography. Pictured below: Kallie and Juan before their first NCSSM prom in 2013 and on a trip to Paris. Photos below courtesy of Kallie Dalton and Juan Marin.
Kallie Dalton of Alleghany High School in Sparta had her heart set on enrolling in NCSSM's residential program. So, too, did Juan Marin of Middle Creek High School in Apex.
But it wouldn't be. Kallie was waitlisted, and Juan narrowly missed the cut altogether. Though complete strangers more than 150 miles apart, their disappointment was mutual.
But so, too, was their acceptance into NCSSM's Online program. Fearful of the uncertainty of the residential waitlist, Kallie made a practical decision and enrolled in the Online program. Juan accepted the Online enrollment offer as well, though he had not even realized that he was applying to both the residential and online programs until he had nearly completed the single application.
Now, seven years later, their hearts are set on each other. Kallie and Juan recently became engaged — the first NCSSM Online couple to make plans to marry as far as anyone knows — and will tie the knot next summer. 
Great apes and roly-polys
Kallie and Juan arrived in Durham in the summer of 2012 as complete strangers. Though no longer stinging from their residential enrollment near misses, for each of them, the NCSSM Online orientation was still tinged with residual disappointment.
All the classes that Kallie and Juan had most wanted were already full, so they separately signed up for what was available. They found themselves together in a course on primates.
It didn't take long for Kallie and Juan to spark. Juan remembers the moment vividly, just a few days into the orientation. "We were sitting in Bryan Lobby," he recalls, "we had just finished lunch, and here comes this little caterpillar just hanging around. We started talking about my little sister's insect collection. . ."
"Her roly-poly collection that she kept in her closet," Kallie adds. "I thought that was so weird." 
"It was super odd," Juan admits, "but we started talking about that, about my little sister, then she talked about her hometown, and we just started to get to know each other as friends."
When orientation ended, Kallie and Juan returned to their home schools, she in the mountains of North Carolina, and he in the shadow of Raleigh. But something had clicked between them. They stayed in touch throughout the following months, their occasional texts becoming morning, noon, and night exchanges. They signed up for the same Online classes, did virtual homework together, looked forward to seeing one another at scheduled NCSSM Online events on campus. In February, Kallie invited Juan to tour Duke University with her, and he skipped an all-school assembly to do it. He then invited her to a robotics competition in Raleigh. She jumped in the car with her mom and best friend and headed east.
"That's when he should have known that I liked him," Kallie says, "because I'm not interested in robotics whatsoever." 
Juan was clueless of her attraction to him. "I thought, 'Oh, we're just really good friends.'"
"Yeah," Kallie says, "really good friends that race to text Rebecca Black's 'Friday' song to each other every Friday morning."
Juan was interested, too. But how to address his developing feelings for Kallie confounded him as much as had the NCSSM application.
Schemers scheming
While Juan was holding his cards close, Kallie openly shared her interest in Juan with a friend and her mom, the latter of whom Juan laughingly refers to in hindsight as "a schemer." Kallie liked him. A lot. And she hoped he would ask her to NCSSM's prom, which was fast approaching. 
Juan wanted to ask. But he was scared.
It didn't take long for Kallie's travel companions to abandon the robotics competition in favor of a cat show nearby, leaving the fledgling lovebirds alone. It was the first move in a grand plan drawn up by Kallie and her team, a grand plan of appearances and disappearances and covert texts all designed to coax Juan into action.
Throughout, Juan remained clueless.
The decisive moment came in a mall food court. Kallie's mom spelled it out for Juan while Kallie and her friend had conveniently stepped away: Kallie likes you; she wants to go to prom with you, and if you don't ask her, she probably won't go.
With no excuse now other than cowardice to impede him, Juan finally made his move. "I was nervous about this girl, and I had no clue how this prom thing worked." 
Very true, Kallie confirms. His ask "was no grand gesture," she says. "It was Cary Towne Mall over some Chinese food."
 
It's official
Juan asked Kallie to be his girlfriend on April 20, 2013 — the night of prom. It had been a year-long, anxiety-riddled game of cat-and-mouse. A year in which Juan and Kallie also had the chance to deepen the friendship that underpinned their romantic feelings for one another. 
The evening started out with a first. "We had super awkward prom pictures," Kallie said. "Mom made me hold his hand. I'm not a touchy person, and that was, like, the first time I had actually touched him." She extends her hand, turns her head away in feigned disgust. "And then she made me kiss his cheek. I was like, 'Ugh, Mom, stop!'"
Juan's declaration of true affection later that evening was no more suave than his prom-posal. He could have revealed his feelings for Kallie on the prom dance floor, close to his secret love during a slow song. He could have taken her by the hand at night's end, the glow of the evening still warm around them. 
But he didn't. He asked Kallie to be his girlfriend as they sat in his car in the parking lot just before going into the prom.
"At the science museum," Kallie adds for emphasis.
"At the science museum," Juan echoes, laughing. However awkwardly the night had begun, the two entered the prom as a couple. The official beginning, Juan says, of a "nerd romance." A long-distance nerd romance that would see them through the rest of high school.
Big decisions
The first year of college is littered with the ruins of high school romances. 
But there are no withered rose petals here. After having been separated for two years by miles and hours, they were finally near one another — Kallie at UNC-Chapel Hill, and Juan at NC State. 
The circumstances surrounding their college enrollment bore a remarkable — perhaps cosmic — similarity to the twists that first brought them together. 
"I knew that if he got in, it was going to be tough," Kallie said of Juan's application to MIT. But Juan was now the one on a waitlist. He turned to NC State where he had already been accepted. 
Juan spent almost as much of his freshman year in Chapel Hill as he did in Raleigh. At the beginning of their sophomore year, he and Kallie moved in together. From that point on, Kallie patiently awaited a marriage proposal. 
There were numerous occasions in beautiful settings where she thought it would come. Atop the Eiffel Tower on their trip to Europe would have been nice. On the gondola ride through the canals of Venice would have been incredible. She even thought he might take a knee back home on a perfect post-dinner evening walk around a local lake on their fourth anniversary.
College graduation came and went. They both began careers, Kallie at Charles River Laboratories and Juan at Merck. Life was going well, and they were happy together. Graduate school seemed a possibility for one or both, but it's not the kind of thing to reasonably get in the way of a marriage. Still, Kallie remained patient.
In the spring of this year, Juan became the schemer. After six years of dating, he finally was ready. On a day Kallie was away until late, he picked out an engagement ring from the jeweler. It took six weeks to arrive, time that Juan used to plan the proposal.
Since she was a little girl, Kallie had dreamed of getting married at Biltmore House. She and Juan had visited before, but she began to suspect a ring was finally coming when he surprised her a few days out with the news that he was taking her there to celebrate their sixth anniversary. They arrived on what turned out to be a chilly, damp afternoon. Juan had strangely insisted they arrive dressed in dinner attire. "I was fighting him so hard," Kallie said. "It was, like, 40 degrees and raining and I had a dress and heels on for dinner, and I was like, 'I am not walking around Biltmore in my heels, we're gonna wear our flannels. We can come change.'"
But Juan pressed her. They had to look nice, Juan pleaded. What if they wanted to take pictures and stuff like that? 
"And that," Kallie says, "is when I was a hundred percent sure."
Juan slightly miscalculated the day's timeline. A photographer would be onsite to capture his proposal at 7. He and Kallie arrived at 3. For four hours, they wandered Biltmore's grounds dressed as though they were its aristocratic inhabitants. Juan constantly checked his watch, desperate for 7 o'clock to arrive and terrified he was going to mismanage the time. Kallie kept texting a friend back home with hourly updates — nothing yet, nothing yet.
On a rise at the other end of an expansive lawn fronting Biltmore House sits a marble monument called the "Diana" statue. The Biltmore estate describes it as "…a picturesque outdoor location [that] boasts sweeping views of Biltmore House and the Blue Ridge Mountains. The surrounding grove of hemlocks adds an air of exclusivity and a touch of fairy-tale charm." 
Juan's anxiety rose as they approached the statue. A bouquet of tulips had been placed nearby by the photographer. "Okay, I just need to find these tulips and just get there and we'll just take it from there," Juan recalls thinking. "What if I don't find the flowers?"
He could have asked Kallie where they were. She spotted them before he did. "I was like, 'Man, somebody left their tulips out there,'" she says.
The Biltmore House had closed for the day, leaving the grounds empty of others. For a moment, it seemed entirely their own.
"So we finally get to the tulips," Juan says, "I turn around; we have the Biltmore House in the background. . . ."
"You're making this sound more smooth than it was," Kallie says through laughter. "The whole reason he got me up there was, he was like, 'We need to take a cool selfie!'" On the ground nearby were their coats, which they had removed at Juan's suggestion as he thought the selfie would look better without them on. It was, Kallie said, another giveaway.
 But a selfie needs a camera of some sort, and Juan had left his phone in his coat. "So we get up to the flowers," Kallie continues, "and he was like, 'Oh, I forgot my phone!' and he ran back out and he has the ring box in his hand while he's running."
"It wasn't like that. I tried to hide it!" Juan says.
"I saw it!" Kallie says. "Fumbling for your phone. . . . It wasn't that smooth. It was cute."
Juan concedes. "I'm just as dorky as the day I asked her to the prom in the mall."
That suits Kallie perfectly. "I wouldn't want him any other way," she says.
Dorky or not, Juan nailed this proposal: Down on his knee he said, "Today is our anniversary. Six years ago at prom I asked you to be my girlfriend. Today I ask you to be my wife. Will you marry me?"
On June 27, 2020, she will.
Share this post.