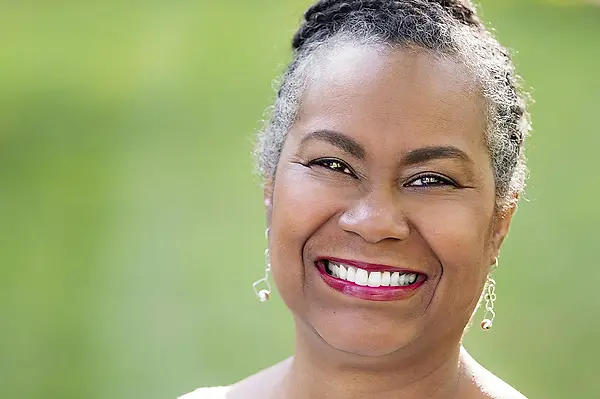 news
Laura from Lumberton
Laura Gerald, president of the Kate B. Reynolds Charitable Trust and member of NCSSM's Class of 1986.
Dr. Laura Gerald has led a distinguished life. The 2022 North Carolina School of Science and Mathematics Commencement speaker, NCSSM Class of 1986 graduate, and President of the Kate B. Reynolds Charitable Trust has degrees from Harvard University, earned an MD from Johns Hopkins University, specializing in pediatrics, and among other roles has served as North Carolina's State Health Director and the Director of the Division of Public Health.
It started with a box of Thin Mints.
The youngest of four, Dr. Gerald was a quiet and bookish child. Though she was surrounded by social and economic inequality in her community in south Lumberton, North Carolina – inequalities her family was very familiar with – she'll tell you that hers was "not a hard-luck story." No one's pockets sagged with cash, but both sides of her family owned property, an unusual situation for Black people in rural southeastern North Carolina. 
Most influential, though, was her extended family's deep commitment to education. Her grandfather was a co-founder of the Thompson Institute, a K-12 school in south Lumberton for poor and Black students, which later came to be known as South Lumberton Elementary, and then W.H. Knuckles Elementary. Her mother, aunts, and uncles were graduates of historically Black colleges and universities. Her father – a pipefitter who passed away when Gerald was only 3 – attended North Carolina A&T. 
"The community just took us in," Gerald says of the response after her mother was widowed. "I had a very rich experience with family, teachers, pastors, and church people, friends, other parents, who just poured into us and enriched our experience with Girl Scouts and dance troupes and pageants and plays. We were rich in love and support."
That love and support also shielded her from some of the harsher realities of life in one of the state's most economically distressed counties.
Simple, but significant
As it was when it was the Thompson Institute, South Lumberton Elementary was still an all-Black school where Gerald was one of its "gifted" students, though she struggled with math. In fourth grade, her teacher, Mrs. Phelps, assigned a project for each student: create a booklet with drawings of different parts of the body with identifying labels. A "health" book, everyone called it.
"I was a rule follower," says Gerald. "Miss Phelps was like, 'Make it neat, make sure you do your very best.' And I did."
The effort earned Gerald the best book award. With it came a prize: a small box of Thin Mints.
"That's the first time I ever felt smart or seen," Gerald says now. "I just remember being so proud, like, wow, I could do something! I think it's the tiniest little bit of encouragement that we need as people, you know?"
A handful of leaves sparked her interest in life science. Gerald's guidance counselor mother regularly introduced her to things like summer science camps throughout junior high and the first years of high school, but it wasn't until Gerald's 10th grade biology teacher – Mrs. Blackmon – assigned the class a leaf collection project that Gerald began to take an active interest in the life sciences.
"My mom took me in the car around to all these trees in Lumberton, like, 'Oh, that house has this particular kind of tree!' And we would collect the leaves and put them in a book and press them, and I just remember really enjoying that pursuit of education. That was just a good feeling. So, when it came time to say, 'Okay, what is it I'm interested in doing?' I held onto that."
That same year, Gerald found out about NCSSM. Her mother drove her to an information session, but never forced her opinion on Gerald. Instead, she encouraged her youngest child by saying, ''You can do it if you want to."
"Honestly, I can't tell you exactly what made me end up applying," Gerald says. "I just know that, at every turn, our mother encouraged us all to pursue opportunities as it related to education. And [NCSSM] was a great opportunity."
Science and Math was not easy. Gerald struggled with some of her classes. Calculus was a chore. In help sessions led by her now-retired instructor, Dr. Joan Lutz, she was "just so confused," she says. "I was like, 'What is calculus? I don't know what it is.'"
The B-plus she finished the course with was almost a blessing.
Like her family and community back home, the NCSSM family Gerald formed stuck by her side. "How do you thrive in a world where you're no longer special, where you're no longer the smartest one, you're no longer the talented one?" she says. "I had sources of support. What Science and Math taught me was where and how to draw support."
By the time she was ready to graduate, she had accepted an invitation to join Harvard as an incoming freshman. It was, she says, "another Thin Mints" moment, a validation of all her hard work and faith and perseverance. She wasn't the first in her family to go to college in Cambridge; her older brothers were already Harvard graduates.
"I didn't go to my oldest brother's graduation, but I went to the next-oldest brother's graduation, and I thought, 'That seems like a pretty good school.' And so I went to Harvard because I didn't know I couldn't."
Harvard wasn't easy either. Math continued to be a strange struggle. She placed out of first semester calculus through her score on Harvard's entrance exam, but her abysmal performance in algebra questions on the test prompted a test administrator to exclaim, "I've never really seen anything like this before. It's like you don't know algebra!"
A first-semester remedial math class got her back on track, and afterward she went straight into second semester calculus.
Gerald's experience at NCSSM had laid the foundation for her ultimate success. While many of her classmates at Harvard – especially among those who were pre-med like her – were "freaking out" in the face of challenges they'd never encountered before, "I was not fazed at all," she says. "I was already used to that. I totally credit Science and Math with really, really teaching me the material and teaching me how to struggle through and keep persevering and learning."
A realization
One thing Gerald has always done is think big-picture. Even as she trained to be a clinical physician at Johns Hopkins University, she acknowledged that perhaps her greatest interest was in solving population-level problems. No opportunities of that sort presented themselves as she made her way through rotations in medical school, but her turn in pediatrics offered something similar. Aside from being naturally drawn to children, pediatrics allowed Gerald to work holistically toward a positive outcome.
"One of the things I like about pediatrics is that you have to advocate for the children, and you also have to think about the whole family. It's not just working with the individual patient. In the end, that was more consistent with how I approached the world."
The big picture that Gerald had in mind was first disrupted – and then revised – by two events years apart back home in Robeson County.
First, while Gerald was away at Harvard for her undergraduate studies, the employees of a small county-wide newspaper in her hometown of Lumberton were held hostage for 10 hours in the newspaper's office by two armed, local activists. It was an attempt to bring attention to the systemic struggles of Native Americans, who represented nearly 40% of the county's population. The significant national media coverage of the dramatic takeover illuminated on a grand scale the county's challenges. 
Nearly 800 miles away in Cambridge, Gerald watched it unfold on the news. She was stunned by the revelations, having always seen her hometown through the prism of a loving and supportive extended family.
"Everybody was talking about Lumberton and all its problems," Gerald says, "and I was like, 'What? Y'all talking about my hometown?' Honestly, that's when I realized I was from a really poor community."
Laura Gerald has been president of the Kate B. Reynolds Charitable Trust since 2016.
The inequities of her hometown were on Gerald's mind again as she neared the end of her residency. A casual investigation of a program to recruit doctors to medically underserved areas led Gerald to discover her childhood pediatrician's name as a program contact in Lumberton. She called him up, partly out of simple curiosity about the program, partly just to reconnect with a trusted adult from her childhood. She had no real intention of returning to Lumberton to practice; a career in policy was still her primary objective.
They spoke on the phone for four hours.
"I finally got it, you know?" Gerald says of the call. "I finally understood all of the need in the area and what they were trying to do to meet the needs of the people."
She paid a visit to her old doctor soon after on a visit home. "Next thing I knew," she says, "I was signing on the dotted line to go back to Lumberton to practice medicine with my childhood pediatrician. It was crazy."
Gerald practiced medicine full time at the clinic back home for three years before returning to Harvard for her master's in public health. As fulfilling as clinical practice was, she still felt pulled to work "upstream" where, instead of "treating one cold at a time," she could help direct policy that would affect the health and welfare of thousands of people.
Over the next years, Gerald held positions with Community Care of North Carolina, North Carolina Health and Wellness Trust Fund Commission, and Evolent Health. She also served as the North Carolina State Health Director and the Director of the Division of Public Health. Through it all, she continued her affiliation with the hometown clinic, seeing patients in Lumberton and nearby Pembroke when she was able for nearly 20 years.
It was those first three years full time in Lumberton, though, that galvanized in Gerald's mind the true scope of need, particularly in rural areas and underserved, predominantly minority populations. In the clinic, inequities became startlingly clear simply by stepping from one examination room to another. Whenever she could, Gerald used her own life as an example for what her young patients could achieve if they kept faith in themselves despite obstacles which, for many, are deeply rooted in history.
"I would say to the kids from places like South Lumberton Elementary where I went to school, 'Look at me. I did it.' I would ask them, 'What do you want to do? How are things at home?' And I'd listen. I'd tell them that anything is possible. You could see the looks in their eyes and the difference that it made to have somebody from their neighborhood and from their experience encouraging them. And in some form or another that is really what I have been about my whole career."
Back to basics
Six years ago, not long before she became president of the Kate B. Reynolds Charitable Trust, where she oversees the organization's initiatives addressing equitable access to health care, the physician and community healer found herself in need of care when she was diagnosed with stage four breast cancer. For someone who has spent, and continues to spend, her career addressing large-scale problems, the diagnosis taught her that "in life, it all comes back down to the basics at some point."
"I've had the good fortune – I'll say that honestly – of being confronted with my mortality every day since my diagnosis," Gerald says. "I'd like to live to see my youngest son graduate from high school, then college. It's that basic. And it has become much more about integration of all the different parts of who I am, you know? Yes, I'm Laura from Lumberton. Yes, I'm Laura the physician. I'm Laura, the head of this foundation. But I'm Laura, a mother, first and foremost."
And she's still Dr. Gerald, the leader determined to work toward systemic change.
"What I want most is for my sons' generation not to confront the same problems as generations past," she says. "At least let's have some original problems. Confronting the same problems generation after generation is just ridiculous. We can't preside over the first generation to do worse than we did. That's horrible to think about. And I just can't have that."
The most immediate task before Gerald right now is her return to NCSSM as the school's 2022 Commencement speaker. For someone who never felt special in any way among her own classmates at NCSSM, the invitation to speak was unexpected. "I was so honored and scared to death to be asked to do this," she says. "I've spoken a lot in front of groups, but this one is special. It's yet another Thin Mints moment, you know?"