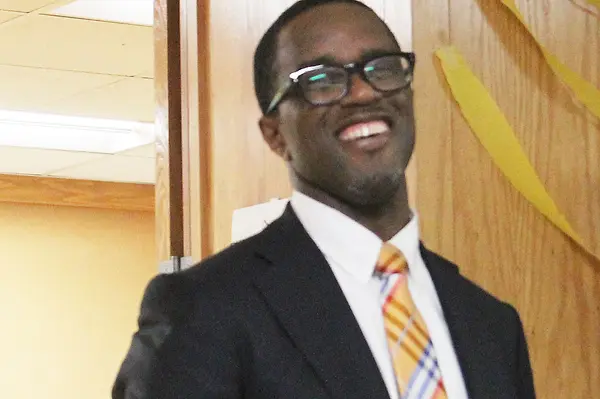 news
Lathan receives UNC Award for Excellence in Teaching
Jamie Lathan talks with rising juniors in NCSSM's 2019 Summer Leadership and Research Experience. After participating in more than 100 hours of programming as a coaching fellow in District C's inaugural Coaching Institute, Lathan brought what be learned about collaborative and creative problem-solving back to the classroom, implementing a District C entrepreneurship pitch day into the weeklong Summer Leadership program.
Nearly 20 years ago Dr. Jamie Lathan, dean of NCSSM's Distance Education and Extended Programs, joined the school's humanities department as a freshly minted history teacher hoping to make a difference in how students understand history and their place within it. It was his first teaching job.   Two decades later, he has received the 2020 UNC Board of Governors' Award for Excellence in Teaching, one of 17 awarded by the Board of Governors this year and one of the highest teaching honors in North Carolina.   Lathan's path to the award is filled with engagements that demonstrate his commitment to scholarship and community. Driving all of Lathan's activities — from teaching in NCSSM's residential, online, and open enrollment distance education programs, to leading teachers throughout the state in professional development activities, to his leadership roles in academic and civic engagement initiatives locally and nationally — is a genuine compassion for those around him, be they students or colleagues. That approach has reaped rewards from the very beginning.   "Within his first year, students raved about what a great teacher he was, and at the same time he was considered one of the most liked and respected faculty members by his peers," says Dr. Joan Barber, who worked closely with Lathan from the beginning of his career at NCSSM until her retirement at the end of 2013 as NCSSM's Vice Chancellor for Student Life. "This was rare for a new faculty member at NCSSM."   Dr. Todd Roberts, Lathan's chancellor at NCSSM since the summer of 2010, echoes Barber's sentiment.   "Dr. Lathan has distinguished himself as a gifted educator and a true scholar," he says. "He is highly respected by his colleagues for his thoughtful approach to teaching and scholarship, both of which he pursues with steady persistence and seemingly endless curiosity."    Lathan's philosophy on teaching reflects his humble respect for his fellow human, a trait that has endeared him to many. "I am a partner in learning in my classroom," he says, believing that "teaching is a life-long process of learning from and being sharpened by students, colleagues, and the broader community of educators and professionals.   "In my teaching," he continues, "I embrace my students' dignity and humanity, their visionary thinking and remembering, and their leadership and intellectual growth."  
Melissa Thibault, Vice Chancellor for Distance Education and Extended Programs at NCSSM and a close colleague of Lathan's since 2009, first met Lathan in 2006 through the North Carolina Public School Forum's Education Policy Fellowship Program. She was immediately impressed.    Since coming to NCSSM, Thibault has relied upon Lathan's instructional leadership and ability to inspire his peers to innovate and better serve students. "Dr. Lathan is a rock-star teacher," she says, "but what impresses me most is that he always puts students' needs first. He routinely steps back from the curriculum to meet students where they are, building a strong, supportive learning environment and inspiring students to service. His demonstrated respect for our state's students and educators and his understanding of local context is instrumental in the strong relationships NCSSM maintains with public schools across the state."   Cayla Withers, a junior at A.L. Brown High School in Kannapolis and a recent distance learning student in Lathan's Honors African American Studies class, affirms the positive effect Lathan has on his students, calling him a "a great role model for many" and "a wonderful teacher who truly inspired his students and positively changed their lives even without being with them in person."   A student in Lathan's Honors African American Studies course, taught through interactive videoconferencing, praised Lathan in an anonymous post-course evaluation of the course: "Taking a live-streaming course at first would seem to be very hard and impossible for students," the student wrote, "but this course with Dr. Lathan made me feel as if I was in an actual classroom with help. Dr. Lathan was enthusiastic and passionate about his teaching, which made me more interested in taking his course and similar courses in the future."   A residential student in his Race, Ethics, and Leadership course shared similar thoughts in another post-course evaluation: "I appreciated the full depth of knowledge that Dr. Lathan was willing to share with us," the student said, noting that Lathan "always [kept] us updated on current events that were related to the topic of race, ethics, and leadership. . . I always felt that my opinion was appreciated and respected no matter the level of involvement I had with the particular topic."   Teachers throughout the state with whom Lathan has collaborated in distance learning initiatives equally admire his personal and professional character. "We all know history, at times, can be boring," says Roberta McCalop, the local facilitator for the NCSSM African American Studies course at James Kenan High School in Duplin County. "However, Dr. Lathan engages his students through debates and deep discussions [and] has designed his teaching to reach everyone. I have really enjoyed working with him and learning history along with the students."   Melissa Vibbert, Distance Learning Coordinator at Washington High School, considers Lathan more than just an outstanding teacher. "I have been working with Dr. Lathan for many years," she says. "He is one of my favorite 'go to guys' for information and a sounding board, all this wrapped into an outstanding teacher. Dr. Lathan is so personable with everyone he comes into contact with. I hope to continue our working relationship and friendship for many years to come!"   In a press release announcing the awardees for 2020, UNC System Interim President Bill Roper praised Lathan and the other recipients for their commitment to education. "These awards provide us the opportunity to acknowledge outstanding work being done by some of the finest instructors our state has to offer," he said. "It represents the best of the UNC System and is another reminder of the high-quality education that our students receive."   That's high praise from the top official in the UNC System. So is this personal compliment paid by Barber, whom Lathan considered a mentor at NCSSM: "He is," she says, "a scholar with character who has proven to shine above the best in a variety of ways."   
On Tuesday, Feb. 11, Chancellor Roberts presented Lathan and these six other NCSSM faculty members with teaching awards during a ceremony at the school:
NCSSM Outstanding Teacher Award: Marion Brisk, Chemistry Instructor
NCSSM Outstanding Teacher Award: David Cantrell, Humanities Instructor
NCSSM Exceptional Contribution Award for Classroom Innovation: Carrie Alter, Studio Art Instructor
NCSSM Exceptional Contribution Award for Scholarship: Sam Wheeler, Physics Instructor
NCSSM Exceptional Contribution Award for Service to School: Jon Davis, Biology Instructor
NCSSM Exceptional Contribution Award for Service to Students: Letitia Hubbard, Engineering & Mentorship Instructor   
(L-R): Carrie Alter, Marion Brisk, David Cantrell, Letitia Hubbard, Jon Davis, Jamie Lathan, and Sam Wheeler
Share this post.