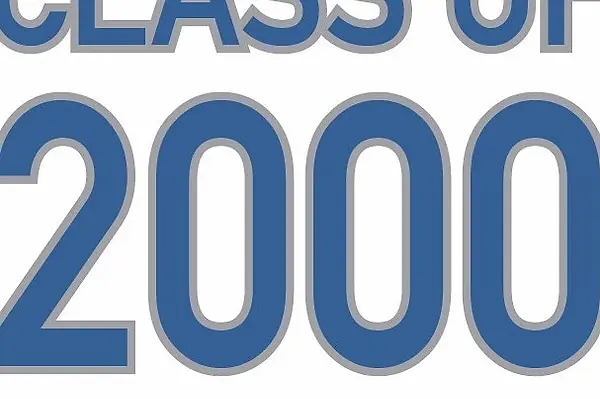 news
Last-minute upset caps off March Madness alumni challenge
The Class of 2000 brought home the victory, and strong showing from the Classes of 1988, 1986, and 2003 rounded out the top four.
The results are in, and, in true March Madness fashion, the NCSSM alumni participation challenge ended in an upset. With a late surge, the Class of 2000 surpassed long-time leader, the Class of 1988, with the highest percentage of alumni donors supporting the school. The Class of 2000 takes home championship bragging rights for the third year in a row while bringing essential financial support to NCSSM.
The March Madness participation challenge brings alumni together while sparking friendly competition between classes, to see which class will have the highest percentage of supporters of the school. A whopping 19.66% of the Class of 2000 made a donation to the NCSSM Foundation. The Class of 1988, which held the lead for three weeks in a row, wasn't far behind, with 18.21% participation, taking home second place. The Class of 1986 came in third. Thanks to a strong peer-to-peer fundraising campaign, the Class of 2003 rounded out the top four. This year saw the highest and most widespread participation yet, with 33 out of NCSSM's 34 alumni classes participating. See week-by-week results here, or click the thumbnail below for a larger view of final results. 
As North Carolina is a basketball state, it's no surprise to see a lot of alumni get really into the competition. It is not unlikely to see posts on class Facebook pages and email messages between classmates encouraging each other to make a gift, thus boosting their class's participation percentage.
The campaign focuses on participation numbers, and this year continued the upward trend seen over the past few years. Donor participation in the campaign has more than doubled since 2014. Financial support has also increased, with dollars raised in the competition up by almost threefold, from $20,905 in 2014 to $56,970 this year. This year also had a matching gift challenge in place. A member of the Class of 1995 offered to match every dollar raised by that class two-fold, tripling the impact of gifts. This generous match brought in an additional $2,762 during the competition.
The Class of 2003 pulled into a top position early in the competition this year, sparked in part by an extensive peer-driven alumni campaign. Jared Hill '03, who takes pride in adding to his number of years of consecutive giving, decided he wanted to do something to inspire his classmates after seeing a list of donors from his class. "I was surprised I didn't see a few people I knew on that list, and was wondering why they might not be donating," he says. "Some might not be in a great position [to give], but others might just not have a habit, or just might not think about it at all." That's where peer-to-peer fundraising comes in. "I am pretty sure all of my friends have amazing memories of NCSSM and recognize that we probably had the best education you can get in North Carolina for free. On top of that, I think they're all in the position to donate a token amount like $25. I just want to ask people who may not realize it's so easy. I think one of the best ways is peer-to-peer." So he started an email campaign, sending a message to a number of his classmates and encouraging them to forward it on to others in their class encouraging them to join in the March madness. It worked, as results show.
Charlie Stone, '03 classmate, shared the motivating power behind that call to action. "As usual in '03, Jared Hill set a blistering pace, and I think our class momentum really began with Jared's eye-popping email… Our strength then snowballed with donations from many '03ers." He also cites outreach through social media by Jenna Ingersoll, which made a big difference for their class. Classmate Jenny Bo agrees, saying, "Jenna's outreach on Facebook has been fantastic and kept March Madness at the top of Facebook every time I logged in."
Aside from encouragement from classmates, the reasons to give to the NCSSM Foundation are plenty. Stone says, "I also got involved because the opportunity to go to NCSSM free of charge changed my life ,and I know that our support funds essential parts of the school's program for future generations."   
Specifically, he says, the March Madness campaign also offers alumni a chance to reconnect, and Bo agrees. "For me personally, reconnecting with alums, particularly others in my class like Charlie and Jenna, also has helped to serve as a reminder of the wonderful experiences we had at NCSSM."
Juliana Miller, from the winning Class of 2000, says March Madness is fun for her. "I'm not a particularly competitive person when it comes to sports and school spirit. I went to Carolina and never really got into the whole basketball scene. But I loved Science and Math and still think of it as some of my best years. I get excited when I see other people from my class and see updates online on how they are doing. That is probably my version of school spirit, and so if I can continue to support that now and then with donations then of course I will. I think, also, that in the past several years I've donated more in memory of my parents because of how much they supported me while I was at school there."  
NCSSM Development Director Lauren Carr hopes the excitement of the campaign will continue in years to come, not just for the dollars brought in, but for the larger impact of gifts made during this time. "It's become a tradition for a lot of alumni to intentionally give during March," Carr says, "because they want to support their class, and they recognize that giving during this time has that additional impact of inspiring a larger group to give back as well."
And there just may be another upset in the works for next year; the Class of 2003 is already thinking ahead. "Next year we should try to emulate the Class of 2000," Hill says. "I think they jumped 10% the last two days… what a great idea." The title isn't one the Class of 2000 will give up easily, though. As Miller explains, "It feels good to be a part of a class that is able to come together to show our support for S&M for the past several years and win March Madness. We wouldn't donate if it wasn't for something we believed in. And we all still believe in Science and Math."
Share this post.