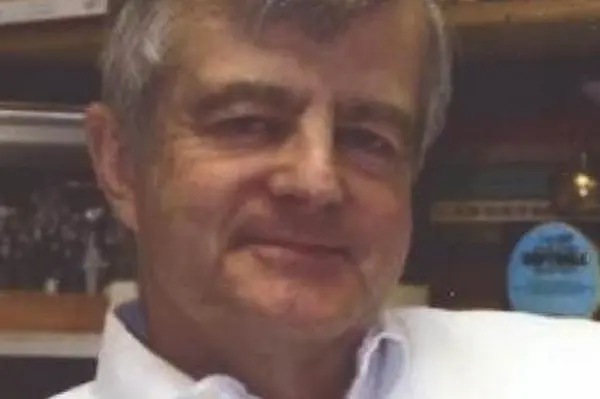 news
Jon Miller, NCSSM founding faculty member, dies at 73
Update: A remembrance ceremony celebrating the life of our beloved friend, colleague, and mentor Dr. Jon Miller will be held on NCSSM's campus on Saturday, December 2 at 1 p.m. in the ETC Auditorium. We hope you will join us for fond memories and fellowship with those who treasure Jon's incredible legacy.  Please RSVP here.  
Watch the archived video of the event here.
It with great sadness that we share the news that our friend, colleague. and mentor Jon Miller died peacefully at home on Sunday morning, October 8, 2017, after a long and extended illness. Jon was a member of NCSSM's founding faculty, teaching students and working with colleagues across 34 classes from 1980 until his retirement in 2015. [Read more]
Jon's family asked that we share this information widely with the school community. A memorial service will also be held on the NCSSM campus in December 2017, with details to be announced next month.
Remembrances of Jon may be shared at afterlife.co and also via this Google form, where as many as possible will be compiled by the NCSSM Alumni Association and shared with his family.
An obituary, written by Jon himself, with assistance from his wife, Pat, and brother, Tom, is reprinted below.
— Brock Winslow '86
Excerpted from Jon Charles Miller on afterlife.co:
Jon Charles Miller died quietly of leukemia at his Durham home on Sunday. He was seventy-three. A scholar and a teacher, he was a man of books, language, poetry, and music.
He was gentle, patient, and kind. His courtesy was old-fashioned and came to him easily. Son of the late Mr. and Mrs. Charles S. Miller of Durham, Jon was born in Toledo, Iowa, while his father was in service overseas during World War II.
Jon attended Durham public schools and graduated from Durham High School in 1961. He earned his bachelor"s degree from Davidson College. After college, he served as an officer in the U. S. Army in Korea and at the Armor School at Fort Knox, Kentucky.
After leaving the service, he earned a doctoral degree in English from the University of North Carolina at Chapel Hill. Jon wanted nothing other than to be a teacher. It was his career for forty-six years.
For more than ten years he taught in Durham schools. Later, he was part of the founding faculty at the North Carolina School of Science and Mathematics where he taught English for thirty-five years until his retirement in 2015. His annual reading of Dr. Seuss's How the Grinch Stole Christmas became a school tradition.
His office door was always open. He delighted in his students' success at school and in their lives afterward. He maintained a voluminous correspondence with former students until very nearly the day he died.
Jon possessed an unlimited curiosity and was an omnivorous reader; he loved books and readers. He worked for almost thirty years as a volunteer with the Friends of the Durham Library and twice was president of that organization. Jon loved back roads, small towns, and out-of-the-way places.
He loved long road trips to Iowa and Maine, stopping at dusty bookshops and familiar dives and diners all along the way. Jon literally married the girl next door. He was married to Patricia Wilson Miller for fifty-two years.
Their marriage cemented the firm bond between the Wilson and Miller families that has continued for three generations. Jon was pre-deceased by his daughter Amy and his sister Sue Harlow. He is survived by his wife Patricia, his brother Thomas R. Miller and wife Kimberly, his brother-in-law Walter G. Harlow, his sister-in-law Betty Dayton, his brother-in law Dr. Steve Wilson and wife Dianne, and also by nieces and nephews Doug Dayton, Chris Harlow, Robin Hulbert, William Harlow, Allison Wilson, and Charles Miller, and by a grand-niece Abbey Harlow and a grand-nephew Ryan Harlow.
Jon lived a life surrounded by a family who loved and encouraged him, by interesting and generous colleagues, by students who often challenged him to be better, and by friends whose company gave him great joy, In lieu of flowers Jon's wish was that contributions be made to the donor's favorite charity.
See more images of Miller shared on the NCSSM Alumni Association Facebook page.
Share this post.