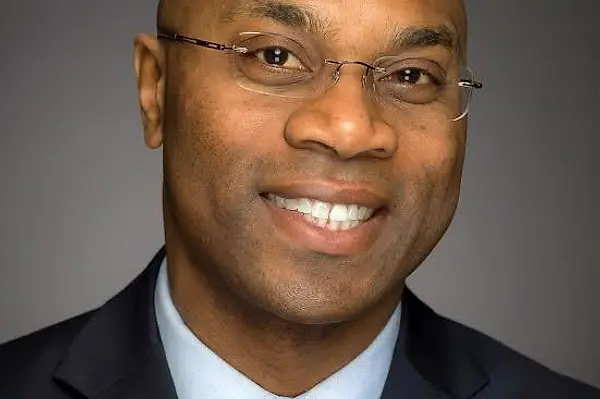 news
Jabbar Bennett to speak at Convocation August 15
Dr. Jabbar Bennett '92 will return to campus on August 15 to speak at NCSSM's 38th Convocation.
Updated, 8/18/17:
View the archived Livestream video of Convocation.
Read the text of remarks by Chancellor Roberts, and remarks by Convocation speaker Dr. Bennett. 
Dr. Jabbar Bennett '92 will return to North Carolina School of Science and Mathematics on Tuesday, August 15, 2017, to speak at the school's 38th Convocation. The event, which marks the opening of the new school year, begins at 6:30 p.m. in the auditorium of the John Friedrick Educational Technology Complex.
Watch Convocation on Livestream at 6:30 p.m. on August 15
"It's an important event for NCSSM because it officially launches the new school year," says Katie O'Connor, vice chancellor for Academic Programs at NCSSM. "We are grateful that [Bennett is] able to make the time to be our keynote speaker."
For his part, Bennett is looking forward to speaking at the event. "I am truly honored and excited about this," says Bennett.
Bennett currently serves as associate provost for diversity and inclusion at Northwestern University. In addition, he is an associate professor of medicine at Northwestern's Feinberg School of Medicine. As the University's chief diversity officer, he is responsible for helping to create a diverse, inclusive, and welcoming environment for all Northwestern community members.
Bennett has a distinguished career in the fields of medicine and academia, and a long history of working toward diversity and inclusion. Prior to joining Northwestern, Bennett served as associate dean of the Graduate School, associate dean for diversity in the Division of Biology and Medicine, and clinical assistant professor of medicine at The Warren Alpert Medical School of Brown University. In the Graduate School, he led and coordinated recruitment and professional development activities for graduate students and postdocs. In the Division of Biology and Medicine, Bennett oversaw the recruitment and advancement of medical students, faculty, and trainees who are members of underrepresented groups.
Before his appointment at Brown, Bennett served on the faculty at Harvard Medical School and directed the Office for Multicultural Faculty Careers at Brigham and Women's Hospital. Bennett also previously served as Senior Director of Development for Life Sciences, Healthcare, and Education Industry Partnerships with United Way of Massachusetts Bay in Boston, and as Research and Science Specialist in the Office for Diversity, Inclusion, and Community Partnership at Harvard Medical School.
Bennett is a life member of the Student National Medical Association (SNMA) and former professional board member. He currently serves as a member of the Association of American Medical Colleges Graduate Research Education and Training Group Steering Committee, Council of Graduate Schools Diversity and Inclusiveness Advisory Committee, and the Keystone Symposia on Molecular and Cellular Biology Diversity Advisory Committee.
After graduating from NCSSM in 1992, he went on to receive his B.S. in biology and minor in Spanish from North Carolina Agricultural and Technical State University, and his Ph.D. in biomedical sciences from Meharry Medical College. At Meharry, he was funded as a National Science Foundation Alliance for the Enhancement of Science Education and Technology Graduate Teaching Fellow, and later as a UNCF-Merck Postdoctoral Research Fellow while training in the Department of Pathology at Harvard Medical School. Bennett is also an alumnus of the Massachusetts Education Policy Fellowship Program and the Harvard University Administrative Fellowship Program.
Share this post.