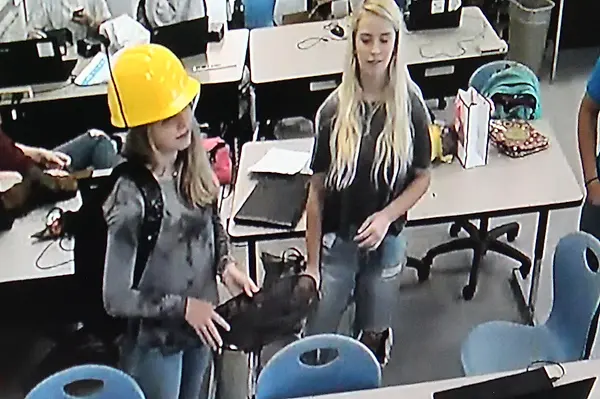 news
IVC students debut animal perception coding projects at NC Zoo event
NCSSM instructor Charlotte Dungan teaches the interactive videoconferencing course "Connected Computing: Solving Global Challenges with Code." Pictured in photo below: Students from Washington High School in Beaufort County model the honey bee suit they designed to simulate the way that American honey bees use dancing to communicate the location of food.
Update: Watch a video of these NCSSM students' sharing their projects at the NC Zoo! Learn more about NCSSM's Interactive Video Conferencing (IVC) courses, and view the course catalog.
___   Visitors to the North Carolina Zoo on May 11 will have the opportunity to use a game-based app on their phone to experience how a red wolf relies upon its keen sense of hearing in the wild.   The app is being developed by sophomore Kobe Coggins of Smoky Mountain High School in Sylva who is also a student in NCSSM teacher Charlotte Dungan's Connected Computing: Solving Global Challenges with Code class. The class is live-streamed from the NCSSM interactive videoconferencing studios in Durham to high schools throughout the state. Including Kobe, eight teams of Dungan's students from five different high schools will present their work at the zoo's
Birds, Blooms, Bees, and Butterflies
event.   The foundation for Dungan's semester-long course, which reaches students in their district schools, is programming, or the writing of computer code. In its infancy, the creation of code was possible only for the most highly trained of programmers. Not so today. Advances in technology and tools have made it easier than ever to code. In fact, the only unofficial prerequisite for enrollment in Dungan's class is that students enter the course with an interest in and familiarity with technology and computers. Yet by the end of the semester they use computer science and computational thinking skills to create projects that may impact the future conservation of animals and their environments.   The class has been a game-changer for Kobe, who assumed growing up that his rural life would never allow for an understanding of computing technologies.   "I'd always thought computers were cool," he says. "We have computers at the house, but they always felt so advanced. I never really understood it. I was always like, 'Oh, there's not really a lot I can really do with computers.' But taking the class really broke it down and made it basic and I was like, 'Oh, this all makes sense.' I actually feel like I can do it now."
Leah Spencer, a sophomore at Washington High School in coastal Beaufort County, is also a student in Dungan's class. She and her Washington High project partner, sophomore Anna Taylor, will be premiering their work on the American river otter's vision at the zoo event.   "We're definitely not the best at [coding], but we've still held our own," Leah says.   "We thought it was cool because it's a broadcast," Anna adds. "We don't really see much of that around here just because we are kind of in a rural area."   The social philosophy underlying Dungan's course is the belief that technology's highest purpose is to promote empathy and understanding among its users. If visitors to the zoo can experience to some degree what it might be like to be a wild animal, they may become better stewards of the environment.   "User experience is a fundamental design principle," Dungan says. "Students have to consider the needs of the zoo, the accuracy of their project in showing the animal's experience, and how various zoo visitors, from children through senior citizens, can interact with their technology to see the world in a new way."   Apps are not the only products students are developing in Dungan's course. They're using computer science and computational thinking to also build websites and wearable devices that further enhance the public's understanding of creatures in the wild.   Dungan designed the course based on a similar program developed at the Massachusetts Institute of Technology (MIT) in partnership with San Diego Zoo Global's Tech To Reconnect initiative. Dungan's first offering in the fall of 2018 enrolled seven students from mostly rural 10th-12th grade classrooms around the state. Twelve 10th-grade students drawn from NCSSM's STEM Scholars program are enrolled this semester.   Engaging the students remotely throughout the course have been a roboticist from MIT, a Virtual Reality professor from the Savannah College of Art and Design, and a zookeeper from the San Diego Zoo.   In addition to red wolves and river otters, zoo patrons on the 11th will have the opportunity to experience a number of other simulated animals by doing such things as wrapping themselves in a simulated polar bear cape or engaging with a turtle bot that highlights the life-threatening dangers faced by snapping turtles due to their low-and-slow locomotion. For students and the public, it's a hand-on exercise in technology and compassion.   "I want to create empowered problem solvers," Dungan says. "Giving students the skills to use computer science to improve the world, to make connections between people and the environment, and to help each other is where the magic happens."  
More information about the North Carolina Zoo's Birds, Blooms, Bees and Butterflies event on Saturday, May 11, 2019 can be found here.
Share this post.