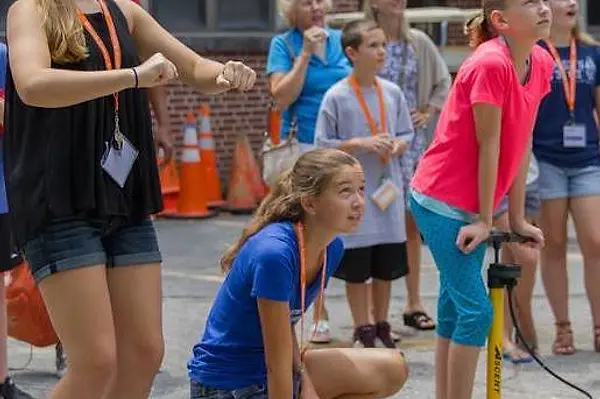 news
In third year, Accelerator continues rapid growth
Rising 7th-9th graders participated in Early Accelerator courses for the first time last year. This year, more students than ever will participate in this and other summer programs at NCSSM.
In 2014, NCSSM launched Summer Accelerator, a program that extends NCSSM's courses and faculty expertise to students from North Carolina but also, for the first time, from beyond the state's borders. Last summer, Accelerator expanded to include middle school students through the Early Accelerator program.
Interest is high in both programs this year. "Things are going well," says Jen Hill, summer programs coordinator. "We're still receiving applications almost daily." And courses are filling up quickly. "For Accelerator, we will run close to 100 percent capacity this year," says Hill, a 17 percent increase from last year's total enrollment. All high school courses have filled up, with Hill keeping a waitlist.
Early Accelerator sessions for younger students begin in July, and by then Hill expects those courses will be full as well. "We are already at 80 percent capacity for Early Accelerator," she says, up 25 percent from 2015 final enrollment numbers. Some of those students are now returning for their second round in the program. Retention rates are high across the board, with over 30 percent of students enrolling for a second Summer Accelerator experience; one Early Accelerator course from last summer has a solid half returning this summer. Students can choose from 11 Early Accelerator courses this year, up from 7 last year.
It's about more than just numbers, as Hill points out. With Early Accelerator especially, she says, "we want to provide a broad range of topics, like our anime course, that might not be as widely popular, but we believe represent the unique and diverse curriculum we offer here at NCSSM."  
See openings and register for Early Accelerator courses here.
And as the numbers grow, so does the potential impact of the program, the first revenue-generating program offered by NCSSM. "This means we are able to employ more staff and provide more students from around the world with the opportunity to experience our school," says Hill.
Share this post.