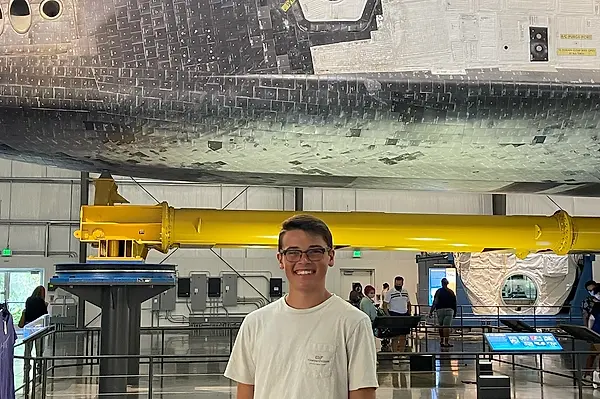 news
I chose NCSSM for aerospace and astrophysics
Haygen Warren is a senior in the NCSSM-Durham residential program working in the senior leadership campus service role of Communications Content Creator, where he covers the student experience for ncssm.edu and school social media channels. He shares this reflection about what attracted him to apply to NCSSM and his experience of those things once arriving:
For me personally, I wasn't getting the classes I wanted or needed to achieve the educational goals I had set for myself while attending my home high school in Eastern North Carolina. Having taken NCSSM Connect's Aerospace Engineering class my freshman year, I knew NCSSM offered courses that would cater to my goals (attending a respected college, doing research, going to graduate school), and interests in a career in astronomy and astrophysics. After attending the information sessions hosted at my home high school by NCSSM, I knew that classes at NCSSM – like Physics Core Mechanics and Astrophysics – would put me in a position to achieve the education and career goals I wanted. 
If you approach students at either of the North Carolina School of Science and Mathematics campuses in Durham and Morganton and ask them what motivated them to apply, many of them will say, "classes that are more advanced than the ones offered at my home high school" – outstanding, challenging, and interactive courses such as Climate Change Biology, Materials Chemistry, and Computational Physics taught by instructors with advanced education (at least a master's and often a doctorate) and experience in class topics. . 
However, there are academic opportunities beyond just the classes, some of which inspired me to apply and commit to NCSSM, and some of which I didn't even know about until I moved to NCSSM-Durham in August 2021. 
A significant component of NCSSM that pushed me to send in my application was research opportunities. As someone who wants to go into a career field built on research, having the opportunity to conduct original research in different sciences at NCSSM was a major point of interest for me. NCSSM offers significant research programs and opportunities in humanities, chemistry, biology, and physics – as well as research classes that primarily focus on conducting research instead of being typical lecture classes. Furthermore, NCSSM's Mentorship program allows students to work with university professors and other science professionals and earn firsthand experience in scientific fields. Though I am not yet a part of these major research programs at NCSSM, taking research courses like Developmental Biology, Astrophysics, and Environmental Science has opened my eyes to new sides of the science world and has only fueled my passion for science. 
Another way to get deeper into these areas of interest is clubs, organizations, and forums that NCSSM and its incredible student body offer. As someone with immense interest and passion in physics, engineering, and spaceflight, NCSSM's rocketry club was a club that I immediately joined when I heard of it. Getting to help hand-build a high-powered, supersonic rocket that I would later watch launch was incredible, and I'm honored to be one of the captains of NCSSM Rocketry for the 2022-2023 team. Furthermore, clubs like Physics Club give students the opportunity to connect and work with others interested in physics, like me! In addition to student clubs/organizations, students can host forums that allow them to share their interests with others in a class format with the help of an NCSSM instructor.
Actively participating in clubs at NCSSM has given me some of my favorite memories while at school and has allowed me to connect with other students who share similar interests to mine – and the same can be said about NCSSM's residential community as a whole. At my home high school, barely anyone shared interests and hobbies similar to mine, which often made it hard to share important information regarding my interests and hobbies with others. Knowing that I'd be living and working with other students who shared similar interests and hobbies with me every day while in classes and clubs was a major reason why I applied. After completing my junior year at NCSSM, I can confidently say that one of the most moving aspects of NCSSM is the people you meet, work with, and get to know while living and working on campus. 
Applying to NCSSM and deciding to finish out my junior and senior years of high school at the Durham campus is one of the best decisions I have ever made, and I'm forever grateful for the seemingly endless opportunities NCSSM provides for its students. This year/semester I'm helping lead NCSSM-Durham's rocketry team, taking courses I've longed to take for many years such as Astrophysics and Ecology, applying to colleges I never thought I'd apply to, and meeting and working with the many new juniors who arrived at the Durham campus in August. While some aspects of NCSSM may not be for everyone and the experience may be challenging, the classes, research, clubs/organizations, and community has certainly made my experience at the school worth it, and I cannot wait to see where my accomplishments at NCSSM take me and my peers. I plan to apply to NC State University, UNC-Chapel Hill, Johns Hopkins, and others for their astrophysics/astronomy programs and the research opportunities they offer in the field.
Share this post.