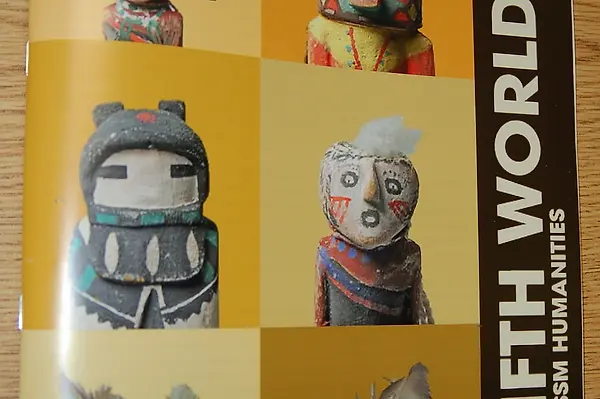 news
Humanities students launch journal, Fifth World
A student editorial group recently published the first issue of a new NCSSM humanities journal, Fifth World. The publication features eight research papers by students in David Cantrell's Research in the Humanities course, also new this past fall. Cantrell and a cohort of the research class continued to meet throughout the school year to refine the research papers and publish the journal, with funding from the NCSSM Foundation.
"It's important to show that NCSSM thinks that the humanities are important," says Joe Wiswell '16, one of the journal's contributors and editors. "Without a balance of humanities, science loses itself in its quest for objective data. Having a journal like Fifth World next to The Broad Street Scientific [NCSSM's student journal showcasing math- and science-related research papers] can help scientists find new perspectives on problems, and shows that the school is serious about how STEM is used in real life."
The journal's title comes from a mural that Cantrell and a group of students saw during their 2016 Mini-Term trip to the Southwest. The last panel of the Hopi artists' mural depicted the emergence of a "Fifth World" that mingles traditional knowledge and contemporary technology. Adopting Fifth World as the journal's title "was a gesture of hope in the interdisciplinary and critical nature of our work," Cantrell says. "The notion of an emerging world seems an appropriate representation for the talent of emerging scholars." Karly Andreassen '16 designed the first cover, which features images of early Hopi kachina figures.
"Creating Fifth World was really our opportunity to curate and display our work for others in the manner that we wanted," says Kendall Futrell '16, another member of the editorial collective. "The humanities program at this school is a tremendous resource. When projects like this are arising out of student interest, it draws people's attention to some of the lesser-traveled avenues there are to explore here at NCSSM. I hope this journal helps future students realize that this type of work is an option. Hopefully, having a publication like this will open people's eyes up to the possibilities for intense interdisciplinary work, and where it can lead."
Plans call for inviting high school students from across the state to submit papers for future annual issues, with NCSSM students serving as the journal's editors and publishers.
"I want it to be known that students receive the finest humanities education in the state at this school," Cantrell says.
Fifth World's Editorial Collective includes Wiswell, Futrell, Andreassen, Francisco Coch '16, Yash Nalla '16, Ryan Warren '16, Gabriella Williams '16, and Madison Zehmer '16.
See also: Four students chosen for humanities research competition at MIT