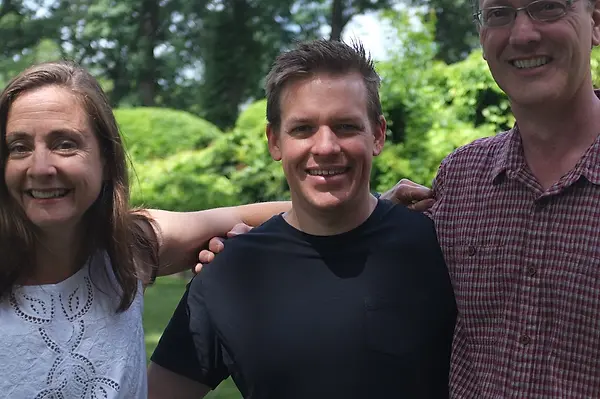 news
Humanities instructors win NEH grants
Humanities instructors Katie Moulder, Ormand Moore, and John Woodmansee have won grants from the National Endowment for the Humanities to attend workshops across the US this summer.
Three NCSSM humanities instructors have been awarded professional development grants from the National Endowment for the Humanities. Ormand Moore, Katie Moulder, and John Woodmansee will spend part of the upcoming summer participating in site-specific workshops across the US, where they will collaborate with topic experts and other scholars from around the country on topics of special interest.
A look back at the way forward
The segregation and desegregation of schools in the American South is, relatively speaking, still recent history. Unlike so many events that have shaped the United States, there remain Americans in communities throughout the South who lived that history. Ormand Moore will visit Richmond, Virginia, for a week this summer to gain insight into Virginia's struggle to desegregate by participating in a workshop called "The Long Road from Brown: School Desegregation in Virginia."
Though an English teacher by training, Moore has a solid background in history, which he hopes to burnish with his upcoming experience in Richmond. This year he has been using his additional background in history to co-teach American Studies at NCSSM. "A big focus of my research this year, and the way I try to present American Studies, is by understanding the uneven progression of race relations and racial equality," he says. "Brown v. Board is this interesting moment because it created all this hope, but it also created this monstrous backlash." On one hand, he explains, African Americans began to feel more empowered by the legal ruling, while on the other hand, white supremacists used the ruling as a call-to-arms.
"It's a big moment," Moore continues. "I feel like me diving into this [workshop] will go right along with what I've been studying this year, which is the way that progress happens in a nonlinear way. It could shed some light on this moment in time we're in now, too, when schools are becoming resegregated in many places."
Moore and his fellow teachers will be spending a lot of time delving into the archives of Richmond-area universities and discussing their finds with each other and workshop leaders. And while there is no specific product, such as a set of lesson plans, that is required of the participants, Moore still has expectations of his own. "I, of course, don't want to waste this opportunity so I'm already planning on building it into our curriculum next year," he says. "But another big thing that I'm going to get out of it is experience in archival research. I was an English major and we never did much archival research, and so my skills in that department aren't that great. But I want to improve those skills so that I'm better able to teach my kids about how to use archives."
Moore will travel to Richmond in July. This is his first NEH award.
Rising up
The world's first steel-frame skyscraper was built in Chicago, Illinois, in 1885. The structures soon began to dominate the skyline of cities all across the country. In a relatively short time, the massive buildings became nearly as synonymous with America as the Stars and Stripes. Katie Moulder will be in Chicago for a week this July to consider the forces and factors that led to the construction of the city's tall buildings. Her workshop, called "The American Skyscraper: Transforming Chicago and the Nation," will consider how the rise of such structures stimulated and reflected change in American life.
"My interest in this is that I like urban planning," Moulder says. "I'm interested in the way the built environment sort of shapes, and is also shaped by, the societies and the people that live in it."
While Moulder expects the workshop to focus mostly on the physical manifestation of the city's buildings, she is hoping to personalize and expand her experience by learning more about the specific relationship between skyscrapers and race, and how each influenced or was impacted by the other. This will be her first opportunity to formally engage in a true academic exploration of her long-standing interest in the societal dynamics at play in the physical creation of cities.
"I'm just interested in those kinds of things," she says. "And Chicago, in particular, is a really good example of the way racial discrimination can build a city, and how that can be embodied in the buildings and the neighborhoods and the discriminatory lending practices. Hopefully I can use [what she learns] in American Studies to talk about urbanization, and to talk about technological innovation and how that shifts the way we think about the world around us."
"My bet is I will learn a fair amount about architectural principles, which I know nothing about," she says, "but my sense is that I'll get a better understanding of Chicago history. I'll be grateful for whatever I learn. Whatever I can learn is going to fit into and augment much of what I am already interested in."
Moulder is a three-time recipient of NEH grants.
"We're looking at the history of the history"
America's push west looms large in the story of America. John Woodmansee will get an up-close and in-depth look at that story this summer when he travels to Salt Lake City, Utah, in June to participate in a one-week workshop entitled "Manifest Destiny Reconsidered: The Utah Experience." The workshop will revisit America's westward expansion into the Utah Territory in the mid-1800s and how it shaped, and continues to shape, the ongoing narrative of the American experience.
The experience will be an immersive one for Woodmansee, combining primary sources with the physical places described in them.
"Every day we'll go on a field trip," he says, "and learn not only the history from the books and articles we've read, but also by being at the place where these events occurred."
Each evening, participants will have time to work on lesson plans for use in the classroom. While Woodmansee expects to bring much of what he learns in Utah back to his American Studies class at NCSSM, he's also interested in crafting something a bit broader.
"I'm [also] going to work on an interdisciplinary unit looking at the history of the settlement, how things get represented in art and literature and in the historiography of the time period, the way that it has all been remembered. The topic of this workshop is 'Manifest Destiny Reconsidered,' so we're looking not only at primary documents, but also the way that the narrative of the settlement of the West has changed over time. We're looking at the history of the history."
As enthusiastic as Woodmansee is about the opportunity to head west himself, he's quite aware of the effort the workshop will require. "I've got a lot of reading to do ahead of time," he says. "They sent me about 300 pages of articles to read before I show up."
This is Woodmansee's second NEH grant.
Share this post.