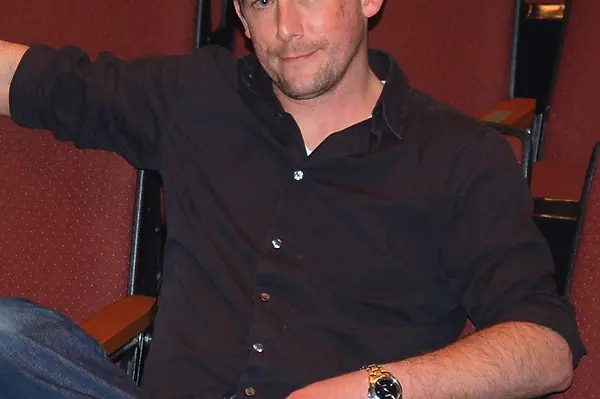 news
Humanities Department welcomes familiar behind-the-scenes colleague
Auditorium Technical Director Evan Rowe. His position has been moved from Distance Education to Humanities, where he works closely with a number of faculty members on fine arts productions among other collaborations.
You've no doubt seen him behind the soundboard at concerts, admissions events, and a variety of cultural festivals held in the auditorium. Students are often reassured by his steady presence backstage at NCSSM's annual Air Band. Stop by any evening during tech weeks for the fall and spring plays and winter musical and you'll see him working shoulder-to-shoulder with drama instructor Adam Sampieri and NCSSM's theater arts students.  
And now Evan Rowe, who's served as Auditorium Technical Director for the past 13 years, is joining the Department of Humanities as a member of the Academic Programs team. Until this month, Evan's position was part of Distance Education and Extended Programs
"I am thrilled to have Evan join the Academic Programs team," says Vice Chancellor for Academic Programs Katie O'Connor. "He works in a space shared by all divisions on our campus, and I admire his collaboration, talent, and daily valuable contributions to our school, our students, and our community."
Fine Arts Coordinator Scott Laird agreed: "Evan has a long and distinguished record of strong support for all school events in the auditorium, and he facilitates so many of the fine arts events in a variety of ways. He's a trusted friend and colleague, and we are pleased that his ties to academic programs and our discipline are now more strongly stated. When it comes to anything technical in the auditorium, Evan is a real pro."
Added Instructor of Drama Adam Sampieri, "After nine years and 28 productions working and learning with Evan, I couldn't be more pleased to welcome him as a colleague in the humanities department. Evan's artistic vision, expertise in stagecraft, and creative problem solving are indispensable to our fine arts program and our school. There's no one I'd rather pull a late night in the theater with!"
Before coming to NCSSM in October 2002, Rowe worked in Atlanta at Alliance Theatre as a sound engineer and the Rialto Center for the Arts as a master electrician. Those years were followed by work for a corporate production company and as a freelance rigger and electrician in the Triangle. 
Here at NCSSM—in addition to supervising the technical aspects of events ranging from Convocation, admissions events, plays, music and dance concerts, staff meetings, Awards Day, and the numerous cultural fests—Rowe has managed projects including a complete overhaul of the auditorium's sound system and the lecture hall's lighting system.
Beyond the job, Rowe is a husband to Nicole and father of three-year-old Cecilia. A talented musician, he has performed in seven bands (three of them currently), played on a dozen records, and toured Europe and (most of) the US and Canada. He has a record coming out next month.
"I'm very excited to be joining the Academic Programs family," Rowe says. "Naturally I've worked closely with the fine arts faculty since starting here, and it's great to be an official member of their team. DEEP has been an extremely supportive community, and I'll still be working closely with them as we share skill sets, but this move will offer opportunities to work more cohesively with the faculty I'm already seeing every day. And I'll still be in DEEP's basement, so we won't be strangers!" — Elizabeth Moose, Dean of Humanities