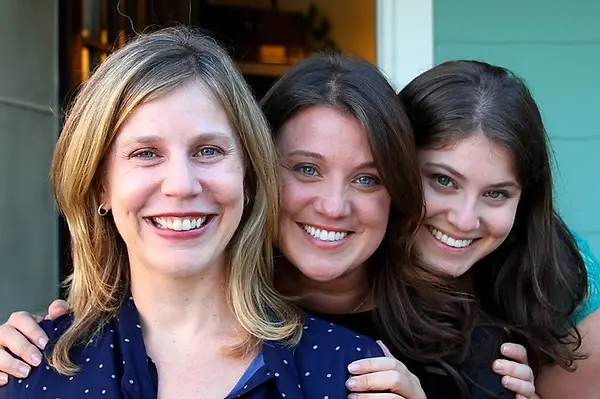 news
Hill sisters speak at Convocation on August 15
Adriene Hill '95, Alison Hill '97, and Alex Hill '07
Update August 17, 2018: Watch a video of the full convocation ceremony.
___   This year's convocation speakers are the trio of Hill sisters, Adriene '95, Alison '97, and Alex '07, who grew up in Celo, North Carolina, and each attended NCSSM. Though the sisters have followed different interests since then, they all feel that attending NCSSM was foundational to exploring and discovering their individual passions.  
"I came to NCSSM because I was looking for new challenges and because my older sister really enjoyed her experience," middle sister Alison says. "NCSSM helped foster my creativity and independence while taking on academic and social challenges."
The eldest Hill sister, Adriene, now lives in Los Angeles and is a senior editor for the California Dream project. She is also a co-host for the popular educational web series Crash Course Economics and Crash Course Statistics. Adriene has a bachelor's degree in economics and political science from Amherst College and a master's in political science from Northwestern University. Adriene has worked for Chicago Public Radio as a producer, editor, and reporter. She was also a correspondent for American Public Media's Marketplace, covering business and the economy.
Middle sister Alison went on from NCSSM to earn a bachelor's in sociology from the University of California, Santa Cruz, and then moved to Zambia to begin her public health career. After leading a clinic in Zambia for several years, Alison returned to the United States to attend Johns Hopkins University, where she earned a master's in public health and business administration.
Alison feels that her time at NCSSM taught her how a community can invest in a person to give them an opportunity.
"NCSSM helped grow my passion for community engagement and working with underserved communities," Alison says. "The state and people of North Carolina invested in me, and I try to give back by paying it forward to the community."
Since 2009, Alison has worked for Vestergaard, which is an innovative company that develops solutions for a healthier, more sustainable planet. There she launched the first ever program to link carbon finance to safe drinking water, providing water filtration to 4.5 million people in Africa. Alison is now the Managing Director of LifeStraw, a subsidiary of Vestergaard that works to provide safe water through technological innovation and product design. In February 2018, this program reached more than one million kids with safe water and health education.
After graduating from NCSSM, youngest sister Alex attended UNC-Chapel Hill, where she earned a bachelor's in sociology and political science. Upon graduation, Alex returned to her roots in western North Carolina and began her career in education at Asheville School as a development associate. She then went on to graduate school at Western Carolina University, earning a master's of education in school counseling. Alex has since returned to Asheville School as a public relations coordinator.
"I wanted to go to NCSSM because of the experience that my sisters had," Alex says. "I was also interested in experiencing greater diversity than what the mountains of western North Carolina had to offer."
Alex believes her time at NCSSM helped her realize her academic potential, saying, "NCSSM helped grow my love of learning as I persevered through academic challenges and discovered my passion for writing."
While it's been over 10 years since she graduated from NCSSM, Alex feels like NCSSM is still a huge part of her life. "The friendships that I made at science and math are a big part of my life," Alex says. "I still keep in touch with all the friends I made at NCSSM."
Share this post.