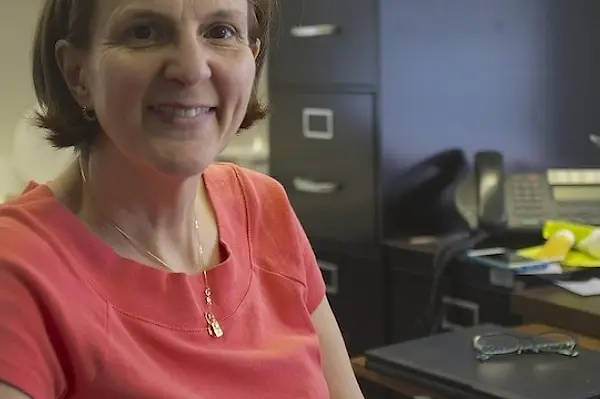 news
Hernandez named to national math modeling group
Maria Hernandez in her office at NCSSM.
Math instructor Maria Hernandez of North Carolina School of Science and Mathematics has been invited to serve on a newly formed national committee focused on modeling in mathematics curriculum for students from elementary to college level.  
The Joint Committee on Modeling Across the Curriculum is a partnership between the National Council for Teachers of Mathematics (NCTM) and the Society for Industrial and Applied Mathematics (SIAM). The committee aims to increase the inclusion of modeling for K-14 mathematics curriculum, as well as provide access to resources and professional development for teachers and foster awareness of real-world applications of math among teachers, students, and the public.
Hernandez was one of four educators nationwide to be invited to serve on the committee. She will serve a four-year appointment. The committee includes representatives from NCTM and SIAM along with educators and leaders in math modeling from elementary to college level.
NCSSM has long incorporated modeling in its math curriculum. Its math instructors are leaders in using modeling in the classroom, participating in curriculum development initiatives as well as national studies and publications on the topic. "Here in our classes, we are bringing in real-world applications of problems," Hernandez says.  "We have this long, rich history of this hands-on approach, focusing on application."
Mathematical modeling is, in essence, an applied study of mathematics using mathematical tools, principles, and methods to address real-world problems. Modeling can range from basic ideas like grouping and stacking in early elementary school to broad, open-ended, and multifaceted problems for high school students, typically with real-world applications — if it is worth driving farther to get cheaper gas, for example. "You have to make certain assumptions and work through an iterative process," Hernandez explains. "You think, 'I have these tools and these ideas, how do I make sense of these in terms of this application?'"
Since modeling involves real-world applications of mathematical principles, there isn't always just one clear answer. "The voices of the students are involved," Hernandez says, as they develop their own processes to come up with a solution. This does make instruction harder, though. "Teaching is hard, but teaching modeling is harder," says Hernandez. "It's not just show and mimic. You have to be prepared to listen carefully to the students' ideas, and you have to be a strong enough mathematician to think if that might work. You have to be willing to be able to say, 'Let me think about that and get back to you.'"
"We believe that when you're having this experience, versus using traditional math, you learn much more," Hernandez says. "You learn to become a better thinker, and that carries through at the university level and in the workplace." Students also learn better communication skills, as they learn not just to come up with ideas and solve problems, but to share those ideas with other students and instructors.
This is one of the reasons the committee is so important, Hernandez says. Traditional assessments have a hard time capturing this type of study, so the committee will be looking at how to improve assessments for modeling-based curriculum. They'll also look at teacher resources, from classroom tools to professional development and financial support. "We need to find ways to support teachers in the classroom and do it in a systematic way," Hernandez says. "As a committee, I think we will try to seek some of that support."
The committee will also join the national dialogue on underrepresented groups in STEM, as well as engaging students in math at a young age. "At the elementary level, we want [students] to get excited and stay excited about math," Hernandez says, in addition to having a chance to explore what math looks like both in practice and as a career. "We want to not just show them what we do, but what it is like to work in mathematics. Math is a big, wide open world!"
Hernandez is looking forward to bringing the committee's work back to NCSSM. She sees an increase in opportunities for interdisciplinary approaches to math and math modeling, bringing together fields such as math and physics. "People think that math is siloed, but it's not. There are so many places where as a citizen, you are presented with mathematics. When you vote, when you go visit a doctor… [math modeling] makes you better at thinking."
Share this post.