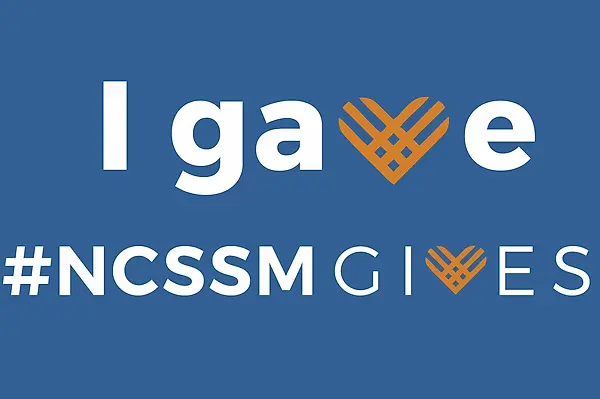 news
#GivingTuesday raises $70,000, doubles participation goal
NCSSM's third Giving Tuesday brought in over $70,000 in support of the school, and more than doubled this year's participation goal.
On November 28, North Carolina School of Science and Mathematics participated in its third Giving Tuesday. In the biggest success to date, #NCSSMGives brought in more than $71,000 from 515 donors — more than doubling this year's participation goal — in a single 24-hour period.
Giving Tuesday, the Tuesday after Thanksgiving, is an international movement celebrating generosity and kicks off the season of giving. NCSSM participated for the first time in 2015 with #NCSSMGives, raising more than $40,000 in a day for the NCSSM Foundation. Participation grew in 2016 to 198 donors, with both events garnering strong engagement and support from alumni, students, employees, families, and friends alike.
This year, NCSSM offered new ways to engage on Giving Tuesday, including hourly and day-long prizes, challenges, and a hall competition. Prizes included coffee with NCSSM deans, directors, and the chancellor for donors to specific programs or funds, reserved seating and a backstage tour during NCSSM's winter musical, and reserved seating at commencement. Generous alumni and parent donors also set out matching gift challenges for fellow alumni and parent donors. Thanks to the support of our donors, all of this year's matching gifts were secured.
The largest driver of participation and excitement this year was the opportunity to participate in the new hall competition. Students, alumni, parents, employees, and friends could tag their gift with the hall of their choice. Student donors received 2 points per donation of any amount towards the hall of their choice while all other donors received 1 point, with the winning hall receiving pizza at the chancellor's house.
The hall competition, which was hugely popular with both students and alumni alike, started off slowly with alumni crediting gifts to their halls from when they were students, but really heated up that evening with student gifts. So many gifts were received throughout the evening that the NCSSM Foundation needed two days after Giving Tuesday to process the high volume. In the end, Reynolds 1E 2E 2D won the hall competition, beating out 2nd Bryan by just four points.
The generous support from the entire NCSSM community resulted in the most successful Giving Tuesday to date for NCSSM. With 515 donors participating and making 555 gifts, the day resulted in $71,393.99 raised for the NCSSM Foundation. Many donors made a second gift for the fiscal year or made their annual contribution on Giving Tuesday, but 251 were first-time donors to the NCSSM Foundation. Many of these new donors were students, and included new alumni, parent, and friends of NCSSM donors as well.
Thank you to all of the donors who participated on Giving Tuesday and to the donors that contribute every other day of the year as well. Giving Tuesday is always a fun day to be a part of, but any day is a wonderful one to donate to the NCSSM Foundation. Join the community of donors who support NCSSM everyday by making a gift today.
Share this post.