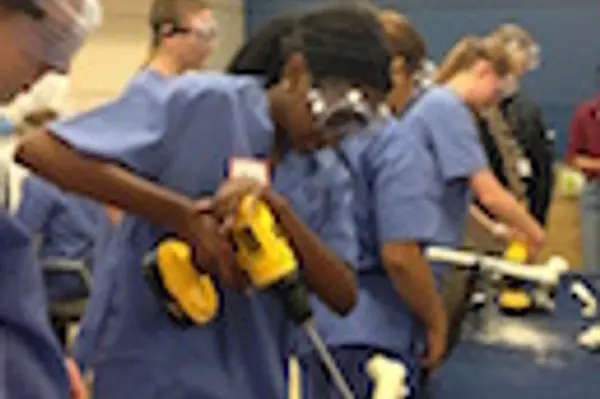 news
Girls attend orthopaedic surgery workshop
Eight students — five from NCSSM's residential program and three from NCSSM Online — participated in a one-day Perry Outreach Program at Duke University on Saturday, September 26. The San Francisco-based nonprofit Perry Initiative offers programs to attract and inspire young women to enter and become leaders in the fields of orthopaedic surgery and engineering.
The girls learned suturing techniques and practiced suturing a pig's foot. They also learned about casting bones, rotator cuff repair, and internal and external fixation of fractured bones. NCSSM participants, who made up about a fifth of the total attendees, included Ashton Brown, Karishma Desai, Grace Dodoo, Gabby Hall, Rose Holden, Erica Mullis, Modesty Obasohan, Kim Rogers, and Bailey Watkins.
Dean of Engineering and Technology Ershela Sims learned of the program through NCSSM Foundation board member Debra Coleman '86. Sims passed the word along to students but also signed up to volunteer for the event. "Given my research and training in biomechanics at Duke Sports Medicine, I was excited to help," Sims says. "The topics were timely. Erica and Karishma are in my biomedical engineering class, and they had just learned about internal and external fixation the week before, during our units on orthopedic biomaterials and repairing broken bones."
Share this post.