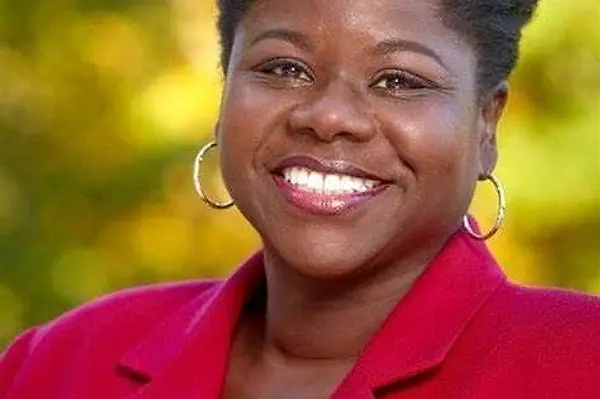 news
Gina Loften '83 speaks at 42nd Convocation
Gina Loften '83
Watch the recording of NCSSM's 2021 Convocation.
Dover Road is five miles of farm fields and pine trees. For a lot of people it's a cut-through between highways that lead to New Bern and Kinston. 
The local zip code says this rural area in eastern North Carolina's Craven County is called Cove City, but "City" is a little misleading. When Gina Loften lived here, Dover Road was dirt. 
Loften started out somewhere else. "I often tell people I'm a Brooklyn-born Southern belle," says the recently retired Unicorn ('83) who went on to lead thousands as an IBM executive and Chief Technology Officer for Microsoft US. And it's true. Loften was born into a world of brownstones and apartments and crosswalks and pedestrians.
But Cove City, NC, is Loften's geographic DNA. That's where her great-grandfather had founded a Baptist church just up the road from Loften's grandparents' home. That's where her mother was raised. And that's where she and her family made pilgrimages every summer and for holidays when she was a child.
By the summer before Loften's third-grade year in Brooklyn, her teacher mother had watched how Gina played in the heat and dirt with her cousins down south. She had seen how Gina sat at the feet of her grandmother. And she had recognized the sadness in Gina's face when it was time to head back north. Though New York City was where Loften's mother now belonged, it wasn't fair to deny her little girl the same rural joys she had experienced growing up in the country. Her child needed dirt under her feet, she decided. Not concrete. So she sent Gina south to her beloved grandparents to begin third grade.
"Wow," Loften says now by phone from her home in Raleigh as she considers the choice her mother made. "That had to be a very tough thing for a mom to do. But it was so unselfish of her to say, 'My baby's not this city girl.' I am just tremendously appreciative that she saw that the best place for me to be raised was in the South."
Already part of the community, the only transition to navigate was at school, where she entered a bit ahead of her peers in the classroom. Always an inquisitive child, Loften had loved school from the very first day of kindergarten in Brooklyn where her mother taught fourth grade. As soon as she could read, she kept her nose in a book whenever she could. A deck of math flashcards kept her entertained for hours. In the evenings her mother would run her fourth-grade tests by her.
For the next eight years in North Carolina, Loften was embraced by an extended family of aunts and uncles, cousins and neighbors, all of whom showered her with love. Her mother visited frequently. Sunday dinners after church saw her grandma's big table fill as folks pulled up chairs. At side tables set up wherever space allowed, the children laughed as they ate their meals.
Through it all, Loften remained "glued" to her grandmother's side. She adored her grandmother who, along with her grandfather, shared with Loften all that she had shared with Gina's own mother: the value of "integrity, courage, respect, giving to others, being responsible, and setting an example."
"I have," she says, "the heart and soul of my grandmother."
Bold and brave
It was Loften's guidance counselor at West Craven High School who told her about NCSSM. For a motivated student like her, applying to the school seemed like a no-brainer. 
But when the acceptance letter arrived, Loften hid it away for a few days. A possibility had now become a weighty reality. And it gave her pause.
"Okay, I got in, but what does that mean?" she recalls thinking in the moments after opening the letter. "It's hard to leave grandma and grandpa who are filling you with nothing but love."
Hiding the letter did not make her acceptance a secret; her school guidance counselor had been notified as well. Loften was "found out."
She and her grandparents sat down at the table to think it all over. They discussed what the opportunity meant, what Loften's future could be.
It was Loften's decision to make, but her family knew what she wanted: "You're ready. You're okay," they told her. 
"One of the things about having such a loving and supporting family is that they don't need to be right there with you all the time for you to still feel supported and loved by them," Loften says. "I knew I had everything I needed to be successful at NCSSM. My family didn't need to be there with me every day for me to pull from their strength and courage. So I said 'yes.' And I went off to be bold and brave and all those things they had taught me."
Gina Loften '83 in the original iteration of what is now NCSSM's Bryan lobby.
NCSSM was still very much an unproven entity when Loften arrived, having not yet graduated its first class. On the walls were artist renderings of what the school might one day look like. Eating a meal meant walking down the street to the nearby elementary school cafeteria because the one at NCSSM wasn't yet in order. 
"They were still building the school around us," Loften says. "It felt like an experiment, but it felt like a great adventure, too. And I think that helped those early classes connect. No one else in the world besides us would be able to say that they were there in those early years."
Leaving home for such an unknown was nothing new to her; she had left home before, and that had turned out wonderfully. She was ready for the challenge of NCSSM.
At NCSSM, Loften got to immerse herself in the sciences that she loved most. She played softball and danced, read great literature and thought deeply about it and wrote short stories. It was, she says, unlike anything she could have gotten at any other public school in North Carolina.
Loften arrived at North Carolina A&T much the same way she entered elementary school in Craven County — ahead of her classmates. The value of her NCSSM experience became clear in the first days of a Physics with Calculus class. "The professor started talking about these assignments and I had already done them," she recalls. "And then we got the textbook, and I had already seen that stuff. So I went up to her and I said, "Well, I've already had this class," and she said, 'How's that possible?' I said, 'Well, I went to the School of Science and Math.'"
Though originally planning to be a physics major, Loften soon discovered the field of electrical engineering. The variety of career paths it promised prompted her to shift her major. At 19 she began a co-op program with IBM. They hired her on full-time right after graduation as a systems engineer. She spent the next 28 years of her career there where she rose to become the Chief Innovation Officer for Consulting Services.
Rewarded
Loften will not tell you she was fearless in her career. But she will tell you she was confident, that she thrived on being challenged. Those traits had led her to NCSSM, and now they positioned her for success at IBM. 
Nor was she shy about sharing her ambitions. With a little more than a year of full-time experience at IBM, she sat down with her manager to discuss her near-term plans. "He asked me what I wanted to do, and I said I wanted to be an IBM executive. I guess he thought I was going to talk about getting my first promotion or something. He said, 'Okay, but let's get to year two first.' I was always leaning into the bigger dream."
Loften flourished at IBM. Early in her career she accepted international assignments in Hursley, England, and LaGaude, France, where, among other accomplishments, she led the development of a new networking technology. Outside of a college trip to Mexico, those assignments were her first trips out of the country, but they became the catalysts for more international assignments and experiences that would help establish her as a global leader.  
Too, Loften accepted projects she wasn't certain she would be successful at, but she didn't let that fear stop her. Before she closed out her career at IBM, she had lived and worked not only throughout the United States, but in England, France, Australia, Japan, China, Brazil, and Singapore. 
"It was my dream to work for IBM," Loften says. "It was a great company that allowed me to have multiple careers. I got to be a researcher. I got to be a developer of both hardware and software. I got to be a consultant. I got to be someone who did mergers and acquisitions. I felt like I had four or five different careers with the same company.
"If I had been too afraid to go on these international assignments, if I had been afraid to take jobs that I wasn't sure I was going to be successful at, then my career could have been mediocre. But because I was willing to take a risk, I was rewarded. You have to step out there and trust that you'll figure it out."
Loften retired this year after spending the last two years of her career at Microsoft as the Chief Technology Officer for Microsoft US, where she leveraged her enterprise experience to accelerate the success of Microsoft's clients. She also served as an Executive Sponsor, applying her passion and leadership in diversity, equity and inclusion to help Microsoft make progress in those areas throughout their U.S. business.  
Throughout her 30 years in the tech industry, Loften was lauded for her ability to bring people together to achieve results. She has shared her story with thousands as a sought-after speaker and has been engaged in the community, serving or having served on multiple boards informing local initiatives and international concerns. Now that she has a little more time, she plans to become even more engaged in giving back, living out the principles she was taught by her family. In July 2021, she became a member of the NCSSM Foundation Board of Directors.
Where dreams are born
There were moments along the way when Loften questioned the path she was on. "There were times when I sat in hotel rooms far away from family wondering, 'Why am I doing this?'" Loften says. "And then I remembered all the dreams I had. My first dream was to go to college. My next dream was to have a successful career in technology. Then I began to dream about being a corporate executive. I realized in those moments that the dream was still important to me and it was worth the hard work and sacrifice. I was passionate about doing things that changed the world and made someone's life better, and I was very interested in breaking glass ceilings and getting into places where people like me hadn't been before."
Most of Loften's family has moved away from Dover Road now, and though she continues to see them often, she seldom gets back to that stretch of road where she grew up. It looks a little different these days. There are a few more houses than there used to be (though still not many). A bright white water tower stands at one end. But the main difference is that the dust doesn't rise on Dover Road anymore; it's now paved.
In Loften's mind, it still looks much like it did when she was a child, running and playing with her cousins. 
"When I think of the dirt road, I don't think about what it lacked. We may not have been 'rich' by some people's standards, but we were rich in all the things that mattered."
But there's something else about it that she sees now. Something more than family and friends and laughter. Something more than good meals and right living. She now sees Dover Road for what it really was all along: "a place," she says, "where dreams are born." 
Loften is well aware of how far she has journeyed from those days of flashcards and Sunday dinners. She hopes her life will inspire other little girls to claim their own future.
"It's a privilege to sit here today and say my dreams came true. I know the feeling of what it's like to have your dreams come true. Not everyone gets to have that. And I know what it feels like to go beyond that. The things that I've gotten to do over the past 30 years have been beyond what that little girl [from Cove City] could even dream."
Share this post.