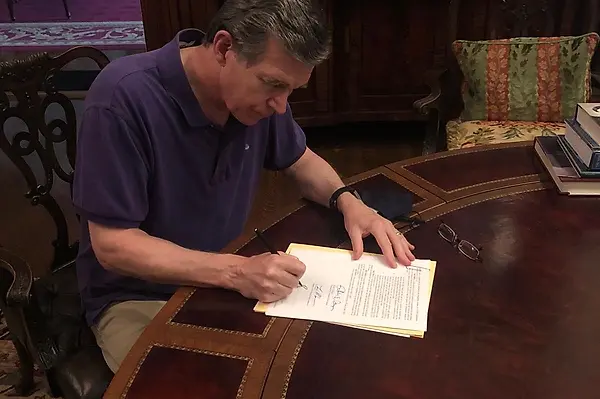 news
Funding for NCSSM-Morganton Signed into Law
Governor Roy Cooper signs funding bill for NCSSM-Morganton on Friday, June 19.
On Friday, June 19 Gov. Roy Cooper signed a bill approving funding for an operational budget for the new Morganton campus of the North Carolina School of Science and Mathematics (NCSSM) — the nation's first public residential high school specializing in science, technology, engineering, and math. The school is expanding to a second location in Western North Carolina that will enroll its first residential class in 2022. NCSSM is the only stand-alone high school among the 17 institutions of the UNC System and will be the first program of its kind anywhere with two physical locations.
House Bill 1136 was signed by Cooper after unanimously passing both chambers of the NC General Assembly earlier this month. It appropriates $3.3 million in recurring funds for the 2020-21 fiscal year to be allocated to NCSSM for operating funds, purchasing equipment, and to establish 14 new positions at its Morganton campus. 
Adding a second campus will increase by half the number of high school juniors and seniors from across the state who can be accepted each year for the residential experience. It will also allow hundreds of additional youth to engage annually in NCSSM's Online curriculum, open enrollment courses, and summer accelerator and mentorship programs.
"We are so incredibly appreciative of Governor Cooper joining our champions in both parties of the NC House and NC Senate to support our new campus in Morganton," said Kevin Baxter, Director of Western Campus Planning at NCSSM. "I'm so proud of our institution and our elected leaders, donors, partners, and champions for their tireless work to make this a reality."  
Due to the lack of a biennium state budget which originally carried funding for the new campus, the "mini-budget" contained in HB1136 was needed to allow the campus to open its doors to the first residential class in 2022. NCSSM-Morganton was originally slated to welcome the first class in 2021, but the state budget impasse precipitated a one-year delay. However, construction of the NCSSM-Morganton campus remains on the original schedule — it commenced in earnest in early 2019 and the project timeline will allow for buildings to be occupiable beginning in summer 2021.
HB 1136 allocates $3.34 million in recurring funds beginning in the 2020-21 fiscal year to be used for operating funds, purchase of equipment and supplies, and to establish a number of critical new positions at the Morganton campus. The bill also stipulates the intent of the General Assembly to appropriate funds in future years to support any financial obligations incurred to open and operate the Morganton campus of NCSSM.
"The signing of HB 1136 represents a giant step toward our expansion to Western NC and will give even more students the opportunity to prepare to lead, serve, and tackle the challenges we face as a society," said NCSSM Chancellor Todd Roberts. "We are well on our way to meeting our private fundraising goal but still need to raise over $5 million to fully build out a world-class campus for our students and our community."
Prior to the allocation of these operating funds, NCSSM was awarded $58 million by approval of the 2016 Connect NC statewide bond referendum to construct and launch the second campus in Morganton, NC. By June 2018, the state had appropriated an additional $15 million in funding for the construction of the campus as well as a $500,000 annual operating budget to begin preparing for the opening of the campus.
In addition to NC's funding commitment, NCSSM has invested considerable energy toward raising nearly $9 million from private sources since 2018. The majority of these critical dollars are earmarked for construction of the final campus building – the Student Wellness and Activities Center – and help mitigate against unforeseen conditions on the site and escalating market conditions for labor and materials.
Learn more at
ncsssm.edu/morgantoncampus
.