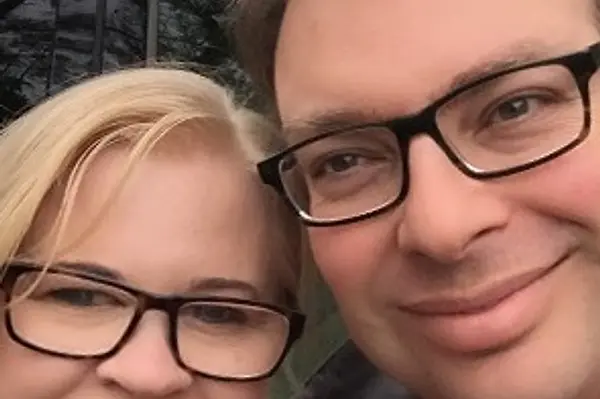 news
From Three Generations, One Worthy and Winning Alma Mater
NCSSM's alma mater was a family affair for the Martines, including Emily Fox Martine '88 and Michael Martine '87, pictured here, as well as their children, and Emily's mother, Janet Fox.
It would be hard to find more dedicated NCSSM volunteers and advocates than Emily Fox Martine '88 and Michael Martine '87. A past president of the Alumni Board, Michael currently serves on the Board of Visitors. Emily is chair of the Parent Association. Living in Chapel Hill, they are always ready to lend a hand, and, along with their children,  they assist at Move-In Day every year. They give NCSSM credit for much of the good in their lives – not least that they met at the t-shirt signing dance in 1986.  
So, it is not surprising that when an alma mater composition competition was announced last winter they were keen to express their love for the school in song. The contest was the brainchild of Giovani Leone '18. He took his idea to NCSSM's Music Department and discussed the idea of having both students and alumni submit compositions so that the song can truly represent NCSSM. The contest would indeed be open to students and alumni, collaboration was encouraged, and the entries would be submitted to a panel of judges without the names of the composers.
Michael and Emily talked about how the school had prepared them for the challenges in their lives, and how they believed what they had been taught there—that from those to whom much has been given, much is expected.
Both Michael and Emily had musical training. Michael plays the bass clarinet and tuba. Emily has studied voice since the age of 14. She was a member of the chorus, chamber singers, the All State Chorus, and was convocation soloist at NCSSM. She and Michael both played in the UNC marching band, and Michael continues to play in the UNC alumni band.     
NCSSM's motto, Maius Opus Moveo, loosely translated as "I accept the greater challenge," felt to them like the appropriate theme. As neither of them had ever composed a piece of music, one of the first steps was ordering a copy of Music Composition for Dummies. Emily then researched the anthems of many prominent universities, and absorbed the sound of the music and the tone of the lyrics.
"The contest guidelines said that the song should sound like a college alma mater," Emily said. "Most of those were written in the nineteenth century, and they sound like hymns."
She turned to her 12-year-old son, Cal, who had been improvising on the piano for years, though he had never written down any of his experiments. Together they developed chord progressions to evoke the emotional sequence they were looking for. When the music was far enough along, Emily handed it over to Cal to fill in the melody.
"I've sung in church choirs for years," she said, "and I was scared that I might inadvertently plagiarize a hymn tune. In composing the melody Cal, used the free MuseScore composition and software on his computer."
Michael and Emily each individually took a stab at writing words for the song, by then titled "The Greater Challenge."  Their efforts didn't satisfy them, so they brought in another member of the family — Emily's mother, Janet Fox.
"My mother has understood NCSSM from the get go," Emily said. "She was the education reporter for Winston-Salem's afternoon newspaper in the '70s and early '80s. When she wrote an article about the first graduating class, she brought me home a brochure. I still remember her handing it to me and saying, 'Here's something that might interest you.' I was in the sixth grade."    
Over a long career as a writer,  Fox had written books and billboards, magazine articles and marketing communications, scripts and speeches, wine labels and web content, poems and press releases. "Just about anything that requires words," she admitted, "but I'd never attempted a school song."
"Emily had worked out a three-verse structure for the lyrics," Janet said. "She wanted the words to convey what accepting the greater challenge means at different stages of life — when applying and being accepted to NCSSM, at graduation, and from then on.  It was clear that working the name of the school into the lyrics would not be feasible —we all remembered that NCSSM cheer from the '80s — give me a T, give me an H… ad infinitum. So, we used words that would suggest science and mathematics… We tried to make sure we had lyrics that would hold up over the years. I remember we had the acronym STEM in an early version. We were pretty sure that word will be a passing fad."
The three-generation collaboration was an exhilarating experience for all concerned, and they were thrilled to learn that their creation had found favor with the judges.    
From there, the composition was reviewed by various boards, including NCSSM's administration and Board of Trustees. It was later enacted in a resolution to become the official NCSSM Alma Mater and was debuted on October 6, 2017, during Alumni Weekend, which also happened to be the weekend of Michael's 30-year reunion and Emily and Michael's wedding anniversary. 
Watch the NCSSM alma mater on YouTube.
Read the NCSSM alma mater lyrics.
– Written by Janet Fox and Giovani Leone '18
Share this post.