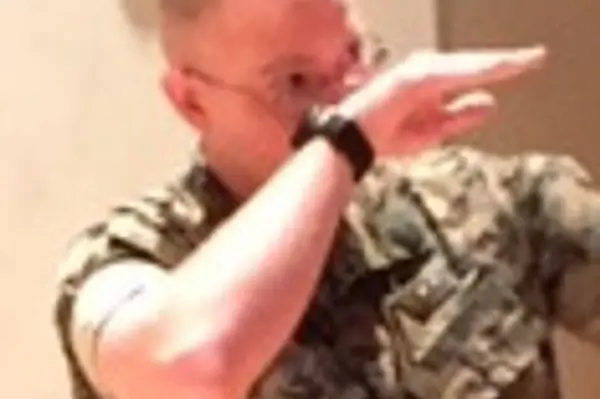 news
From the front lines: American Studies classes hear from war veteran
Jonathan Booton, a hospitalman first class with the U.S. Navy, talks with students in Liz Peeples' American Studies class.
This past Monday, a guest speaker offered students in Liz Peeples and Meredith Murphy's American Studies classes insight into recent wars in the Middle East — and how it feels when members of the military come home from the war. Jonathan Booton, a hospitalman first class with the U.S. Navy, talked with the students after they read The Things They Carried, a 1990 novel by Tim O'Brien about a platoon of American soldiers serving in the Vietnam War.
Booton was a student in Peeples' AP Language and Composition course 10 years ago at Wakefield High School in Raleigh. He has served a tour of duty in Iraq and another in Afghanistan. During both tours, he carried O'Brien's novel with him. He has Skyped in for class conversations in the past with Peeples. He accepted her invitation to talk to students in person now that he is stationed at Camp Lejeune in Jacksonville, NC.
As medical staff, Booton's service has involved treating wounded colleagues on the front lines. One loss still haunts him: a young marine, wounded in the leg, who Booton tried to treat by applying a tourniquet while staying out of the line of fire and barely missing landmines. The marine died while being evacuated by helicopter. At the time he died, he wasn't old enough to drink. "Of all the other losses, this one stays with me," Booton says. "I know I didn't kill him, but I couldn't save him."
As in The Things They Carried, where soldier Norman Bowker returns to Iowa and struggles with his feelings around the Fourth of July, Booton told the students the transition to "normal" life is difficult. He, too, remembers returning to the U.S. around the same holiday and grappling with his feelings as people celebrated the weekend. Most people he runs into "just want to say 'thanks for your service,' they don't want to get into any kind of grit," he says. Old friends become just acquaintances, he says. "They're not equipped to handle" talking to him about his experiences overseas.
One advantage of his service: Since returning from Iraq, Booton has gained a "far more dramatic idea" of what constitutes a bad day. "And it's not what I see on Facebook, where people complain about how they had to stand in a long line at Starbucks." Among his peers at Camp Lejeune, "all of us have had bad days, like having to blow up a mosque because a couple snipers are sitting on its roof. Stateside, there are no bad days. I just don't care anymore about the petty, insignificant things."
The first time he came home from overseas, pop singer Michael Jackson's death was the biggest news story, Bolton remembers. The second time he came home, socialite Paris Hilton was all over the news. Meanwhile, "we had just killed [Osama] bin Laden." When it comes to understanding world politics and confrontations, "I think [Americans] bury our heads in the sand," Bolton told the class.
One student asked Booton if he thought his service had made him a better person. "I'm a much stronger person," he answered. "I don't know if I'm a better person, but I am more decisive. I can make snap decisions. And I can handle things without stressing about them."
In discussing the responsibility and beauty of war, as O'Brien introduces in his novel, Booton told the students, "I can take responsibility for my actions [such as killing suspected terrorists] because I did everything I needed to do without being sloppy, or causing collateral damage."
"It's a very aggressive book," Bolton says of The Things They Carried, "so these students deserve to hear the truth."

 
Share this post.