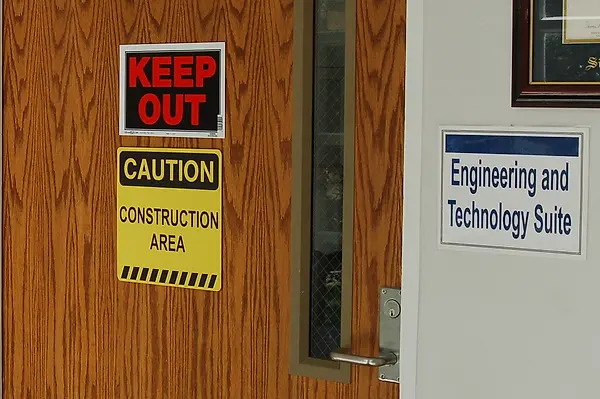 news
From lighting to lounges: Campus getting much-needed TLC
Miles of cable are being installed all around campus as part of the network upgrade, one of a number of facility upgrade projects in the works.
In 2014 NCSSM updated its capital projects plan to include much needed improvements to our technology infrastructure and our instructional and living spaces. A major project completed in the last two years is the new Peter T. Haughton Fabrication Lab, which opened in spring 2015. The lab allows students to take projects from concept to prototype, as a part of coursework or as an independent project. Read more about the FabLab
During the 2015-16 school year, we replaced lighting fixtures and controls across campus as a part of a UNC system-wide lighting project. The new light fixtures are more energy efficient and allow us to lower our utility costs while conserving energy. We have completed the initial planning phase of a performance contract that will allow us to replace our HVAC system and as well as systems to improve our water management. This project is scheduled to be completed in summer 2018. Both of these improvements will allow us to become more sustainable while lowering our utility costs.  
We began installing a new fiber optic network this past spring, work which will be completed in summer 2017. With four times as many access points, the new network will significantly enhance connectivity on campus. We will also see greatly improved speed on the the new network. The new network will also allow for unified communications (voice over internet protocal, or VOIP phone service) and greater virtualization of applications.
Over the course of the summer, all four of our interactive videoconference (IVC) studios were upgraded from analog to digital, greatly enhancing our ability to provide high resolution virtual instruction to students across North Carolina. We also upgraded the technology in the lecture hall and auditorium and added new videoconferencing technology and furniture to convert our language lab into a global classroom.
Currently we are completely renovating the engineering classroom space to create new engineering lab and classroom spaces along with completing renovations of the engineering and technology office suite. Both projects should be completed in December.
Renovations to the physics floor are slated to begin in summer 2017. These renovations will completely renovate the floor including labs, classrooms, and office spaces. Also planned to begin in summer 2017 are renovations to the ventilation systems in both the chemistry and biology labs. These renovations involve installing additional fume hoods in chemistry labs and new lab benches with integrated ventilation in the organic chemistry lab. New tables with integrated ventilation will also be installed in the primary dissection lab on the biology floor.
Upgrades to living spaces on campus include furniture donated by Duke University for some residence hall rooms and for the student center and student lounges. Renovations for Bryan lobby are also underway to make that space a more inviting place for students to meet and work as well as to make the space a more effective welcome center for visitors and guests.
A campus paving project is set to begin this fall to repave the majority of the parking and roadway space on campus, along with the sidewalks in Watts Circle and along Hill Street in the center of campus. This project will begin in October and be completed in December.
These significant facility upgrades are due to more than $6 million in funding from the state along with more than $400,000 in private support. We will be working with the University of North Carolina system and the NC General Assembly to request additional capital funding in the new biennium budget to continue to upgrade our facilities including renovations to public spaces, residence halls, labs, and classrooms.
Share this post.