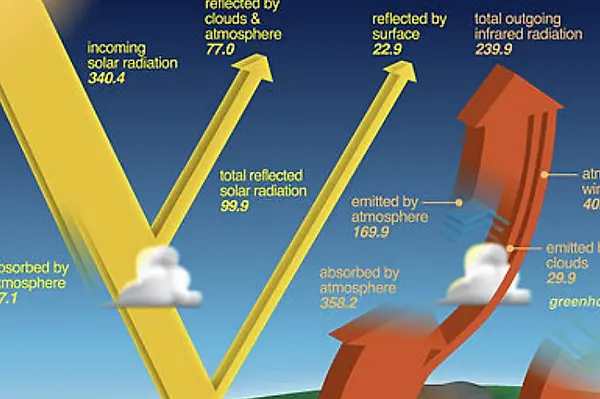 news
Friends of Dr. Kolena share his climate change manuscript
Editor's note: Legendary NCSSM physics instructor Dr. John Kolena died in late 2020, prompting
an outpouring of memories
from alumni whose lives he helped shape. An NCSSM Foundation
endowment established in his honor is still accepting contributions
. This guest essay by Billy Pizer '86 tells the story of an aspect of Kolena's legacy that became more widely known only after his passing, a book project that he was working on at the time of his death that his friends are sharing with the NCSSM community. A link to the partial manuscript is below.
  Many of us knew John Kolena as an outstanding and amazingly dedicated physics teacher. Or maybe we knew about his love of astronomy—taking trips to the desert for a solar eclipse. Or—if you lived in Durham—you might know about his civic commitment, always working as a voting station volunteer.    However, after he retired in 2013 until his death in 2020, John took advantage of his freer schedule to go in a slightly different direction: He began exploring the issue of global climate change and writing a manuscript. He took this task up as both a scientist and citizen. He was intensely curious about evidence supporting humans' role in causing it as well as why it has been so difficult to address.    For most people, the debate over humans' role in causing climate change is almost ideological: You believe the steady drumbeat and increasingly dire scientific reports and papers that have been published since the 1990s, or you are skeptical. Almost no one reads the reports and papers to form their own opinions.    John did read the reports and papers. He then wrote his own synthesis of the evidence. Of course, he started with the basic physics of how the atmosphere works to keep the earth habitable. He had been teaching that part to his physics students for more than a decade. But then he turned to the increasingly trickier questions of whether the earth was indeed warming and the case for human interference. He ultimately wanted to then address future climate predictions and possible policy solutions.     Unfortunately, he passed away leaving the manuscript incomplete. There were chapters outlined but unwritten and many notes to himself. Images were included without going back to check their copyright status.     In February 2021, a few months after his death, a group of former students and colleagues began meeting to fix up the manuscript to the point where it could be read and used more easily by NCSSM alumni and friends. We were motivated by both our love of John and the desire to support his legacy, but also the opinion that the manuscript was quite useful, though incomplete. We did not try to "finish" the book, and instead sought to make the completed parts stand on their own. We removed notes to himself and largely incomplete sections; we edited for clarity; and we established that images were not restricted in a way that limited their use for non-commercial purposes. We also included endnotes highlighting any significant changes from John's original manuscript.    The resulting product is now available
here
.   We invite you to have a look, remember John, and learn a bit more about climate change.  
Share this post.