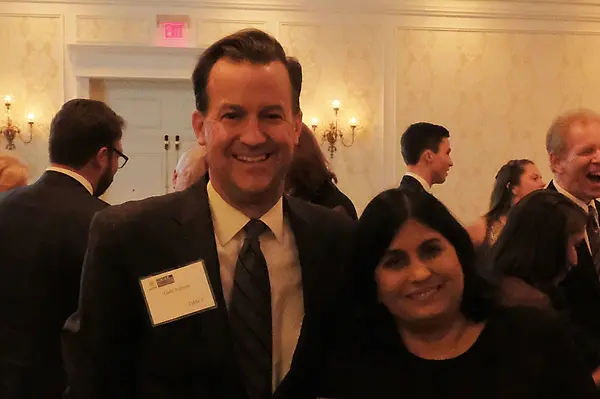 news
Four inducted into NC STEM Hall of Fame
More than three hundred guests attended the NCSSM Gala featuring the NC STEM Hall of Fame Awards event at the Washington Duke Inn and Golf Club in Durham on Friday night September 22, 2017.
During the event, four honorees were inducted within standing ovations into the newly founded NC STEM Hall of Fame, including the Burroughs Wellcome Fund, Maya Ajmera '85, Joseph DeSimone, Ph.D., and the Honorable James B. Hunt. The NC STEM Hall of Fame will be exhibited on the Durham campus and website of the North Carolina School of Science and Mathematics.
NCSSM alumni, parents, student volunteers, and school leadership, were in attendance, as well as corporate sponsors and business and community leaders. The evening provided ample opportunity for guests to socialize with each other and award recipients and included a cocktail reception as well as a seated dinner in the Presidential Ballroom. Chair of the NCSSM Foundation Board Karen LeVert welcomed guests to the inaugural event, which included a short presentation from current students, followed by the award presentations for the evening's honorees.
See photos from the event here.
See photos from the reception here.
The evening's first honoree was the Burroughs Wellcome Fund (BWF), represented at the event by John Burris, president of the organization. Katie O'Connor, Vice Chancellor for Academic Programs, introduced the Burroughs Wellcome Fund, recognizing the organization for its dedication to helping scientists early in their careers, as well as their support of NCSSM. "If I could only choose one word to describe the impact of the Burroughs Wellcome Fund," she said, "the word I would choose is transformational."
The next honoree, Maya Ajmera '85, was introduced by Chancellor Todd Roberts. "As a globally recognized social entrepreneur, Maya Ajmera is the president & chief executive officer of Society for Science & the Public and the publisher of Science News, and an alumna of the organization's most prestigious competition, the Science Talent Search," said Roberts. "Maya has helped to transform the nearly 100-year-old Society into a dynamic, entrepreneurial organization." Ajmera was in attendance, along with her parents, and shared remarks with the audience, reflecting on her time at NCSSM, her life and career, and how science has enabled her to help others throughout her career. "'Science enables our caring to matter,'" said Ajmera, quoting Melinda Gates.
Joseph DeSimone, Ph.D., co-founder and CEO of Carbon and professor at UNC Chapel Hill and NC State, was the evening's third honoree. DeSimone was introduced by Valarie Ashby, Dean of Trinity College of Arts & Sciences at Duke University, and DeSimone's first graduate advisee. Ashby highlighted the importance of diversity to DeSimone throughout his career, sharing that a full 50% of his graduate students have been women and/or students of color. DeSimone reiterated the importance of diversity in STEM, saying, "If you think about innovation and what drives innovation, you realize quickly that diversity is a fundamental tenet of innovation. It's mathematically substantiated."
The last honoree of the evening was the Honorable James B. Hunt, Jr., who served as North Carolina's Lt. Governor from 1973-1977 and Governor from 1977-1985, and again from 1993-2001. Governor Hunt was instrumental in the establishment of NCSSM during his first administration, and has long been an advocate for and leader in educational policy. Governor Hunt was introduced by Chair of the NCSSM Board of Trustees Tom Williams, who used the occasion to thank Hunt for his lifelong efforts to improve public education. In his acceptance remarks, Governor Hunt underscored the importance of education, especially in STEM disciplines, and linkages to economic development, stating that, "Educating our people, growing an economy with good jobs, it's simply what we must do to make our state as good as it can be!" Governor Hunt, as well as each of the honorees, received a standing ovation as he received his award.
Read full bios of the honorees and watch videos honoring each of them here.
Each honoree was also recognized with a short video presentation, which will become part of the NC STEM Hall of Fame. The honorees will be featured both online and in exhibits on the school's Durham campus, host to thousands of state, national, and international visitors annually, and an educational hub for more than 1,500 junior and senior high school students from all corners of North Carolina.
In his closing remarks, Chancellor Todd Roberts observed the following about the inaugural inductees: "Altogether, the Burroughs Wellcome Fund, Maya Ajmera, Joe DeSimone, and Governor Hunt have positively impacted the content and quality of public education for millions of students in our state and beyond — from pre-schoolers to post-docs — and have created conditions for economic growth that can benefit citizens throughout our state, nation and world. Truly, the world is a better place thanks to their good work and leadership."
Share this post.