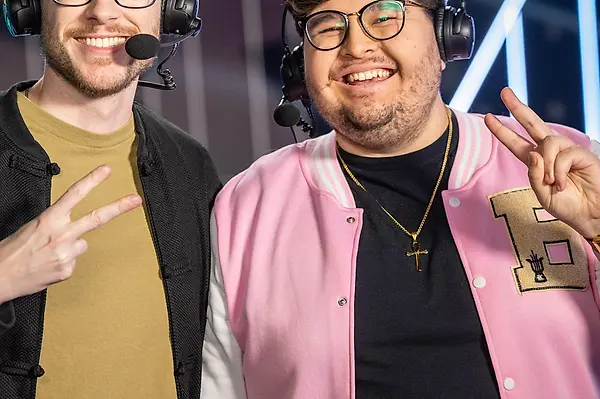 news
For Marc Arrambide '13, passion and perseverance lead to dream job as League of Legends tournament commentator
Marc "Raafaa" Alexander Arrambide '13 (right) with longtime commentator Isaac "Azael" Cummings-Bentley before casting his first LCS match.
Known as the world's largest esport game, the online multiplayer game League of Legends has been a cultural phenomenon for over a decade. With millions of players worldwide, the game is featured in many esports broadcasts and tournaments, with the League of Legends World Championship being held annually in locations throughout the world.
Commentators host esports broadcasts, offering sportscaster-style play-by-play commentary, and NCSSM alumnus Marc Arrambide '13, who fell in love with the game during his time at NCSSM, has become one of the primary commentators of League of Legends tournament broadcasts – a major achievement in the esports world.
NCSSM-Durham senior Haygen Warren, serving in the senior leadership position of Communications Content Creator, recently spoke with Arrambide to discuss his journey into the esports world and the impact NCSSM has made on his life. Here is an edited transcript:
So, what got you into esports and games? When you were here at NCSSM, were you involved with the esports world and just gaming in general?
Actually, one of the things that kept me sane during my time at NCSSM was gaming. My escape was always gaming and music. At some point during this time, I heard about the game League of Legends. A bunch of people in my dorm on Hunt were really into it, and I remember thinking, "What is that?" I would be studying for some classes, and it would be past midnight, and I'm trying to work, then I hear people in the room next to me just going crazy 'cause they're playing this game of League of Legends together.
I remember one friend tried to get me to play a couple of characters on it, and I didn't really get into it just based on their introduction, and I felt like, "Oh, well, this isn't that cool," because the characters they introduced me to honestly were kind of lame. They weren't like the cool flashy champions that the game is known for.
In the spring, I played this game a few times, but I still didn't really care about it. One of my friends, Matt Ellis, was a huge League of Legends fan. He lived on Third West (Hunt), and I went down to hang out with him one day. I noticed that he had something on his TV, and it looked like a sports broadcast.
I didn't really pay attention to it. But then I saw that they weren't talking about sports. They were talking about League of Legends – the video game that everyone was playing. And I was like, "What? What is this?"
I watched that broadcast, and it changed everything. It was so electrifying to see professional coverage of a video game. I had never seen anything like it before. At the time, I had heard about some local game tournaments, but I had never seen a tournament at this scale or at this level of coverage.
After watching that, I was like, "I need to know more about this." That was the moment I got hooked, and I just started consuming as much League of Legends content as I could. I found out about the entire North American League and all of its teams. I discovered and began following the European and Korean leagues as well.
I became obsessed, and it just followed me into college.
Where are you from, what was it like growing up, and how did you make your way to Science and Math?
I was born in Utah, and my parents divorced early on. Eventually, my mom started working as a professor at East Carolina University, and I was living in Peru with my dad during my seventh- and eighth-grade years. I then moved back in with my mom, who had then married my stepdad, another professor at East Carolina University. I was attending Farmville Central High School when, in 10th grade, I was introduced to NCSSM through a few other classmates who had applied the previous year, so I applied. That's how I got into the class of 2013.
What were some of the most important experiences that you had while you were here at NCSSM?
I think one of the biggest things for me is that was the first time I failed a class or did really poorly in a class because I was pushed to my limits for the first time. So, after I had a couple of meetings with some teachers, I bounced back, and I had really strong grades going into my second trimester and third trimester. There's just this level of importance in realizing how to manage time and thinking about what was important to me in terms of my future pursuits.
In my senior year, during the first trimester, I really tried to push myself. I tried to take courses like Astrophysics, AP Physics C, AP Chemistry, AP Calculus, and so on. I just remember I was trying to take the hardest version of every single class that was available to me because I was so obsessed with trying to get into places like Harvard or MIT, and I thought that was the best way to do that since I didn't necessarily take extremely challenging courses the previous year compared to all my classmates because of the classes my home high school had offered.
I tried to overexert myself, and then I started failing in a bunch of these classes. After talking to my counselor, she made me ask myself, "Why am I taking all these courses if I don't actually enjoy them?" She asked me, "Is this something that you need to do?" or, "Is this something you want to do, or is something you think you have to do?" I realized I had found this pressure to pursue all these things, and I was like, "No, I guess not." So, by the second half of the trimester, I dropped a few of the classes because I was also trying to do orchestra, jazz band, and theater.
And I think that's a valuable lesson that you shouldn't have to do things just because you think you have to do it to please others.
At that moment, when you're so stressed over everything, you think you're never going to get out of that point and move on. But I now have a dream job that I never would've thought that I would have, you know? Life does go on, and you find a way. And though it was awful at the time, I'm glad I've had those experiences.
How did you work your way into esports?
So in the first few years of my obsession with this game, I had this fantasy of becoming a pro player, and so I was trying to work with the game and figure out how to get better to the point that I could become a pro player. I learned a lot about strategy and higher playing levels and studied the game. So, by the time I realized I actually couldn't make it as a pro player, I had all this knowledge and passion and obsession and knowledge about the history of the game, esports itself, and all these teams of players. I was like, "Man, what can I do with this? How do I turn this into something that feels productive?"
I originally thought maybe I could become a coach or maybe an analyst. But I found that there's no clear direction to it. You kind of just have to make your own way 'cause there's no school for it. There are no classes that you can take. There is no mentorship program that you take.
I remember I became friends with a few people online who were really, really good at the game. They were among the top on the ladder of players, like the top 0.1%. Some of these players were challengers. Some grandmasters and masters, which are some of the highest ranks in the game. I would play custom games with them and get my butt kicked, but I would learn a lot. And through this, I found that I wanted to do commentary on the games for fun. I really enjoyed it and wanted to do more play-by-play commentary, which is when a commentator calls out the big moments during a game and the movements of each team and player.
My friends told me, "Wait, you're not bad at this. Your excitement and your energy and passion come through really well. If you put a lot more time into this, you should see what happens." That encouragement made me try and seek out online servers on Discord, where people have online gaming communities and host tournaments.
And so over time, I just went from one Discord community that was running an amateur league to another and just going around saying, "Hey, I'm an aspiring show caster. I would love to commentate on the games that are happening in this server." Over time, as people got familiar with my crafted work, I started to gain a bit of popularity. It wasn't until the third year that I started getting into larger tournaments.
Around this time, I started to get compensated for my work, which was a big deal. Then, going into my fourth and fifth year, I finally got noticed by Riot, which is the company that makes League of Legends and esports broadcasts. They had a developmental league that I got a chance to start casting in. And a lot of the players that I had met through Discord communities and casting were actually joining these developmental leagues, so it was cool to commentate them at that level.
And then, at the end of 2022, I got a message from Riot and the producers for League of Legends Championship Series, or LCS, which is the main professional league that I have been watching for the past 10 years. They said, "Hey, what are your plans for 2023?" So we sat down, and they asked me how I felt about my previous year in 2022 and what I had done, and I told them that I was extremely proud of myself. I thought I had my best year of casting in the Academy League. And I even branched out and did a World International Championship final event for another esport title (Wild Rift) in Singapore. I just told them that I thought I had my best year in casting yet, and I felt like I had defined my brand of who I was as a commentator and that I have this unique approach that no one else had in the esports casting world.
And they said, "We couldn't agree more, and it's why we think it's the right time for you to join the LCS." And now I'm here.