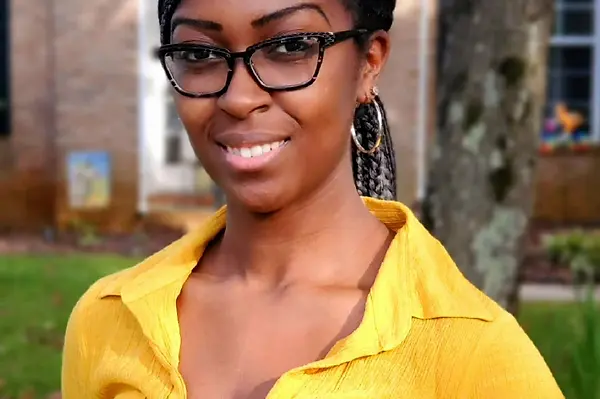 news
For 2017 graduate, NCSSM Online the best of both worlds
Nina Grant was happy at home just outside Charlotte. A quiet, introspective person, the South Mecklenburg High School student appreciated the comfort of having family and old friends at the center of her daily routine, found joy in local extracurriculars, and was immersed in the world languages program at her home high school.
Still, she sometimes found herself bored when a course at her school didn't push her as hard as she wanted. The world languages program at South Meck was wonderful, but Grant was a scientist at heart, and longed for an intensive intellectual experience that satisfied that part of her curiosity.
Too, she hoped to go to college at an Ivy League school. Anything on her high school transcript that might boost her chances would be welcomed.
Grant found exactly what she had been searching for when, during her sophomore year, a guidance counselor told her about NCSSM Online. She applied and was accepted, meaning she would take a series of virtual NCSSM courses during her junior and senior years to supplement her local school's curriculum with areas of academic interest to her.
"For me, the online program made the most sense," Grant says. "I did want to stick around home, but I was interested in supplementing what I was doing at my current school with some higher level, specialized science classes. It was the best of both worlds."
Katie O'Connor, NCSSM's Provost & Vice Chancellor for Academic Programs, agrees with that sentiment. "There is tremendous value in staying connected to the place you love," she says. "Not every young person who's eager for intellectual exploration beyond the boundaries of their home community wants to physically cross those boundaries. To best serve students, we have to meet them where they are. That's exactly what NCSSM Online does."
It was an academic challenge that Grant wanted, and she got it.
"There was definitely a learning curve," she says. "It was more rigorous, but it was more exciting, something more fun to think about. Some of the classes that I took were on topics most people don't get to take until they're in college."
NCSSM Online serves some 450 juniors and seniors across North Carolina every year at no cost to the student or family – and the virtual course format suited Grant's personality. "As an introvert, I really liked just being able to work on the computer, and not always having to be, like, in a classroom of just three kids and having to speak every two seconds."
At the time, Grant was thinking of a future in astronomy and astrophysics. Through the Online program, she also became interested in NCSSM's Summer Accelerator program, a residential week on campus during the summer, where she had one of her most memorable academic experiences: using the knowledge she had gained about coding and planetary physics to design a mission to Mars. It was not the kind of opportunity she would have found in a world languages program back home.
"Oh my gosh, that's me!" she recalls thinking when that opportunity presented itself. "That project was so rewarding and so much fun."
While Summer Accelerator provided the single most memorable experience, NCSSM Online remained the defining experience. Not only did Grant get to meet other science-minded people ("In my home school, I always felt different," she says), she's certain it boosted her application to Princeton University, where she was accepted for enrollment, realizing her dream.
Ivy League is still the Ivy League, however. Almost immediately Grant's confidence was "rocked" by the intensity of the academics. It's a shock nearly every incoming freshman there experiences. But once she had steadied herself, her experience in NCSSM Online began to pay off.
"I realized pretty quickly that I had some advantages that other people there did not," she says. "I was fortunate to have [already] had some rigorous, college-level courses. As for college readiness, I think I got more out of those Online classes than I did the AP classes [at her home school]."
Grant received her undergraduate degree from Princeton in 2021 and is now pursuing a Ph.D. in atmospheric science at Rutgers. It's a shift from her earliest passion for worlds beyond our own, driven mostly by terrestrial concerns.
"I started realizing while at Princeton that [pursuing astrophysics] might mean that I'd never be able to actually see the planet that I'd been studying all my life. The other reason that pushed me toward earth sciences was seeing every day more and more articles about how climate change was not getting any better. So I was like, okay, maybe I can put my interests to work here. Basically, it's just a change of the planet I was studying."
Though Grant has decided to keep her focus firmly on Earth, it has still been a journey of discovery since her days as a world languages student in Charlotte. NCSSM Online, she says, played a significant role getting her to this point.
"The online program really does give you the best of both worlds; you don't have to completely change everything about your life, you're not moving out of home earlier than you thought you were, and you're not having to say goodbye to all your friends," Grant says. "Instead of such a drastic change, you're just adding something new."
"There are so many ways for today's students to foster their intellectual growth, but timing and opportunity don't always align," O'Connor says. "NCSSM Online is a remarkable opportunity that helps bridge that gap for many students across North Carolina."
It certainly did for Grant. "I would probably not be where I am today without NCSSM Online," she says. "I'm definitely a proud Unicorn."