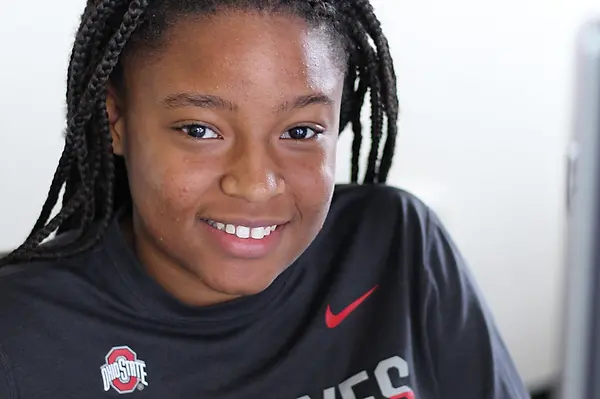 news
First cohort of NCSSM Entrepreneurship Fellows spends the summer at Triangle startups
Jewel Marlowe, a rising NCSSM senior, has been interning this summer with Seguno, an embedded email marketing startup firm in Durham. Pictured below: the 2019 Entrepreneurship Fellows with program director Chad Keister; Owen Sizemore works with NCSSM alumnus Jud Bowman at Sift Media; fellows Rachel Shaw, Feodor Mejouev and Josh Morrow.
Tucked away in a couple of nondescript offices in downtown Durham's South Bank building, three NCSSM student interns work intently on projects that may one day propel the startups for which they work into multi-million dollar corporations. They are among eight total NCSSM students, from both the residential and online programs, who are participating in the school's brand new Entrepreneurship Fellowship Program at seven startups or early-stage ventures in the Triangle.   Ocean Isle native and rising NCSSM senior Jewel Marlowe has been working this summer with Seguno, an embedded email marketing startup firm located in the 70s-era former bank building. Neelam Runton, a rising NCSSM Online senior from Research Triangle High School, works in the same room as Jewel, though he's part of the team at data science startup Wrangle. The two companies — and all of their employees — scroll, type and click away in the same room on opposite sides of work tables pushed end-to-end and back-to-back.   Over the five weeks of the summer fellowship, Jewel had a chance to delve into a number of aspects of the company's operations. "My mentor at Seguno (Chris Geiss) wanted me to get the full experience of entrepreneurship," Jewel says, "so I was pretty much doing everything from demo calls and analyzing data to customer support."    Surprisingly, it was customer support that Jewel most enjoyed. "I wasn't expecting the amount of feedback from customers," she says. "But I want to be an app developer, so it was really getting that feedback from customers."   Aside from gaining new tech and customer service skills, the fellowship has also helped Jewel refine future plans. "I didn't have a clear view of what I wanted to do in college, whether it was going into computer science and business and marketing, but after going through this I really like expressing new ideas, especially business ideas, so business and marketing is probably the way I'm going to go."    In a second office around the corner sits Rachel Shaw, an NCSSM Online student and a rising senior at Smoky Mountain High School in Sylva. Rachel's internship at tech-news startup GrepBeat has kept her busy creating graphics for stories posted on the company's website. She's also had a chance to "dabble" in video editing as well.    "My experience in the entrepreneurship fellowship program has been wonderful," Rachel says. "It has helped me narrow down my possible careers. Before the program, I knew that I enjoyed doing graphic design, but I didn't see it as a viable career. Now I know that graphic design is a valid career option for me, and I know what sectors of design interest me."    The simple accommodations and collection of employees intently focused on their work in this little corner of the South Bank building lend a boot-strap feel to the scene. The size of Wrangle was at first a shock to Neelam, who goes by Neel. "When I first talked to Jeff (Turner, Wrangle's CTO) on Zoom, he said Wrangle has three people. I didn't know a startup could be that small."   Neel has impressed his summer colleagues. Turner says the quality of his work has surpassed that of some of the graduating college senior interns he has worked with in the past. "We gave him a couple of weeks to get up to speed," says Turner, "but within a day or two he was ready. I told Neel, 'When you graduate from college…'"   "One of the things I've really liked about working at an early-stage tech startup is that it gives me the opportunity to work on almost all aspects of the product," Neel continues. "This experience has been life changing for me. I've enjoyed working at Wrangle so much that I'm now seriously considering a major in computer science and a career in software development. I've also discovered that I really enjoy working at early-stage tech startups, so maybe entering the entrepreneurial scene might be something for me in the future."  
That's exactly the kind of result Durham entrepreneur and Entrepreneurship Fellowship benefactor Joe Colopy is hoping for. Colopy knows a bit about the startup scene. In 2002 he co-founded Bronto Software out of his home and became the email marketing software startup's CEO. After its sale in 2015, he founded Colopy Ventures, an angel stage investor heavily involved in program participants Wrangle, Seguno and GrepBeat.   Already familiar with NCSSM through his involvement as a speaker in the school's entrepreneurship program, he was inspired to consider deepening his engagement with the school. Colopy worked with faculty and administrators at NCSSM to establish the Entrepreneurship Fellowship Program to build upon the school's established entrepreneurship and mentorship offerings. Not only is he the program's benefactor, he is also responsible for personally recruiting each of the participating companies as partners in the venture and matching them to the NCSSM students.   "I was very much wired like these kids when I was a student," Colopy says. "[But] in my high school in Akron, Ohio, we didn't have access to these kinds of things. Even in college — I studied computer science and economics at Harvard — they didn't have any of these types of programs. So, there's a 'giving back,' a wishing to see what I didn't have, and I think the School of Science and Math is a great place to do that."   A short walk down Main Street from the South Bank building are the hip, brick-walled offices of Sift Media, the latest venture of NCSSM alumnus Jud Bowman. This is where rising senior Owen Sizemore, from Greensboro, has spent a good part of his summer.   Owen's workstation at Sift Media, where he spent a lot of time automating end-user interfaces and organizing code, is directly across from that of Bowman, his summer boss.   Aside from the inherent anxiety of sitting directly across from the CEO, one of the most significant challenges Owen faced was learning to ask for help. "There were only 10 people in that small room, so everyone is hyper-focused on their project and making everything go smoothly. So to take time out of someone's project and say, 'I need help with this simple code thing,' took a lot of effort."   But that close interaction with his colleagues became one of Owen's most memorable takeaways. One of the great things about startup employees, he says, is that "their opinion matters," unlike much larger organizations where an employee's contributions might get lost in the machinery.   Bowman was eager for his company to partner with the fellowship program. "I saw the opportunity to have an NCSSM intern as really a huge benefit to Sift Media," he says. "I remember how impactful the mentorship and internship opportunities I had at NCSSM were for me and wanted to have the chance to give that to a current NCSSM student."   Though Owen is a high school student, Bowman was confident in him. "We threw Owen into the deep end of the pool!" he says. "Our philosophy is that the best way to learn is to actually do things in the real world — so we've treated him as we would any member of the software engineering team."       At nearby health app startup Pattern Health, Feodor Mejouvez began his fellowship with similar backing from corporate leadership. "My confidence in what a Science and Math intern is capable of was high," says Ed Holzwarth, another alumnus of NCSSM and Pattern Health's co-founder and Chief Technology Officer. But he had to convince his colleagues of what a high school student might bring to their team. Now they're believers.   Feodor analyzed data to see how users were navigating the company's app. "I didn't really know how to do anything when I started, Feodor says. "Now I know how to do a lot."   Feodor also learned how labor intensive such a venture can be. "When you talk about startups, everybody always thinks it's this really relaxed place — and it is — but at the same time it's very stressful. Just seeing how much work goes into startups was pretty eye-opening."   Eye-opening and inspiring; "Creating my own startup is possible," Feodor says. "I'd always considered creating my own startup, but I never really knew if it was possible. It kind of seemed like a dream that existed in the back of my head. Seeing that it is possible really helped me. This program has really set me down that path."   Holzwarth complimented Feodor. "Joe [Colopy] told me at the beginning of this that part of the skills that Science and Math students develop is the ability to figure out hard things," Holzwarth says. "Feodor has definitely done that. He's asked the right questions and he has had valuable input on the project that we can use to move the project forward."  
Across town Josh Morrow '20 has been deeply involved in an NCSSM-centric project at IDEA Fund Partners, a seed and early-stage venture capital firm. Much of his internship has been focused on helping develop the Unicorn Angel Network, a community of NCSSM alumni looking to partner with one another as investors and entrepreneurs. He's also spent time doing due diligence and deal review for potential investments both in and out of the network.   "The experience has been awesome," Josh says. "I have really enjoyed getting to be immersed in the culture of venture capital and, by extension, startups. The ability to have an internship with a VC firm while I'm still in high school is an experience that I absolutely would not have gotten if I did not go to NCSSM."   Ethan Peikes, Josh's colleague at the fund, has been impressed by the work Josh has done both in evaluating deals and in developing the Unicorn Angel Network. "Despite having only just finished his junior year of high school, Josh has demonstrated an impressive aptitude for evaluating companies [in the early stages] of development.    "The confidence he has demonstrated while pitching the network, even with such limited experience, has been extremely impressive, too," Peikes adds. "He's received praise … from multiple NCSSM alumni, many of them accomplished veterans of the tech sector."        Chad Keister, NCSSM's Instructor of Economics and Social Science and Director of the Entrepreneurship Fellowship Program, has also been a key part of the students' summer experience. "This program gave the fellows a rare opportunity to revel in the complexities and ambiguities of an entrepreneurial mission — a dynamic that simply can't be taught in a classroom."   As have the fellows, Keister has experienced the energy inherent in up-and-coming business ventures. "I think of this program build as being my own opportunity to work in a startup of sorts," he says. "The work these students do is so unlike what I do as a teacher. I'm like Yoda in that I speak to them in these large Yoda-isms and then they go off and do these incredible things at these startups that I don't really understand."   Colopy is understandably excited about the opportunities the program will afford students. A tremendous advocate for Durham and the Triangle, he's also excited about what the program can do for the area. "When you look at a lot of the tech startups in the area that have done very well, if you dig a little deeper you realize that many of them have been founded by Science and Math grads.    "I want to see more tech entrepreneurship here in the Triangle. There are a lot of very high potential kids at, and going through, Science and Math and they're going to be very high-potential tech founders and part of tech-founding teams 10 years from now. So, if I can influence that and get more of those tech startups happening and more of those successes happening, and I can start early, early on, it's a fairly smart thing to do."    
Here are all the students and their mentors who participated in NCSSM's Entrepreneurship Fellowship Program during the summer of 2019:
  Devada – Martin Ha and Robert Dimitrov under the mentorship of Susan Wall Wrangle – Neelam Runton under the mentorship of Jeff Turner Sift Media – Owen Sizemore under the mentorship of Jud Bowman GrepBeat – Rachel Shaw under the mentorship of Pete McEntegart IDEA Fund Partners – Josh Morrow under the mentorship of Noel Sinozich Seguno – Jewel Marlowe under the mentorship of Chris Geiss Pattern Health – Feodor Mejouev under the mentorship of Ed Holzwarth
Share this post.