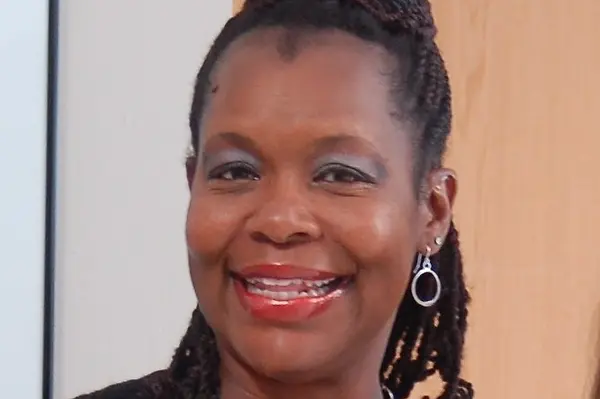 news
Financial Aid 101: CFNC's Sarita Broadway offers tips, insights
Sarita Broadway, senior regional representative with College Foundation of North Carolina (left), visited campus at the invitation of Lori Hackney, dean of counseling services.
As college application season begins, many students and families are worrying about a pressing question: How will they pay for college?
Last week, financial aid expert Sarita Broadway from College Foundation of North Carolina visited campus to speak with students and families about financial aid and answer their questions. The talk was part of the annual College Eve hosted by NCSSM's Counseling Services.
"Financial Aid 101: FAFSA, Loans & More" covered the ins and outs of paperwork, loan eligibility, scholarship opportunities, and "that wonderful FAFSA form," as Broadway describes it.  
Watch Broadway's full talk here
Types of financial aid
Financial aid can include gift aid (like grants and scholarships) and self-help (employment and loans), and be merit-based or need-based.
"We have to remember it's financial aid, not financial all," says Broadway. "It's our primary responsibility as the family."
Sources of financial aid are diverse. Be sure to look into local opportunities (often found by working with your school counselor or by word of mouth), institutional scholarships from college and universities on your list, and national scholarship sites. Here are some sites to get you started on your search, but don't be afraid to just start Googling others.
Scholarships
Scholarships applications vary widely, but a few basic tips that will apply to almost any application.  
Answer the prompt.
Be sure to stay within length requirements.
Personalize it. Tell your story!
Spell check and read your application/essay aloud before submitting. This will help you notice errors you may miss the first time around.
Be sure you're eligible before applying.
Read the instructions.
Financial aid isn't just for first-year students! Keep applying the whole time you're in college or graduate school. 
FAFSA
One of the major topics covered this year was the Free Application for Federal Student Aid (FAFSA) process. This year brought major changes to the process of applying for federal student aid. For example, families can complete the form beginning in October, instead of January. A few highlights are included here, as well as links to additional resources.
DO fill out the FAFSA form.
In order to receive any form of financial aid, students and families MUST fill out the FAFSA on an annual basis. Don't forget to reapply every year.
Mark your calendars for October 1.
Beginning this year, the FAFSA will be available on October 1, not after January 1 as in previous years — a full three months earlier, Many schools still list their priority deadline to file the FAFSA as March 1, but Broadway suggests filling out the form as early as possible after it becomes available. Some schools offer aid on a first come, first serve basis, so it's best to submit your form as early as possible, just in case. Forms use the previous year's tax information, so no need to wait.
Accuracy is key.
Be sure to complete all information correctly; it never hurts to double- or triple-check. FAFSA requires both student and parent information, so make sure to put information in the right place. Broadway suggests referencing the top of the page, where requests for parent information are always highlighted in purple, and the student section will appear in a different color. P for purple and for parent!
Go electronic.
Filling out your FAFSA electronically is easy and can save a lot of time. (There is even an IRS data retrieval tool that can pull in tax information for many families.) Filing electronically will require a version of an electronic signature, called a Federal Student Aid ID, or FSA ID, easily acquired from fsaid.ed.gov. Both the student and one parent will need to sign with unique FSA IDs. It typically takes 24-48 hours to acquire your FSA ID, so be sure to allow plenty of time for processing. FSA IDs can be acquired at any time, however, and Broadway suggests taking care of this small detail well in advance of completing any forms. And remember, your ID will remain the same through all years of college, so keep this ID in a safe place.
Stick to .gov.
Be careful Googling for FAFSA forms. Be wary of anything other than .gov sites (like .com, .org, etc.). A number of sites will charge you to fill out the FAFSA. Remember that "free" is in the name of the form; you should never have to pay to file the FAFSA. Stick to official .gov sites, or go through a reliable source like CFNC.org.
Verification
Some FAFSA submissions will be randomly selected for verification. If you are selected, don't worry! This is a standard process, and typically around one third of submitted applications will go through verification. If selected, you will be notified and asked to provide additional information such as a copy of your IRS tax return. Be sure to provide any requested information as soon as possible to avoid in delays in receiving an aid offer.  
Work study
Financial aid award letters from colleges and universities may include a type of aid called work study. Broadway strongly encourages students to consider this option, as many campus jobs are offered through work study programs. If you'd like to be considered for this option, be sure to select that option on the FAFSA.
Personalized FAFSA help
Still have questions? CFNC holds FAFSA Day every fall at locations across the state. Representatives will answer questions and walk you through completing the FAFSA form from start to finish. Find dates, locations, and register at cfnc.org, and be sure to bring your tax information with you.
A bit about loans
Financial aid award letters from colleges and universities often include both gift aid and student loan offers. In order to be considered for this type of aid, you must check that you would like to be considered for it on the FAFSA. This does not mean you will receive this type of aid instead of gift aid, but simply shows you are open to it. You can always choose not to accept the loans later if you decide you don't want it.   
Federal loan limits are set to keep students from being overloaded with student loan debt. Be aware of these limits and how they may affect student loans as well as parent loans. See cfnc.org for more.
Federal student and parent loans also differ in terms of repayment schedules. For parents, payments typically begin around winter break, unless you request that payments be deferred. You can always request a deferral and still make payments, but in order to defer, you must request that ahead of time. Student loans, on the other hand, typically do not go into the repayment period until six months after graduation, or if a student falls out of good academic standing. 
Resources
CFNC offers a wide range of other resources, from a financial aid primer course and videos on financial literacy to links to scholarship and grant applications and a smart borrower calculator. Visit their website for more, or follow CFNC on Facebook, Twitter, and YouTube. You can also follow Broadway on Facebook.
Looking for more on college applications and financial aid? View more College Planning resources from NCSSM's Counseling Services.